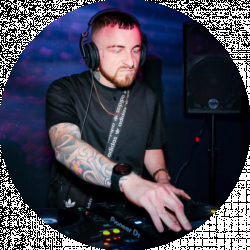 Latest posts by Jesse Alexander
(see all)
Final Fantasy and Funko Pops seem like a perfect match, don't they? Both seemingly came out of nowhere and have become mainstays in pop culture. With the former quite literally having "final" in its title because if it flopped, it would have been the first and last installment, and the latter is on everyone's desk nowadays.
You might be an avid Funko collector or a die-hard Final Fantasy fan and have wondered: Is there an affordable way I can show some love to my favorite franchise and not break the bank? Unfortunately, the news is mixed. While it seems that Funko Inc. has licensed with just about every franchise on the face of the planet, there is one company that has stayed ever elusive from their reach: Square-Enix, the owners of Final Fantasy.
While we can certainly dream of seeing adorable bobbleheads of Cloud, Yuna, or one of the franchise's many versions of Cid, the sad truth is that it's just not going to happen. Nevertheless, we'll be delving into the origins of Funko Inc. and Square-Enix's business mindset and offer many alternatives, some officially licensed to boot. Grab your Chocobo and Buster Sword cause we're about to go off to the races for all things Funko, Final Fantasy, and collectible. Welcome to a Final Fantasy Funko Pop Guide.
What Is the Fantasy, and Why Is It Final?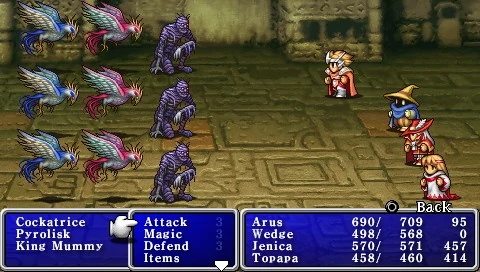 The Origin of Heroes
Final Fantasy is a 35-year-old and counting franchise created by Hironobu Sakaguchi and released initially on the NES in 1987. Originally conceived as a turn-based RPG, the series took a turn into the action-RPG genre with the releases of the 11th and 12th entries, respectively.
One of the heavyweights in the RPG sector, the series has spanned 15 mainline entrees with a 16th coming soon and dozens of spin-offs. One of the reasons the series is so heralded and beloved by fans and critics alike is the narratives and world-building Square-Enix employs.
Most games take place in their own universe and are not direct sequels to one other. Therefore players can theoretically start at any volume of the series they'd like and go from there. At a time when people were eating dots like Pac-Man, the original Final Fantasy told an engaging story that culminated in "the four Good Guys must defeat the Four Bad Guys" and was a commercial success. The acclaim of the initial entry and its sequel set the stage for other long-running series such as Phantasy Star and Dragon Quest.
Squaresoft was founded in 1986 and got off to a rocky start. As mentioned previously, Final Fantasy got its name because if the game wasn't a success, the company would have folded, and the IP wouldn't have been developed any further. Thankfully, it was a hit, and Square went off to the races crafting memorable role-playing experiences.
The company had a swell of success in 1997 when they released Final Fantasy 7. The game took them from a Western niche to a worldwide mainstay and further caused their strong popularity in Japan to blossom.
The popularity of Final Fantasy came to a head in 2003 when Squaresofts first (and only) theatrical release movie, Final Fantasy: The Spirits Within bombed at the box office and went way over budget. In a do-or-die moment, they merged with Enix, the creators of the popular Dragon Quest series and the rest is history.
Read also: Complete Final Fantasy Merchandise Guide.
The Evolution of Role Playing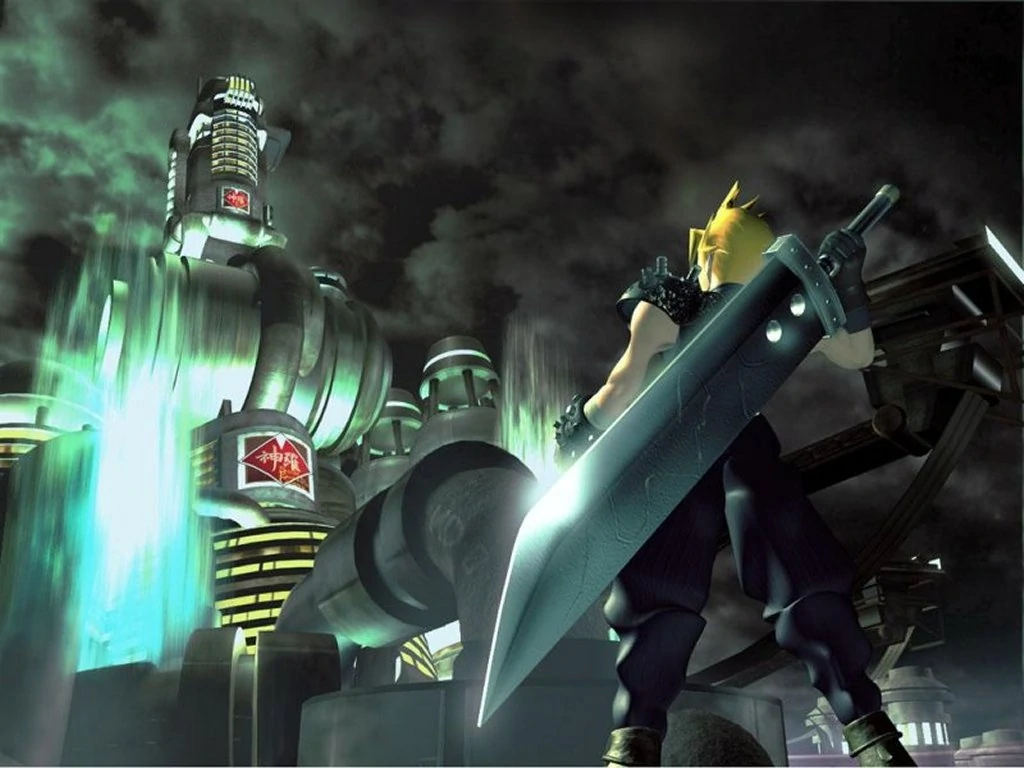 Once the series became an unexpected success, Square-Enix (Squaresoft at the time) started taking more risks. Throughout the series's history, it's told sprawling and dark tales filled with themes rarely explored in video games. Final Fantasy X involved themes of sacrifice, religious zealotry, and propaganda.
Final Fantasy 7 invoked aspects of ecological collapse and corporate greed, and the villain of Final Fantasy 6 literally destroys the world. This combination of masterful storytelling and deep gameplay has kept the franchise in the collections of many gamers worldwide.
It has consistently maintained positive reviews, with the lowest Metacritic score of the entire series being the third one, which was released in 1990. Its score is also an above-average 77, so even when it's "bad" it's good.
With the 16th installment coming in 2023 and millions of players still playing the massively multiplayer online 14th installment, the series has only grown in popularity and has even branched out into other projects.
Live concerts, movies, television, merchandise, you name it, and Square-Enix has probably done it. Remasters of older titles are often on sale, so there's never been a better time to check out some of the best games of yesteryear.
What Is a Funko, and Why Does It Pop?
Early Days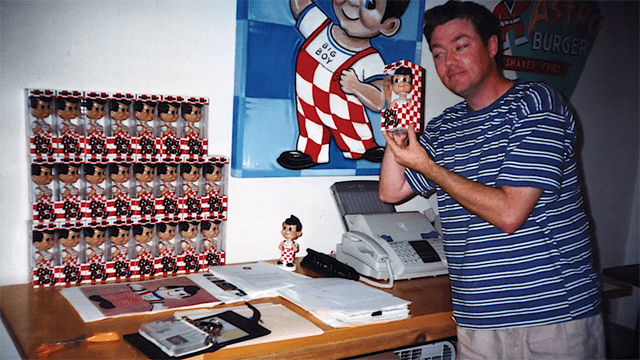 Funko Pops are the main export of Funko Inc, a pop culture memorabilia-based company founded in 1998. From the beginning, Funko aimed to make relatively affordable toys that relied more on a solid aesthetic as opposed to razzle dazzle that could connect people to their favorite franchises.
Even before the recent nostalgia boom, the company had an idea and went straight to the mat with it. The fact is: We're all growing older. Millennials aren't the youngest generation on the block now, Gen Z is graduating college, and Gen X is middle-aged.
Funko's initially debuted with their line of "Wacky Wobblers" figurines, and the first product Funko ever made was an officially licensed "Big Boy" figure, the mascot for Bobs Big Boy, which was a popular franchise that has now turned into a small collection of boutique eateries here in the United States.
Originally founded by Mike and Claudia Becker, they sold the company to Andrew Perlmutter in 2005, who helped steer the Funko ship into the large harbor it currently occupies.
Present Days
Funko Pops hit the scene in 2011 and, within a year quickly started selling like hotcakes. The most popular product from Funko is the "Pop!" line which you have more than likely seen on store shelves or in people's houses. Pops are relatively inexpensive and have a recognizable chibi-like style that catches the eye.
They have also opened a more casual market to collectibles and have a pokemon effect on consumers: Ya gotta catch 'em all. I work at a Gamestop, and we honestly sell more Funkos than games. New Funko Pops are released constantly, and the odds are more than likely that they have already made or are making one based on a character or athlete you love.
Looking at Funko Pops is like opening a pandora's box of pop culture. It hits you right in the feels. "Oh! I remember this!" or "No way, they made one of them?" are constant thoughts in my head whenever I stock the shelves at my day job or see them in a store. The company also makes more than adorable little figures.
There are select Funko Pops that tower up to 18 inches and lines of plushies, board games, and other goods. The easiest way to understand the appeal of Funko Pops and the company as a whole is to view it as a pop culture company that makes affordable collectibles.
Despite seemingly being able to conjure up a Funko for just about everything, the Final Fantasy franchise has remained elusive. Unless you're going the Etsy route and commissioning a custom Pop, there is no Final Fantasy Funkos, and it doesn't look like that will change anytime soon.
Why Are There No Final Fantasy Funkos?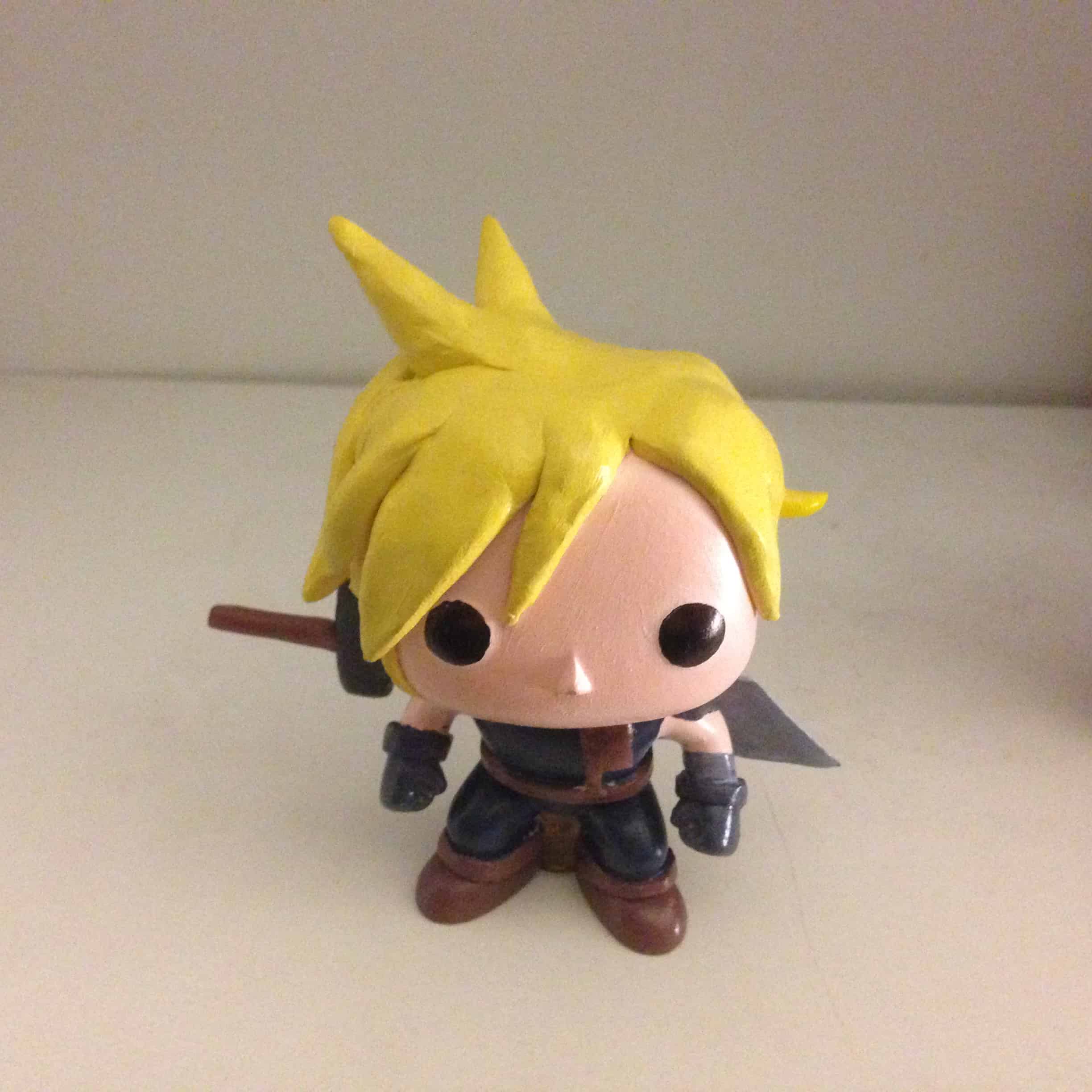 The reason is complicated and multi-faceted. For starters: Square-Enix is an old-school Japanese company. The land of the rising sun is not like the land of the star-spangled banner. Japan plays by a different rulebook than we do.
While yes, all companies love money, being that we live in a Capitalist world, companies are also privately owned and are subject to the whims of their boards and CEOs versus the general public
. Not only do I believe that Square-Enix is protective of their own intellectual property, but I also believe that they are currently making more money crafting and commissioning their own figurines and Funko Pop-like collectibles than they would be if they negotiated a licensing deal with Funko.
While Square-Enix has made a boatload of Final Fantasy media, the fact of the matter is that they always do it themselves or play a heavy supervisory role in the process. They don't like to let the likeness of their characters fall into the hands of just anybody. They hold a high and peculiar standard, and it's also possible that due to cultural differences, they very well may have distrust an American-based business.
A further development points to possible deals with existing Japanese brands as well. Japanese website AmiAmi sells a variety of collectibles, including Funko Pop-like figures, and they have an entire Square-Enix section on their website.
While I don't possess a hard confirmation like a press release to go off, it's pretty safe to assume that Square Enix would rather keep as many rights as possible to themselves, and they feel it's better business for them to release their own figurines or work with trusted collaborators from the same region. 
Alternatives From Square-Enix
#01 Bright Arts Gallery Tonberry
This Tonberry is a real treat. His colors are vibrant and eye-catching; from gleaning the photo, one can imagine the high-quality craftsmanship that went into making him. Available straight from Square-Enix's website, you know it's the real deal.
Tonberry has been a part of the Final Fantasy franchise since the 5th volume and shows no signs of disappearing. Combat with them is a unique and tense affair.
Typically, they have high HP and walk slowly towards the player with each passing turn. Upon getting close enough, they use their knife, and the results are generally destructive. He might be petite and fun to look at, but he'll literally cut you and won't think twice about doing so.
This iteration of Tonberry is modeled after his appearance in Final Fantasy 7 Remake and retails for $40 via pre-order. Here is a link where you can order yours today.
#02 Sephiroth

Another addition to a new merchandise line devoted to Final Fantasy 7s 25th anniversary, this Sephiroth statuette is sure to be a crowd pleaser. It captures the iconic villain's poise to a T and would look fantastic in any collector's den.
Remarkably detailed craftsmanship and high-quality materials help create a figure that is just as haunting as it is breathtaking. Sephiroth isn't just a compelling villain; he's emblematic of the franchise.
When people talk about Final Fantasy, he instantly comes to mind. Sephiroth is the chief villain of the 7th installment in the series and has made cameos in dozens of games. Anytime you can cross swords with him, know that you're in for the fight of your life.
His signature weapon, the Masamune, debuted in the original Final Fantasy but has become associated with him and him only. If you're interested in adding this complicated bad boy to your shelf, here is a link where you can snag him for only $50.
#03 Bright Lights Gallery Cactuar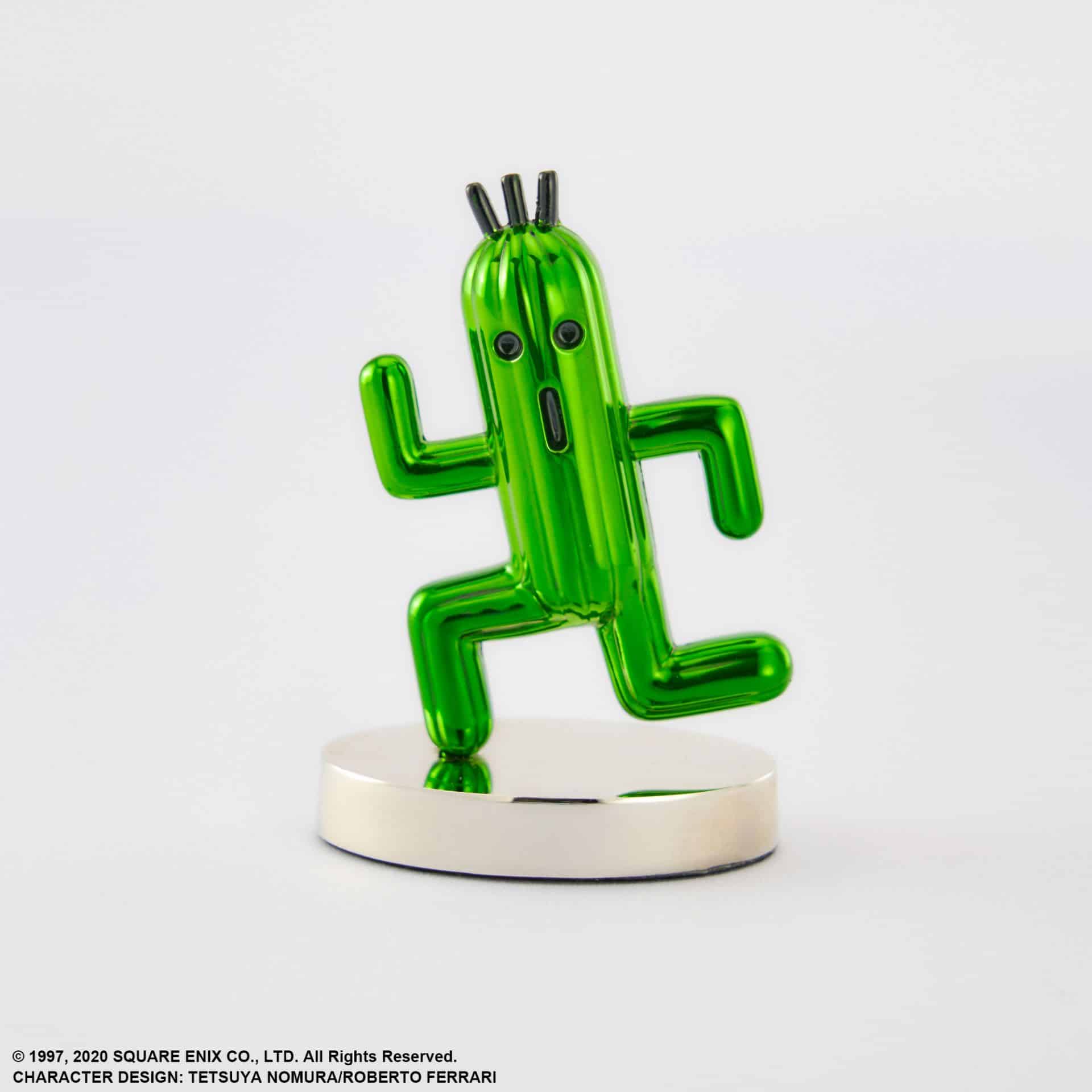 Now for my personal favorite of the bunch. Look, there's no way around it. I love Cactuar. He's adorable. I'd hug him if I could. I don't care how often he ruined my day while I was playing Final Fantasy X. He's still my dude. It's complicated, okay?
What isn't complicated is just how fantastic this figure of him is. The shine of his body with his signature beady eyes is too good to pass up. The base of the figurine is reminiscent of a Funko Pop but feels so much more luxurious by comparison. Cactuars have appeared in the series since Final Fantasy VI and are just as symbolic of the franchise as Sephiroth and Tonberry.
They're also no slouch in the combat department either. Cactuars are fast and have a signature move called "1000 Needles," in which they literally shoot a thousand prickly needles out of their body and onto your character or party.
I live in Las Vegas and think of Cactaurs every time I see an actual cactus, and I wouldn't have it any other way. If you are interested in calling this adorable figurine your own, it is available for pre-order for just $29.99. I know I'm getting one. Are you?
Alternatives from Independent Sellers
#01 Odder Otter Storage Containers from Etsy
Spoiler alert: I have yet to play Final Fantasy XIV, but now that I know these adorable little critters are in it, I might have to bite the bullet. My favorite part about the Odder Otter figures is that they're a dual purpose: They bring life to your room and serve as storage containers.
You can put just about anything you can fit in them. Pens, lighters, a gunblade, whatever fits! They feature lovingly handcrafted details and even movable whiskers. The quality is the heir apparent from even a first glance.
These figures are sure to be a hit even for folks who have no idea they're from a videogame. They also make a fantastic gift for anyone who loves otters or cute things. Put one on your desk as a pen holder and become the talk of the office! Get yours today for $33.08 on Etsy.
Example #02
Final Fantasy 8 was a black sheep in the franchise for many years. After the insurmountable success of its predecessor Square-Enix (or Squaresoft at the time) went in a different direction.
Weaving a web of political intrigue, time travel, sorceresses, and drawing inspiration from Saved by the Bell of all things, the eighth installment had a unique "junction" system that involved players drawing magic from enemies they fought and being able to outfit any character with any combination of spells and summons they see fit, albeit in a somewhat clunky way.
Before the recent remaster was released, gamers had no option for playing this title on modern hardware outside of emulators.
However, like the installments before, Final Fantasy 8 had some incredibly memorable and nuanced characters. One of my favorites was Selphie Tilmitt. Selphie may not have the best hand-eye coordination, but that doesn't stop her from battling foes with a giant nunchaku, designing a website, and even piloting an airship.
She is a constant source of optimism and energy, and this 3D-printed figurine from Etsy captures her cadence effortlessly. I especially like the base of the figure. It allows it to stand out yet complement any Funko Pops you may have in your collection. Unfortunately, Selphie is sold out at the time of publishing, but you can check out JKK Toys on Etsy for more awesome merch from this game.
#03 Final Fantasy 7 Polygon Figures
While no longer in print, these figures are a treat and are sure to up the status of your collection. These lucky seven figures are exact pixel-perfect replicas of the in-game character models in the original Final Fantasy 7. Officially blessed and licensed, the quality is there.
While this is a used sale from eBay, it's still worth highlighting. eBay can be a wealth of great stuff, and depending on the item and the nature of the auction or instant buy, you might even be able to score some good deals.
I got a copy of Diablo for the Switch for $14 less than in-store by betting on an auction. What kind of treasures will you obtain? For $95, these gems can be yours.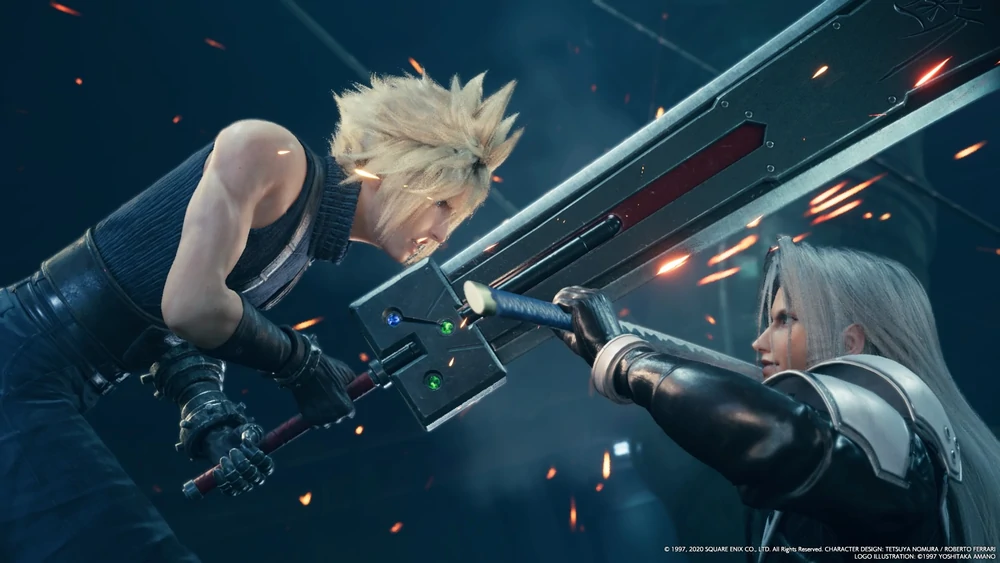 Things to Know
The current CEO of Funko is Brian Mariotti
Before launching Funko, founder Mike Becker was a T-Shirt designer.
While expensive, you can commission a custom Funko Pop thru various sellers on Etsy to get a Final Fantasy Funko, but the quality can vary, so buy at your own risk.
Funko makes more than just Pop vinyl figurines. They have clothes, plushies, games, and so forth.
Square-Enix has never publicly commented on why they won't do a deal with Funko.
Square-Enix has been making figurines with different brands for years. What they sell on their website is just the tip of the iceberg.
Squaresoft and Enix merged in 2003, and unfortunately, this also means that there are no Dragon Quest Funko Pops as Square-Enix owns the rights to that IP.
Kingdom Hearts Funko Pops were only made because Disney flexed their muscle in ownership of the IP.
Yosuke Matsuda is the current CEO of Square Enix.
Square Enix no longer owns the rights to Tomb Raider, Deus Ex, Legacy of Kain, and other properties, so if their new owner Embracer Group is down, we may see a Lara very well Croft Funko Pop sometime in the future.
What Will You Add To Your Shelf?
The best part of collecting isn't the content you own; it's you. What inspires you, what you love, and how you want to represent it are all things that can make two identical collections feel worlds apart. Final Fantasy is popular because it contains one-of-a-kind worlds, characters, and stories complimented by tight gameplay and stunning visual design. Funko Pops are popular because they're an affordable way to add some personality to your space and take you back to those moments in time.
The two of them would be a perfect match, but unfortunately, Square-Enix won't bite the bullet and let fans get adorable vinyl figurines of their characters. Thankfully, the internet is vast and has excellent alternatives from Square-Enix and people like you and me.
Personally, if Final Fantasy Funko Pops existed, I'd buy the entire set for Final Fantasy 8, but that's just me. Which ones would you add to your shelf if FF Funkos became a reality?