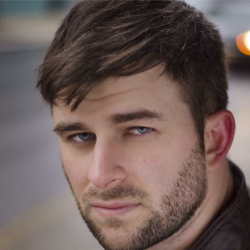 Latest posts by Adam Braunstein
(see all)
Final Fantasy is one of gaming's oldest franchises. Although it started off in fierce competition with other games of the same ilk, as the 90s went on, it slowly separated itself into becoming the most popular RPG game series of all time.
Identifying what makes Final Fantasy such a joy to experience is the ever-changing cast of characters and stories that are created. I've been gaming for 30 years, and I have yet to see anything close to the imaginative worlds that Final Fantasy games create.
Their stories are so over the top and insane while having human-like characters to ground the whole thing in a more realistic sense the whole time. The writing has always been smart and interesting, and even if a game's cast of characters doesn't pull you in immediately, it's likely their innovative combat systems will.
As far as my experience with the series goes, I've played just about every game in the long history of Final Fantasy, and my favorites include Final Fantasy VIII, Final Fantasy X, and Final Fantasy IX.
I've always found the creativity in these games to go far beyond anything else that was out at the time, and even years later, I find myself returning to the games year after year because even though the games from 20 years ago lack the graphic quality and voice acting that is in today's games, there is something about the combination of character personalities, dialogue, music and worlds that Final Fantasy manages to create time and time again that make returning to these worlds for another go around a joy every time.
Of course, what better way to show your love for a series than to surround your home with memorabilia for it? I mean, for a series as old as Final Fantasy, there is nearly an endless amount of Final Fantasy merch.
I'm not just talking t-shirts; there are statues, posters, actual items from the game, costumes, and so much more than if you're really dedicated, you can deck out your whole room or apartment or house in this stuff.
It's a lot to consider from a lot of different games, so let's check out some of the things we can find. We're going to be checking out merchandise both licensed and unlicensed, as fan-made merchandise is plenty awesome in its own right.
Final Fantasy Tactics Art Canvas
One of the most underrated games in all of Final Fantasy is Final Fantasy Tactics. With its 100s of hours of gameplay, incredibly well-crafted mature story, an awesome cast of characters, the journey of Ramza is one of the best ones out there.
When you're not playing it on your phone or computer, why not have this awesome work of art posted on your wall? It features all of the main characters from Final Fantasy tactics and a dragon as well, and it's an incredible image that has some striking colors and will fit on any wall you've got.
Final Fantasy Chocobo 3D Print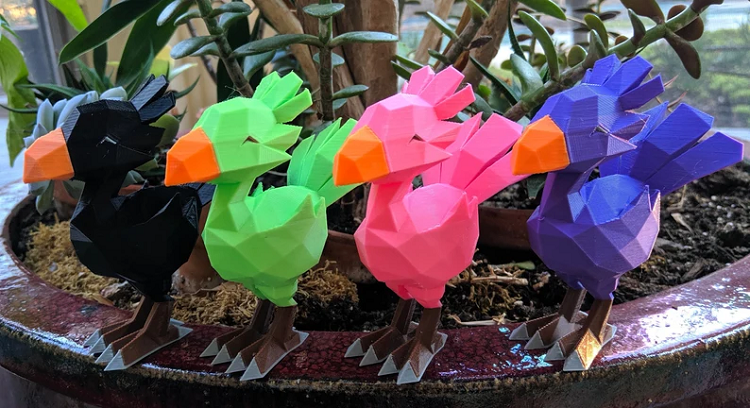 While the characters of Final Fantasy are the stars of the show, none of them can make the boast of the legendary Chocobo.
These lovable birds have been featured in every single Final Fantasy game to date, and their cute noises mixed with the ability to ride them make them an awesome companion during any Final Fantasy adventure.
They even help out in combat from time to time as well. Now, you can have these cheerful birds hanging out with you in real life, and they come in all the different colors you've seen them in, even including the legendary Black as well as gold Chocobo's as well.
Black Mage Sign
Scared of the dark? Maybe you just want a little more light when you come back home. Regardless of the reason, this adorable Black Mage sign will light up your life in the best of ways.
It's fully LED-lit and provides some impressive lighting for its size. The design is that of the classic Black Mage, a Final Fantasy character so iconic that it's appeared in several games since its initial iteration in the early days of Nintendo.
3D Printed Cactuar Planter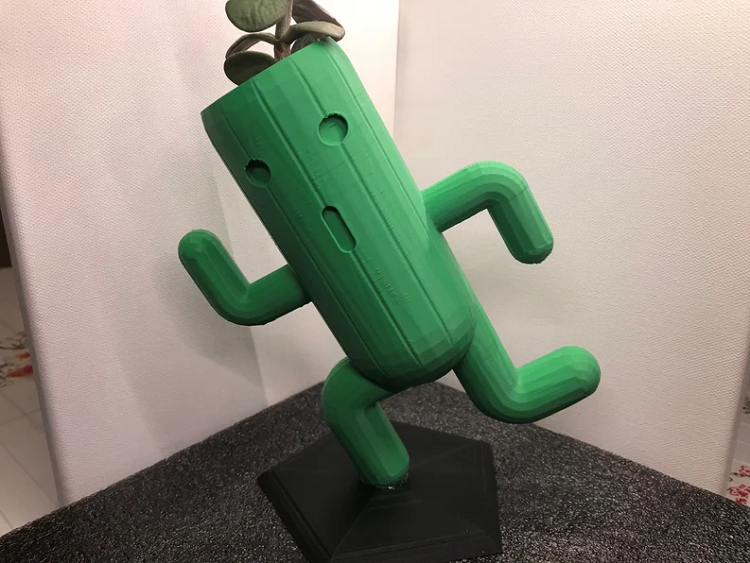 What's better than a Final Fantasy product that's not only awesome to look at but also serves a real purpose as well? The answer is nothing, of course.
This awesome fan-created Cactuar Planter will sit happily on whatever perch you place him, and he'll be the perfect home for a small plant of your choosing. If it were me, I think a cactus would go nicely on his head, but you can try whichever plant you think fits best.
Just be sure to whatever the little guy, you wouldn't want to take a 1,000 needles attack to the face for neglecting him, would you?
Final Fantasy 7 Clock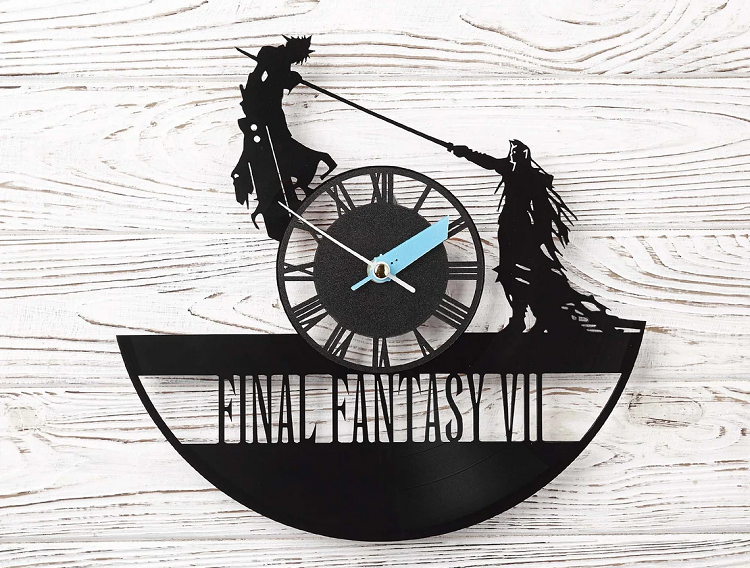 If one game is responsible for bringing Final Fantasy into the mainstream, Final Fantasy 7 is, without a doubt, that game.
The characters were amazing, and the mix of sci-fi and Fantasy created a world not far removed from our own while also instilling the typical Final Fantasy craziness that has been the series trademark for the longest time.
With this clock, you get to witness the moment that Sephiroth and Cloud became hated rivals. That moment, of course, is when Sephiroth impaled Cloud in the Mako Reactor in Nibelheim.
Is it a bit dark? Sure! But the clock design is awesome, and the subtle black silhouettes are expertly crafted, leaving no doubt about who's involved here. It also features the series signature roman numerals too, which is a cherry on top of an awesome product.
Final Fantasy Bookmark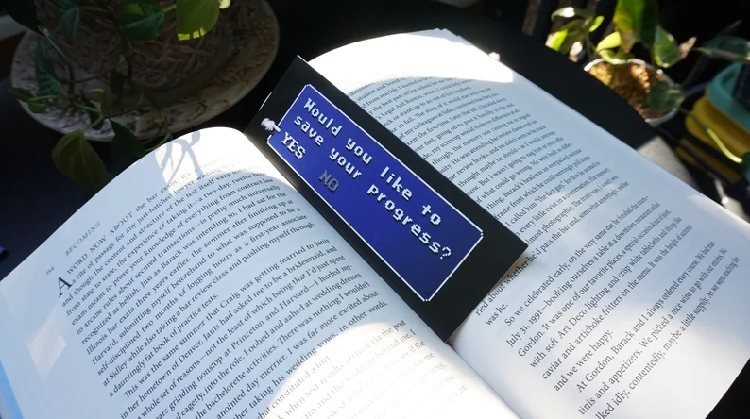 Few things are as clever as this Final Fantasy Bookmark. One of the biggest relief moments in Final Fantasy is when you finally reach a save point so you can save your progress.
Now, this bookmark does just that by showing you that exact save screen inside your book. It's a really cool way to bring Final Fantasy into your everyday reading experience, and the super low price makes this one a no-brainer to add to your Final Fantasy collection.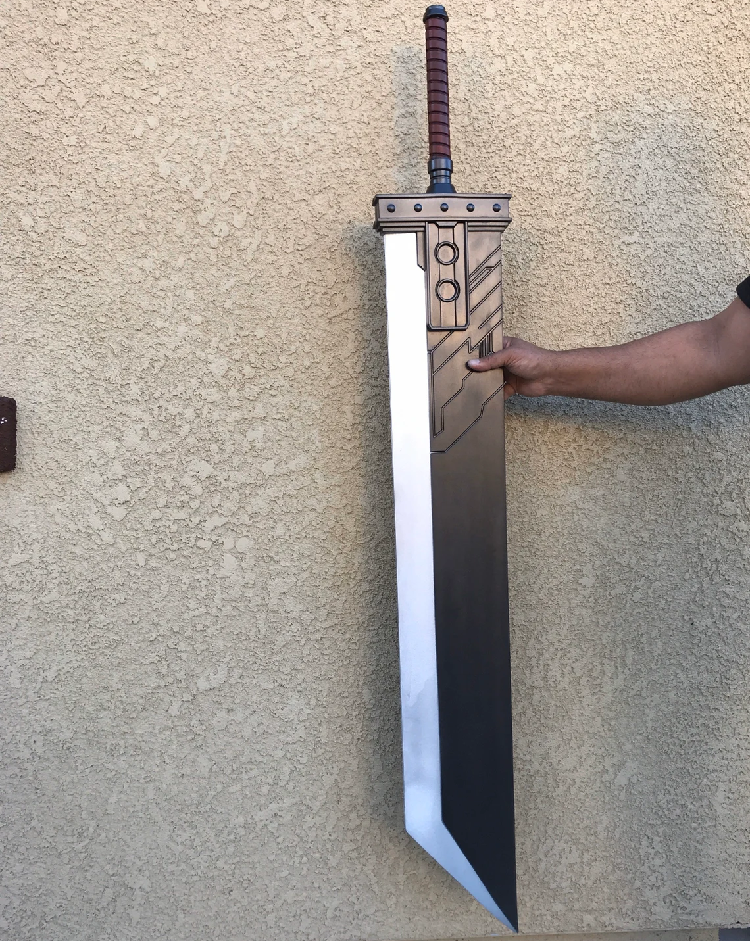 Cloud is one of the most iconic characters in videogame history, and it's partially from his character design, but the real selling point for Cloud comes with his signature Buster Sword.
This massive, oversized sword is one of the coolest designed weapons in media history, and for video game fans, it has the popularity of a Lightsaber in Star Wars.
This massive cosplay sword is 57 inches long and is made with some high-quality plastic, so while you won't be able to take down Sephiroth with it, you can at least hang it on your wall or don it to your next Comic-Con event.
FFVIII Triple Triad Full Card Set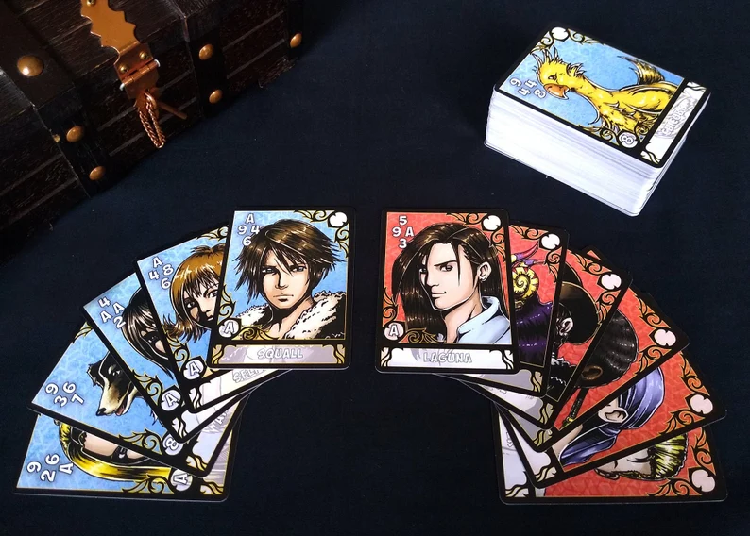 In many Final Fantasy games, there are also minigames that tend to take on a life of their own. While they vary from popularity from game to game, none have taken on the popularity of Final Fantasy VIII's Triple Triad.
This card game is a simple but incredibly addicting game of strategy and patience and to have the physical version be available to play in the real world is something of a dream come true for long-time Final Fantasy fans.
Not only do you get the full 110 card set that's available in the game here, but you also get a rule book, so you'll know how to engage in one of Final Fantasy's most iconic minigames.
Tonberry Doll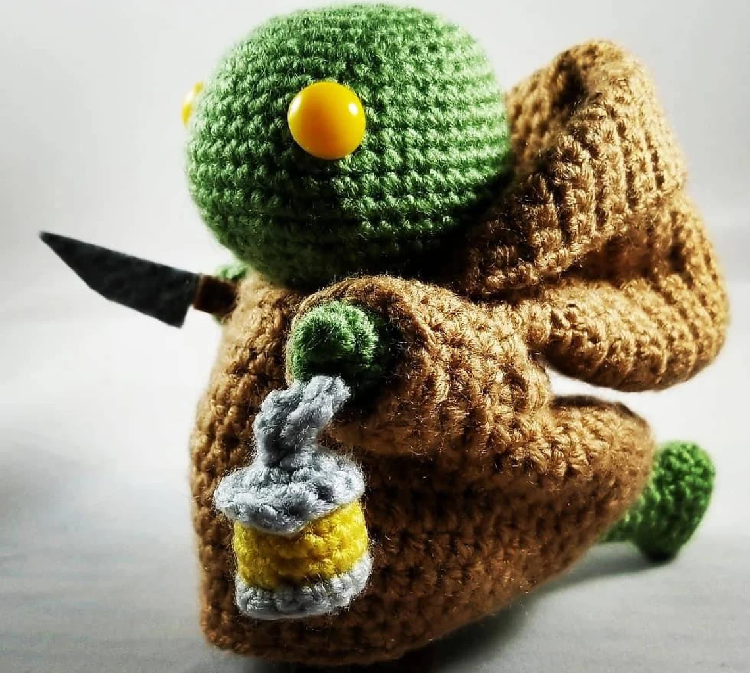 One of my favorite characters in Final Fantasy history is the Tonberry. This creepy little lizard person is sometimes a friend, sometimes a foe, or sometimes a summon, but one thing he always seems to be is terrifying.
His innocent little eyes distract you from a tiny little knife that he uses to often one-hit kill you in the game, so what better than to have him hanging around your house or apartment?
This handmade Tonberry Doll is a perfect recreation of the Tonberry in real life, and having him chill by your bed or stare at you while you're on the computer is just an awesome thing to see.
If the doll starts moving closer to you at any point, throw it away immediately. I will not be held responsible for any possessed Tonberry Doll Chef's Knife attacks.
Sephiroth Flames Final Fantasy 7 Canvas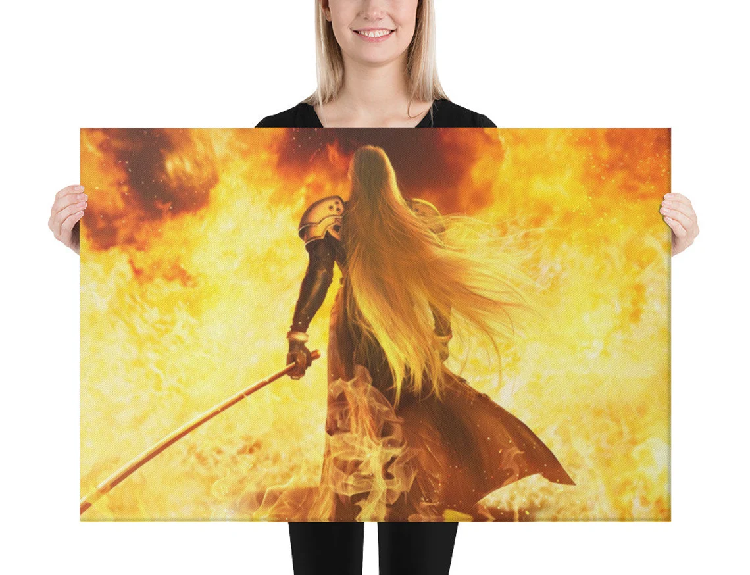 There is one moment that cemented Sephiroth as the ultimate villain in JRPG history. Okay, well, there are actually two moments, but the first one is one of the most iconic scenes in videogame history, and it still brings chills to this day.
That moment, of course, is the burning of Nibelheim. Sephiroth spent 6 days discovering the origins of his existence and, on the 7th day, completely lost his mind and went from beloved war hero to complete megalomaniacal psychopath hell-bent on ending all existence as we know it. 
This canvas features the iconic walk into the fire, and it's incredibly well made as to the fire in the canvas almost looks real.
Final Fantasy IV- Golbez Diorama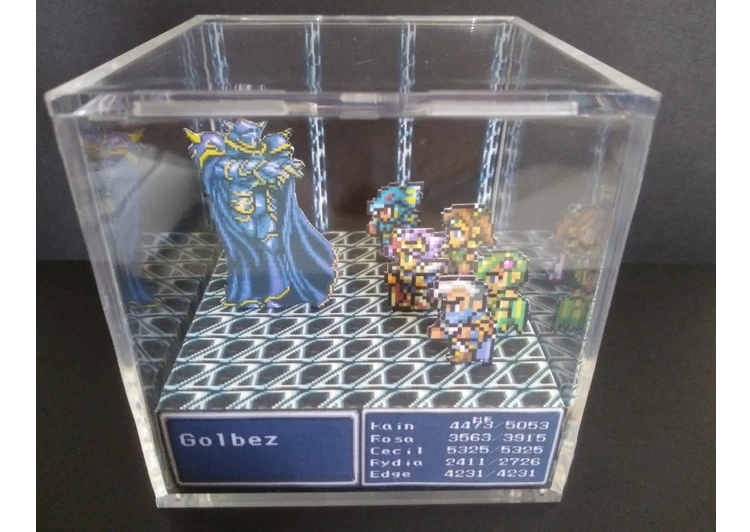 One of the most legendary fights in Final Fantasy history is Final Fantasy IV's Golbez fight. It has an incredible build-up to it, and when you finally have the showdown with the game's big bad, all of Kain and Cecil's trials and tribulations come to the forefront to create a memorable fight that sticks with Final Fantasy fans to this day.
With this awesomely creative Final Fantasy IV- Golbez Diorama, you get that fight completely immortalized in your home.
It cleverly recreates the 2D sprite characters as cardboard cutouts and places them in a glass case that's surrounded by the environment that the fight took place in. It's a blast of nostalgia for sure, and for Final Fantasy IV fans, consider this a must-have.
Final Fantasy 7- One-Winged Angel Diorama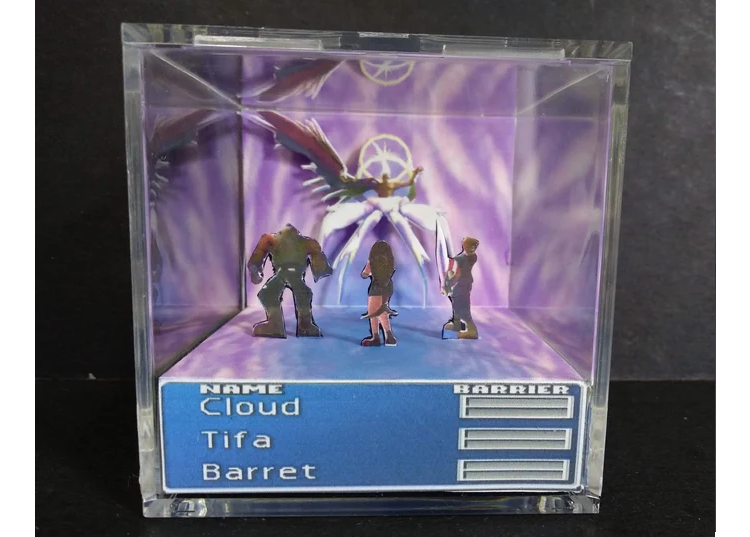 Sticking to the same theme as the above, not only does Final Fantasy 7 have maybe the most popular villain in videogame history in the form of Sephiroth, but it also has arguably the greatest theme in videogame history in the form of One-Winged Angel.
Both of those things combined for the final boss fight against Sephiroth, and here, that fight comes right into your living room. 
This Final Fantasy 7 diorama features the exact design of the entire fight, from the characters to the background, and you can interchange party members to your liking before you order, allowing you to completely recreate what it was like to face down the one-winged angel himself all those years ago.
Custom Wood Final Fantasy VI Menu Screen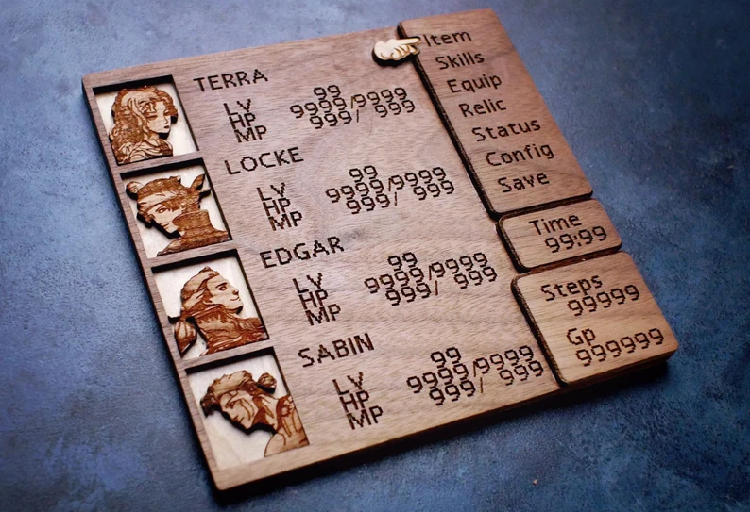 In most games, the menu screen doesn't mean all that much, but in Final Fantasy, there is just something special about getting to that screen to equip whatever new armor or weapons you picked up.
What made the menu screens so cool was that you got to see a different look at your characters, as they'd appear as portrait drawings of themselves that gave them a different feel than their normal game look.
This was especially important back in the days of the 2D sprite characters, as you'd rarely be able to see much detail in their blurry faces.
Here, you get a wooden version of the menu board of Final Fantasy VI, complete with customization of the entire party. It's an expertly made piece of nostalgia that would fit perfectly on any Final Fantasy fan's wall.
Final Fantasy Lasercut Lamp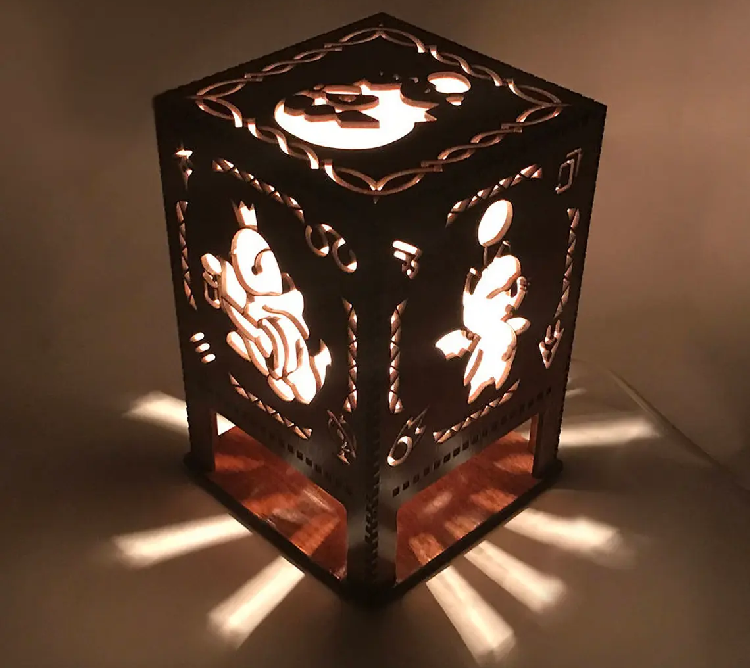 The effort that goes into some of the merchandise from Final Fantasy fans is honestly staggering.
This Final Fantasy Lasercut Lamp is not only an incredible Final Fantasy product, but an incredible product in general as this laser-cut lamp is a brilliantly made lamp that features some of the most iconic characters in Final Fantasy lore, including the Tonberry king, Moogle, Chocobo, and Cactuar. It's not going to light up your room, but it's a sleek-looking lamp that will find a happy home on your desk or night table.
Functional Gunblade Revolver Replica Sword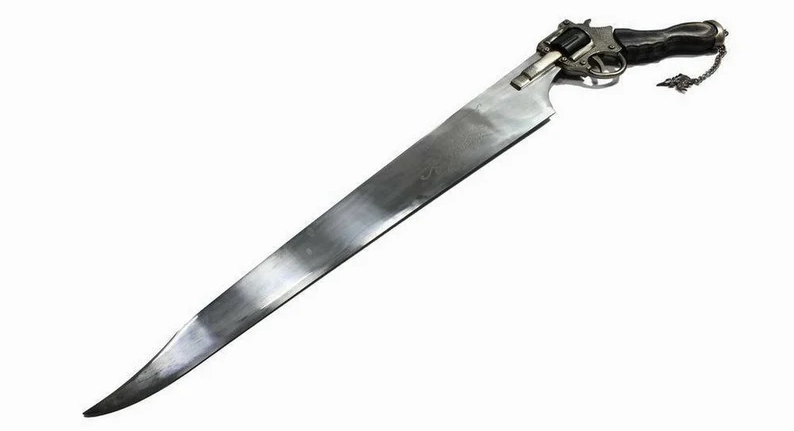 The Buster Sword may be the most recognizable sword in Final Fantasy's long history, but the Gunblade is without a doubt the second. This amazing weapon had the handle of a gun and the blade of a sword, and the combination of the two in Final Fantasy VIII produced some incredibly explosive attacks.
While this Functional Gunblade Revolver won't reproduce the explosive effects you get in the game, you'll be able to wield the weapon in all its glory.
Be careful with this one, as this is a fully functional sword, and that means that it's sharp and dangerous if not wielded responsibly. This is meant to be a wall-mounted item and is not intended as a cosplay or play item by any means. If you've got the Gil to pay for it, it's an awesome replica to add to your Final Fantasy collection.
Final Fantasy Weapons Enamel Pins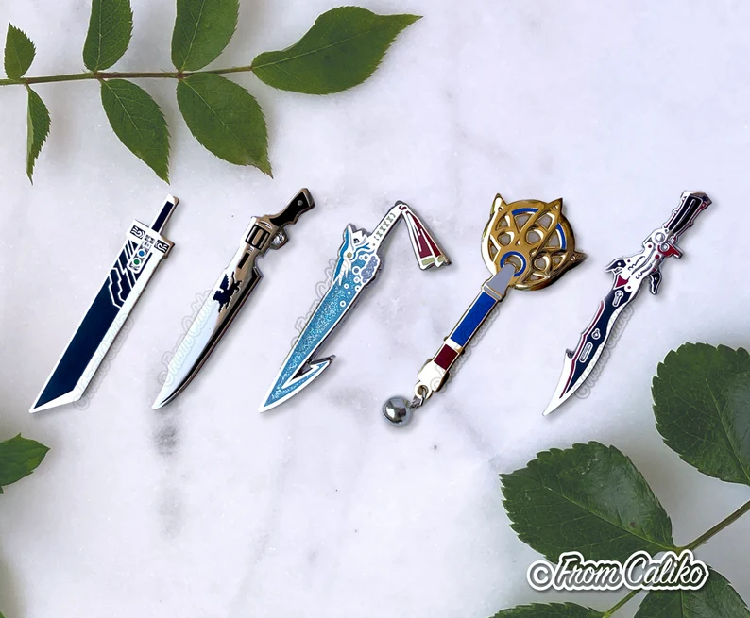 What better way to take the awesome collection of weapons that Final Fantasy heroes have used and turn them into wearable items? With Final Fantasy Weapons Enamel Pins, you can adorn your clothes, jackets, and walls with the iconic weapons of Final Fantasy history.
You've got the Buster Sword, the Gunblade, Tidus's Brotherhood sword, and Lightning's Gunblade as well. This is a solid collection, and each one is packed with detail, so whether you're throwing these on your jackets or backpacks, it's going to be an awesome look.
Final Fantasy X Theme Music Box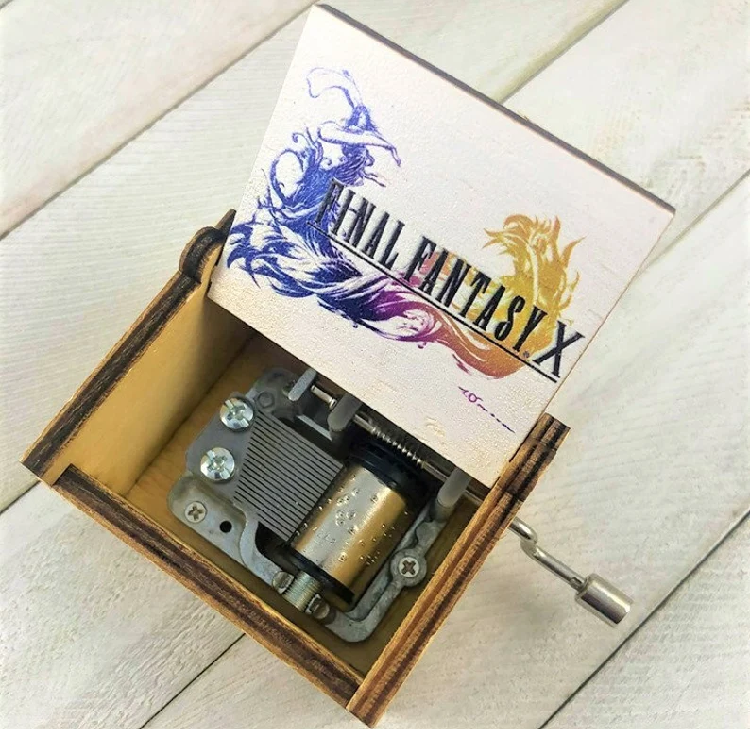 There's just something about the music in Final Fantasy. For every game, there's a theme so unique that it will stick you for years after you've finished. From the legendary main theme that adorns all of the games to the specific battle themes, Final Fantasy has created some of the best pieces of music I've ever heard.
One of those themes is Final Fantasy X's Zanarkand, and with the Final Fantasy X Theme Music Box, you will have that song on demand for you at all times of the day.
If you've got a Final Fantasy fan in the family or perhaps in someone you see, this is the ultimate in sentimental gifts as this is one of the more emotional songs in the history of Final Fantasy.
Final Fantasy 7 3D Printed Characters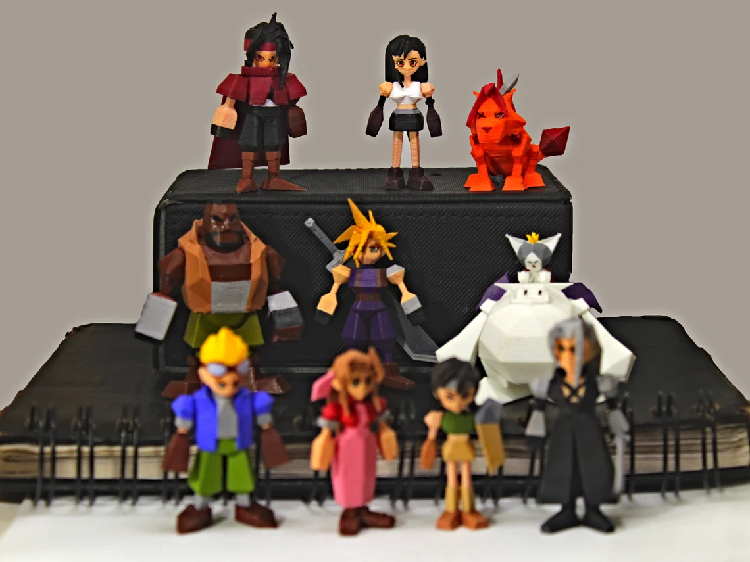 Despite the modern-day graphics of games that can just shroud the line between real life and games, there is something that was just magical about those primitive graphics of the past.
At the time of its release, believe it or not, Final Fantasy 7 was considered a graphical masterpiece, and while it's a bit laughable by today's standard, those little polygonal characters that found their way into our hearts still remain powerful all these years later.
Now, you can have the entire cast of Final Fantasy 7 in their original form, but in real life. These recreations are so incredibly detailed that it's like the creator ripped them out of the Playstation and sent them to your home. The whole gang is here from Vincent to Sephiroth, and it's pretty affordable as well.
FF12 Full Cast Painting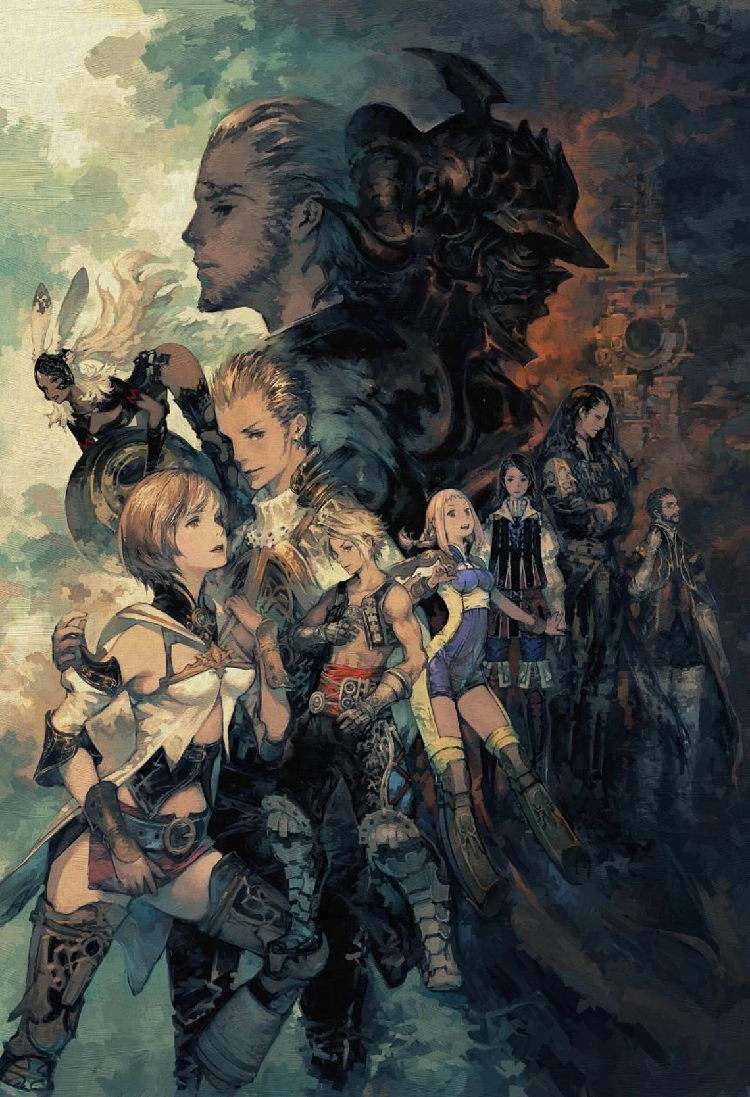 Final Fantasy 12 is possibly the most underrated game in the series. Fans were mixed on the new combat system, and the mature tone the story took didn't click with everyone.
For me, though, it was incredible and felt like a medieval political thriller with dashes of sci-fi, and the memorable cast of characters made everything come to life. While it took some time to get going, the result was an epic journey that felt every bit like Final Fantasy, as it should.
With the FF12 Full Cast Painting, you get a beautiful painting of the full cast of Final Fantasy 12, including the villains in a brilliantly made image that has so much detail to it; it's astounding it wasn't created by the artists of the game themselves.
With the shifting colors in the skies to represent which side of the conflict the characters are on and the amazing facial expressions on the character's faces, the little things here are a wonder to behold. If you're a Final Fantasy 12 fan and you're in need of some wall art, this is the way to go.
Letter From FFXV Characters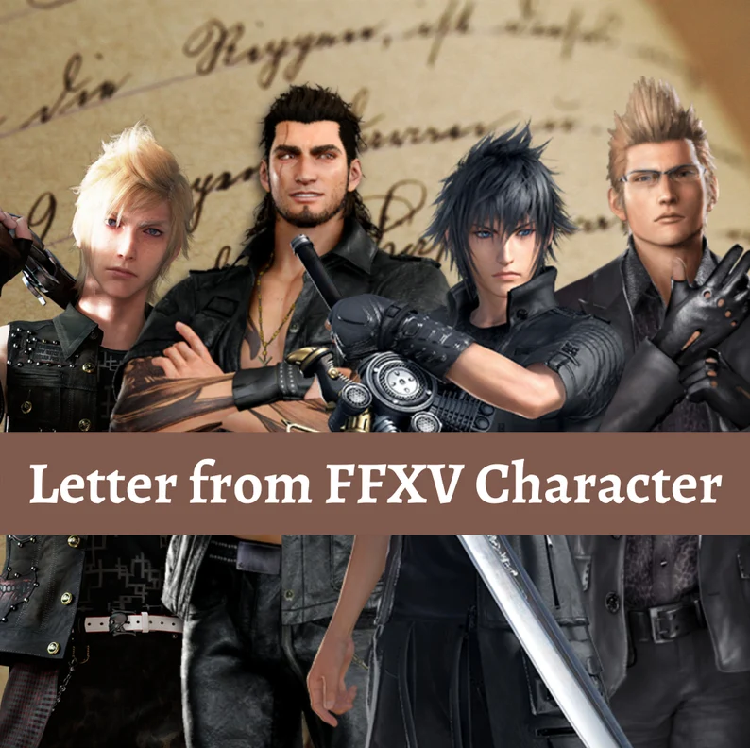 This is an interesting one. One of the main themes of Final Fantasy XV was the great comradery between you and your party. These characters felt like real people, and having them along the way for this epic journey was just a joy to experience.
With the Letter From FFXV Characters, you can get a typed or handwritten letter in the vein of any character from FFXV. You also get to choose events that are happening in the letter and the theme you want as well, and you'll be sent a personalized letter as well as the picture of the character, completely customized to you.
It may seem silly, but these letters are really well crafted, and depending on the character you write to, you'll 100 percent feel their voice in each one. Just try ordering a letter from Ardyn; trust me, it'll be worth it.
Final Fantasy XIV Job Ring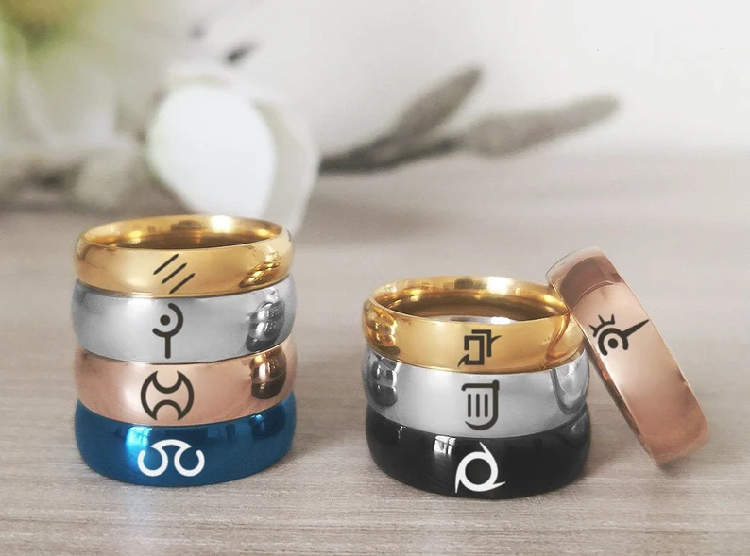 This is a wearable piece of merchandise that is as creative as it is awesome. Ever feel like the job you picked in Final Fantasy XIV was a part of you? When you commit to one, that's dedicating yourself to that job for a ton of time, and if you're not identifying with it outside of the game, well, you're just not doing it right.
Your options for Job Rings here include the symbols for Gunbreaker, Dancer, Blue Mage, Astrologian, Bard, Black Mage, Dark Knight, Dragon, Machinist, Monk, Ninja, Paladin, Red Mage, Samurai, Scholar, Summoner, Warrior, and White Mage.
Whether you want to add a little flair to a wedding band or just want to rock some different kinds of jewelry, the Final Fantasy XIV Job Ring is an excellent product.
Moonstone Wedding Ring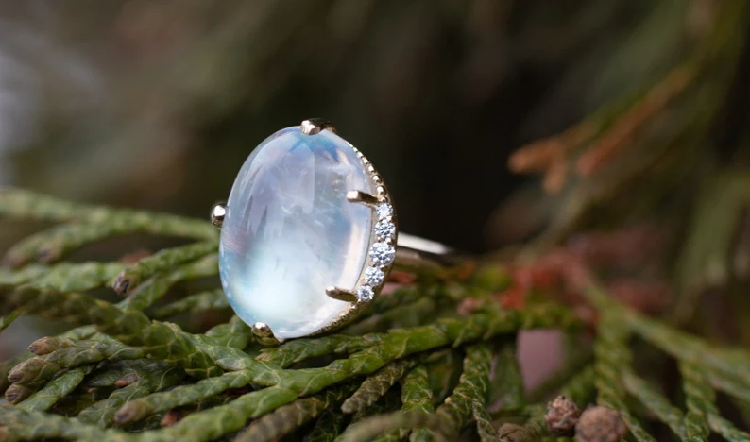 This one is going to cost a lot more than the above items, but if your special someone is an avid Final Fantasy fan, why not give them a Final Fantasy-inspired wedding ring if you're thinking of popping the question?
This gorgeous ring represents the legendary Moonstone item that appears in several Final Fantasy games.
It also is adorned with several diamonds, and the result is an amazing-looking piece of jewelry that is a perfect gif for the Final Fantasy fan in your life. There are a few variations of it, and you can order one according to your ring size without an issue.
Cute Moogle Final Fantasy Face Mask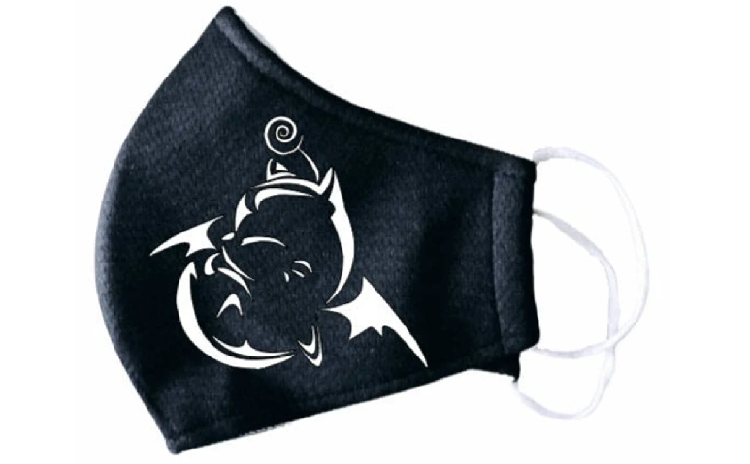 In these trying times, you might yourself needing to wear a mask whenever you go indoors. If that's the case in your area, why not wear your Final Fantasy fandom on your mask while you're at it? 
This mask offers 3 layer protection while showing a cute little Moogle on the front of the mask. It offers solid protection and also gives you a little bit of Final Fantasy flavor to your daily life, and it's very affordable as well.
Final Fantasy VI: Perler Bead Sprites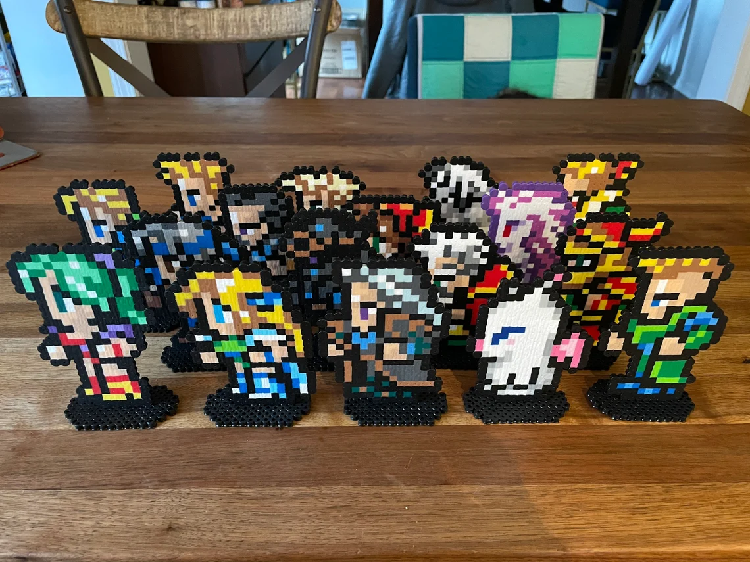 Although Final Fantasy 7 gets a ton of praise when it comes to the best Final Fantasy game.
Many hardcore fans believe Final Fantasy VI is more deserving of this title. It also had a dark story, incredible characters, and an iconic villain to boot, and it was all the more impressive because it managed to convey all of this with little 2D sprite characters.
Some found these graphics to be incredibly charming, though, and for those out there that feel that way, Final Fantasy VI: Perler Bead Sprites will bring that experience right into your home. These magnets can either be put on your refrigerator or ordered with stands attached so that you can stand them up as well.
You can also get them in keychain form or even as pins. The detail here is incredible, and these little 2D sprites look like they were plucked right out of the game. You can choose which party members you'd like involved or get the whole bundle.
Sephiroth Hellfire High Top Sneakers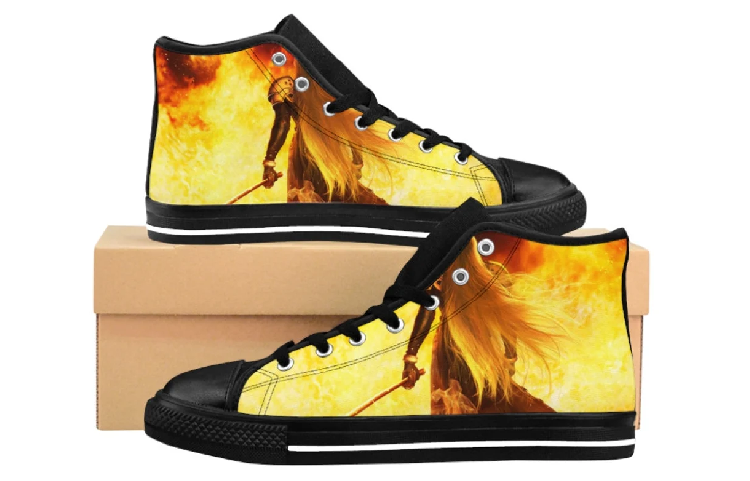 While this one is certainly a bit out there, it doesn't make it any less awesome-looking. The Sephiroth Hellfire High Top Sneakers give you the moment that changed everything in Final Fantasy 7, and the image of it on a slick pair of high-top sneakers is pretty striking.
The flames on the shoes look incredible, and whether you're wearing them around the house or looking for a brighter color shoe to wear out, these are sure to be conversation starters.
Final Fantasy Glass Materia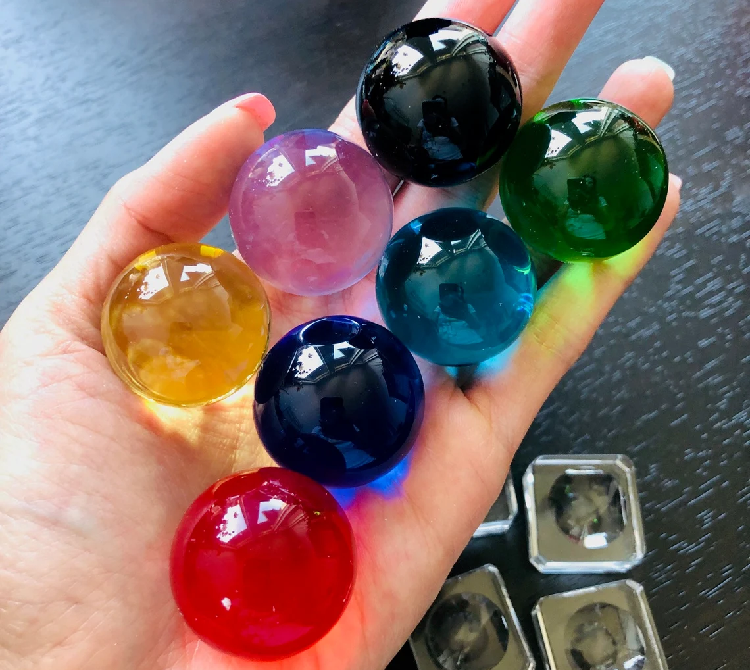 Magic was always cool in Final Fantasy, but Final Fantasy 7 introduced Materia, which were orbs that granted magic abilities, and not only was the name great but discovering the items was an awesome experience as well.
Collecting all of these Materia was a hell of a process, and you'd have to fight incredibly powerful monsters and complete long and obscure sidequests if you hoped to collect them all.
If you've ever wanted to see what your collection of Materia in-game would look like in real life, wonder no more as Final Fantasy Glass Materia will bring that reality into your home.
They're available in all the colors you can get them in the game, and you will even be able to choose from small or large Materia, so you can feel what it's like to have the terrifying Black Materia from the game.
Final Fantasy: Moogles Pillows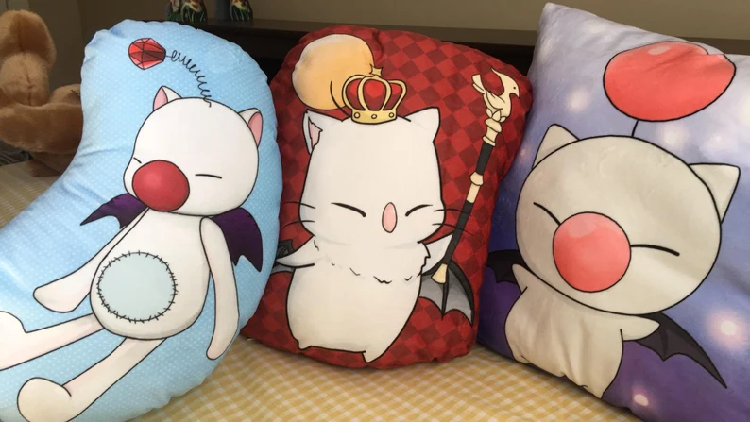 Even though Final Fantasy is known for having tons of horrifying monsters and seriously violent moments, it also has some of the cutest creatures in videogame history. The most iconic of the bunch, in my opinion, is the Moogles.
These cute little flying cat things speak by saying Kupo before and after pretty much anything they say, and while we have no idea what this means, it's a cute and endearing quality, and it makes having them around a great time whenever you play a Final Fantasy.
Considering how cute they are, who wouldn't want to have one on the face of their pillows? There is nothing in Final Fantasy more cuddleable than a Moogle, and now, you can get that experience whenever you fall asleep with the Final Fantasy: Moogles Pillows.
Carbuncle Cookie Cutters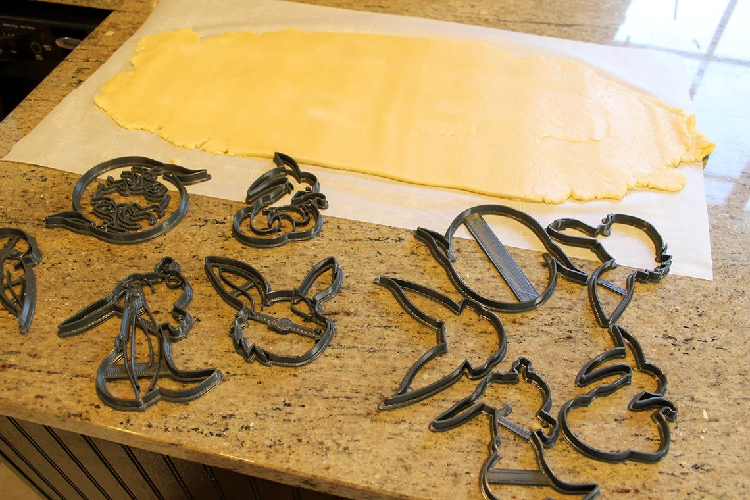 Carbuncle is one of the more unique creatures in Final Fantasy games. This little greenish-blue fox usually appears as a summon to help protect your party members. He's often pretty elusive to find and has a mystical quality to him that other summons don't share.
IF you're a Carbuncle fan, then maybe you want to turn him into cookies? Sadistic notions aside, these cookie cutters are incredibly well detailed and come in a few different styles. They are totally safe to cook with too, and the craftsmanship here is worth the low price, especially if you bake from time to time.
FAQs
Question: How Much do These Items Cost?
Answer: Depending on the item, this Final Fantasy merchandise can range in price pretty wildly, though most of the items are pretty cheap. Some of the more expensive items are generally replicas of well-made cosplay items.
Question: Does Every Final Fantasy Game have Merchandise?
Answer: You can definitely find merchandise for each game, but the most popular games like Final Fantasy 7 often dominate the stuff that's available.
Question: Can I Make my Own Final Fantasy Merchandise and Sell It?
Answer: Of course! Etsy.com is an awesome place to sell things that you yourself made, so get to work if you'd like to and see what kind of audience you can find.
Conclusion
As you can see above, Final Fantasy fans have no end to their passion for their favorite games. From recreating their favorite fights in their living room to creating fully functioning replica weapons, the amount of Final Fantasy merchandise available is almost never-ending.
Continue reading related Final Fantasy merchandise guides and reviews: