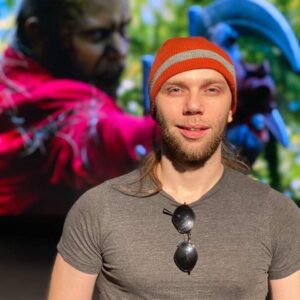 Latest posts by Bryan Hughes
(see all)
This Best Buster Sword Replica article will look at swords made with foam, wood, and steel. Swords for cosplay, display, and, most importantly, that capture the style of Cloud Strife's classic blade.
The Buster Sword is one of the most iconic swords in video game history. Even people who have never played Final Fantasy Seven recognize the blade. It's massive and seemingly unwieldy, but the main character swings it around like it's light.
Cloud Strife is infused with MAKO energy and a bit more than human, so trying to do the same with a full-on replica is not something I recommend. However, some of these swords are made perfectly for the cosplayer. That being that they are designed of foam and light/safe enough to carry to whichever party you bring them to.
These are the best Buster Sword replicas you can find on the net.
Bottom Line Up Front: I will provide links and opinions on each sword. Criteria for why they were chosen will be shown to help you understand their placement. 
Rating System
The rating system for this sword-related article will look something like this.
Dull -> Blunt -> Solid -> Sharp -> Excellent 
Selection Criteria
Quality:

How well it is made and its likely shelf life.

Style:

This concerns how much care was put into the color and detail of the blade. 

Resemblance:

 How well it captures the Buster Sword design from the Final Fantasy games.

Price:

 The cost of the item regarding what you get for the money, not in comparison to other replicas.

Personal Taste:

 My liking of the sword and how I feel it stacks up to something I would purchase. 
#10 Giant Fan-Made Blade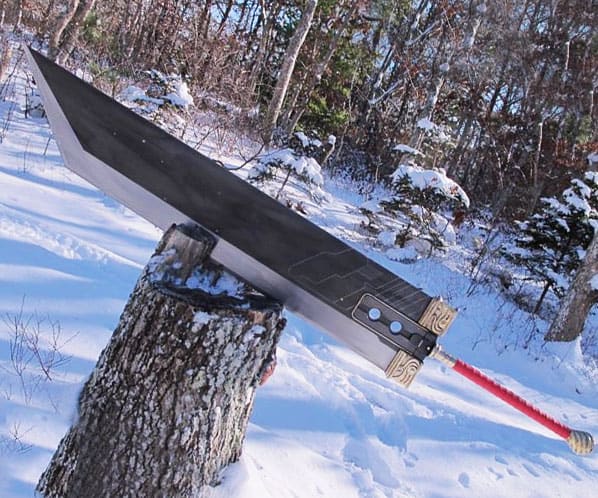 This is the first of the custom-made Buster Swords that made the list, and it is massive. Probably the heaviest on the list and the only one capable of still looking decent after destroying a wooden platform. You can watch the creator's fun video in the link when they have a friend wield the weapon to do so. The friend is in great shape but still absolutely exhausted when he's finished. There is a contact selection on the website, so while there is no price listed, it may be possible for you to purchase this monstrous weapon.
Quality: Sharp
Style: Excellent
Resemblance: Solid 
Price: Non-Existent
Personal Taste: Blunt 
Link to Site: Real-Life Buster Sword
#9 Heroic Replicas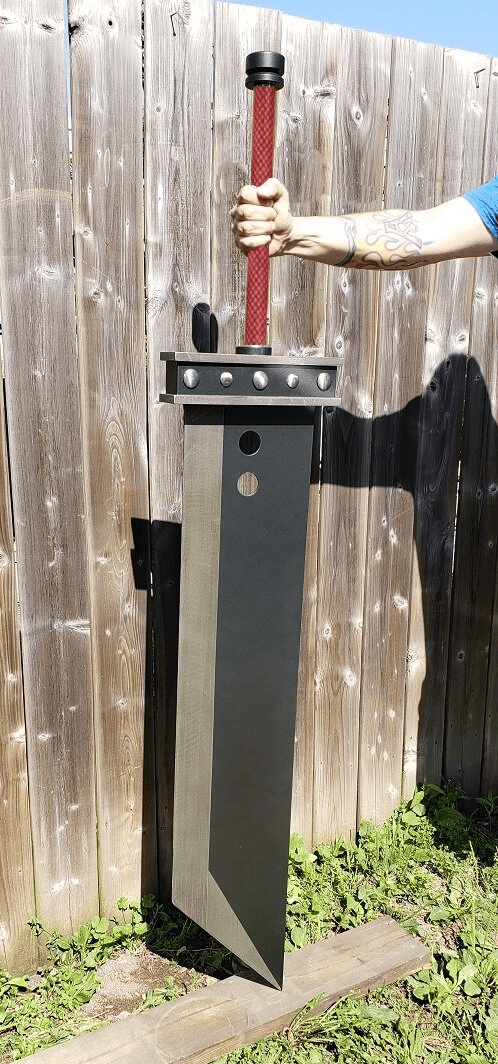 This is more of an old-school Buster Sword replica. Resembling the weapon from the original FFVII title. However, like the sword before, it is too heavy and oversized. What sets it apart on the list is that it comes with five custom Materia! For any fan of the game, getting some replica Materia with their replica Buster Sword is an excellent find. A 50lb sword is far too heavy of a wall mount and not very useful as a costume piece. For this reason, while a good replica, it lands low in the top ten.
Quality: Solid
Style: Solid
Resemblance: Solid
Price: Dull (The price may vary.)
Personal Taste: Dull 
Link to Site: Heroic Replica Buster Sword
#8 Affordable Foam Buster Sword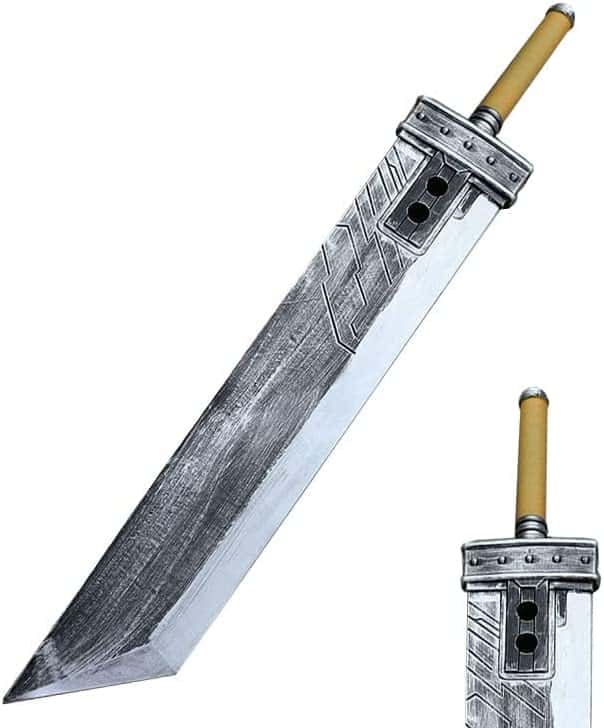 This, the first of the foam sword entries, is the best price a cosplayer can ask for if they are shopping for a costume online. Coming in at just around 40 dollars. A foam sword is a safe and good idea to bring to events where you show your FF7 love. Cosplaying as Cloud, Zack, or even Angeal. While the paint job is cool, and you get three different options, the foam work is fairly obvious around the base and the handle. Not to mention, it's pretty easy to break by accident. While it is a good grab for an anime or gaming convention, it isn't a great long-term replica.
Quality: Dull 
Style: Solid
Resemblance: Solid
Price: Excellent
Personal Taste: Dull
Link to Sword: Amazon Buster Sword Replica
#7 Wooden Fusion Sword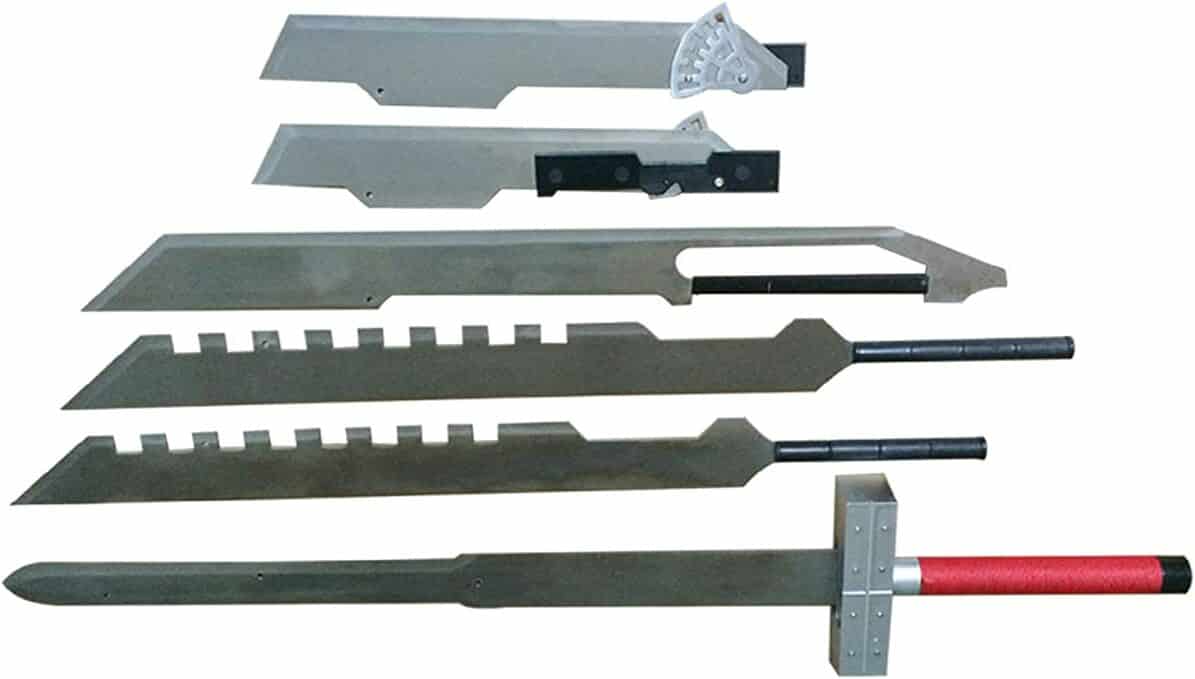 This is pretty awesome. This Buster Sword Replica is modeled after the one found in Final Fantasy Advent Children. It's a very sturdy piece because it's crafted from wood, making it less dangerous than steel replicas and stronger than foam ones. You can do poses with this and shoot short Tik Toks, doing some of Cloud's moves relatively safely. Not to mention it's still an excellent replica to use with your cosplay. I would suggest against swinging this about too much as it will wear down the wood where the different blades combine into one. Nonetheless, this is a nice replica that is neither too heavy nor will easily break.
Quality: Solid
Style: Sharp
Resemblance: Sharp
Price: Solid 
Personal Taste: Sharp 
Link to Site: Wooden Sword Replica
#6 Classic Buster Sword(Foam)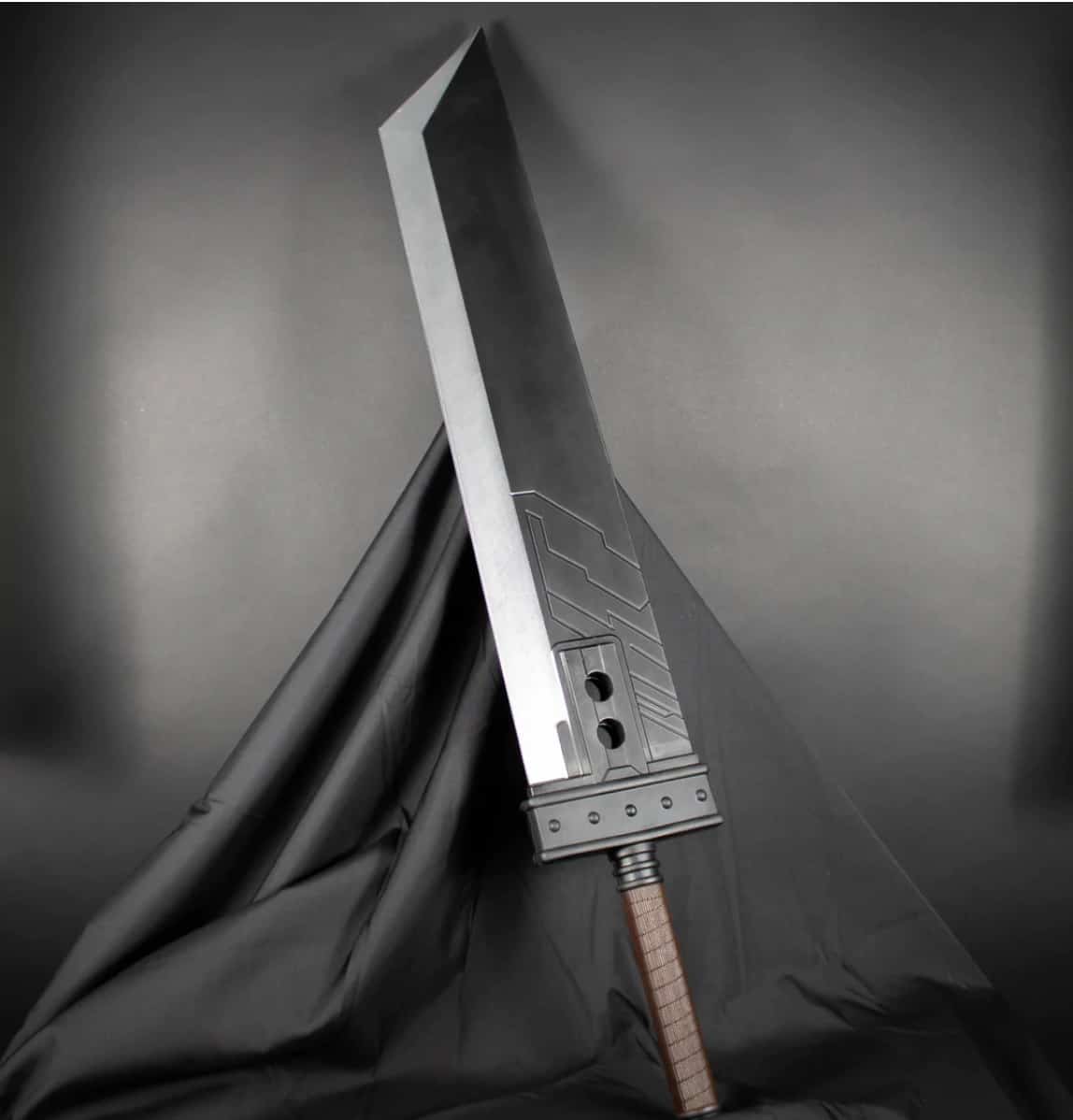 This is arguably the best basic foam sword replica you can find. They put effort and high-detail to make it nearly impossible for the common eye to notice that this replica sword is light and easy to break. From this entry onward, all the swords will clash for that top spot. The color design on this blade is clean, and they put a lot of careful detail into capturing how it appears in the game. The only glaring issue is that, ultimately, it is foam. Paying 50 dollars for something you can break with minimal effort is a risk.
Quality: Blunt
Style: Sharp
Resemblance: Sharp
Price: Sharp
Personal Taste: Sharp
*Beats out #7 as an average cosplayer is better off choosing foam for safety.
Link to Site: Collectors Outpost Buster Sword
#5 Black, 52-inch Steel Replica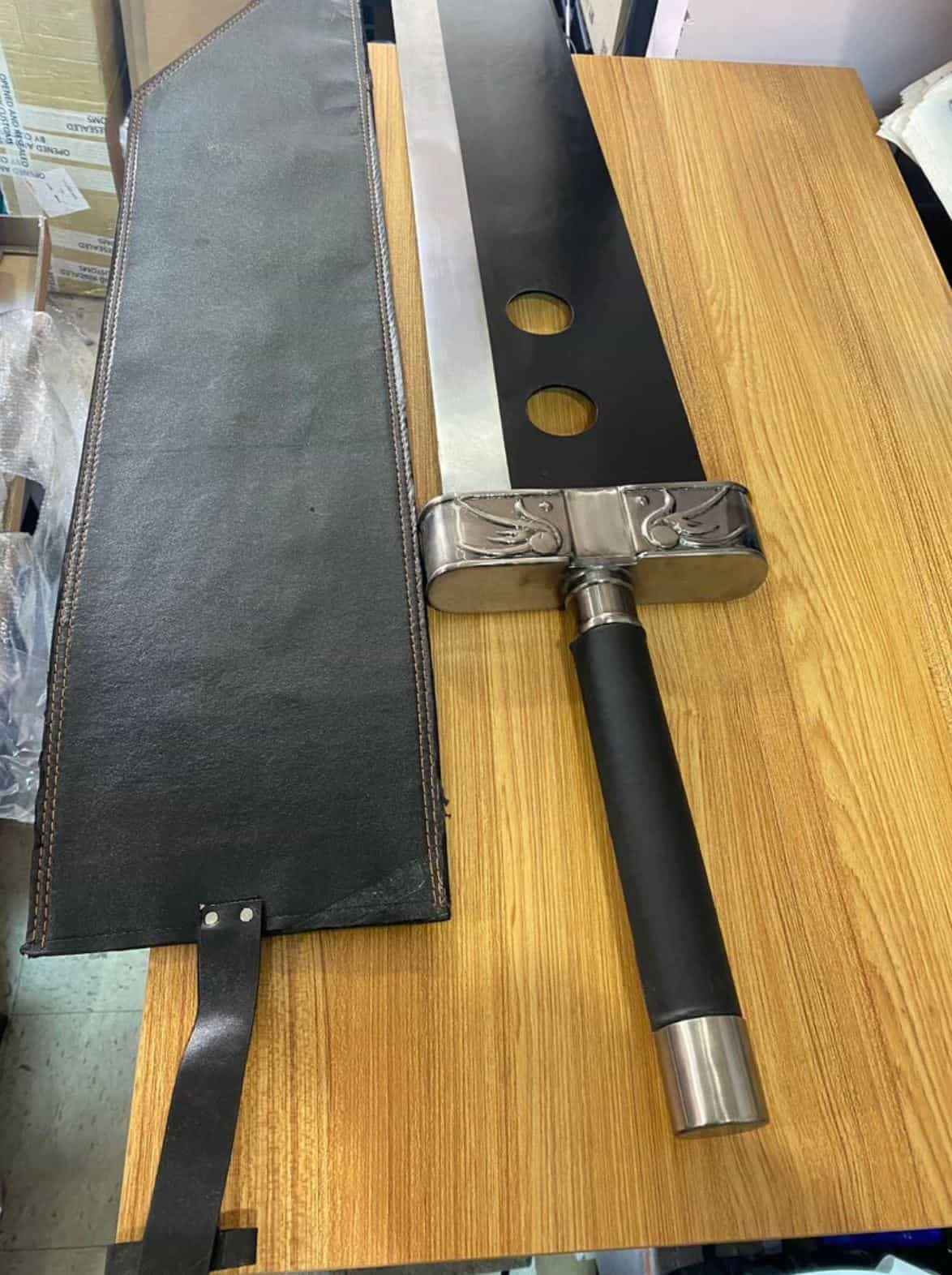 This particular sword comes with a leather sheathe and is made upon order. It lacks some flare and design, even a bit of the resemblance of earlier entries. It makes up for that with quality and a great supplier. They have an excellent return policy and a great reputation. Do note it is made by a real blacksmith and not dulled. It comes sharp, be cautious. Unlike other replicas on the list, this is not for cosplay. It is for sword enthusiasts who also love the Buster Sword design.
Quality: Excellent
Style: Solid
Resemblance: Solid (handle is wrong)
Price: Blunt(500 dollars when on sale is a lot)
Personal Taste: Sharp 
Link to Sword: Swift Dealers Buster Sword
#4 High-Density Foam FFVII Remake Buster Sword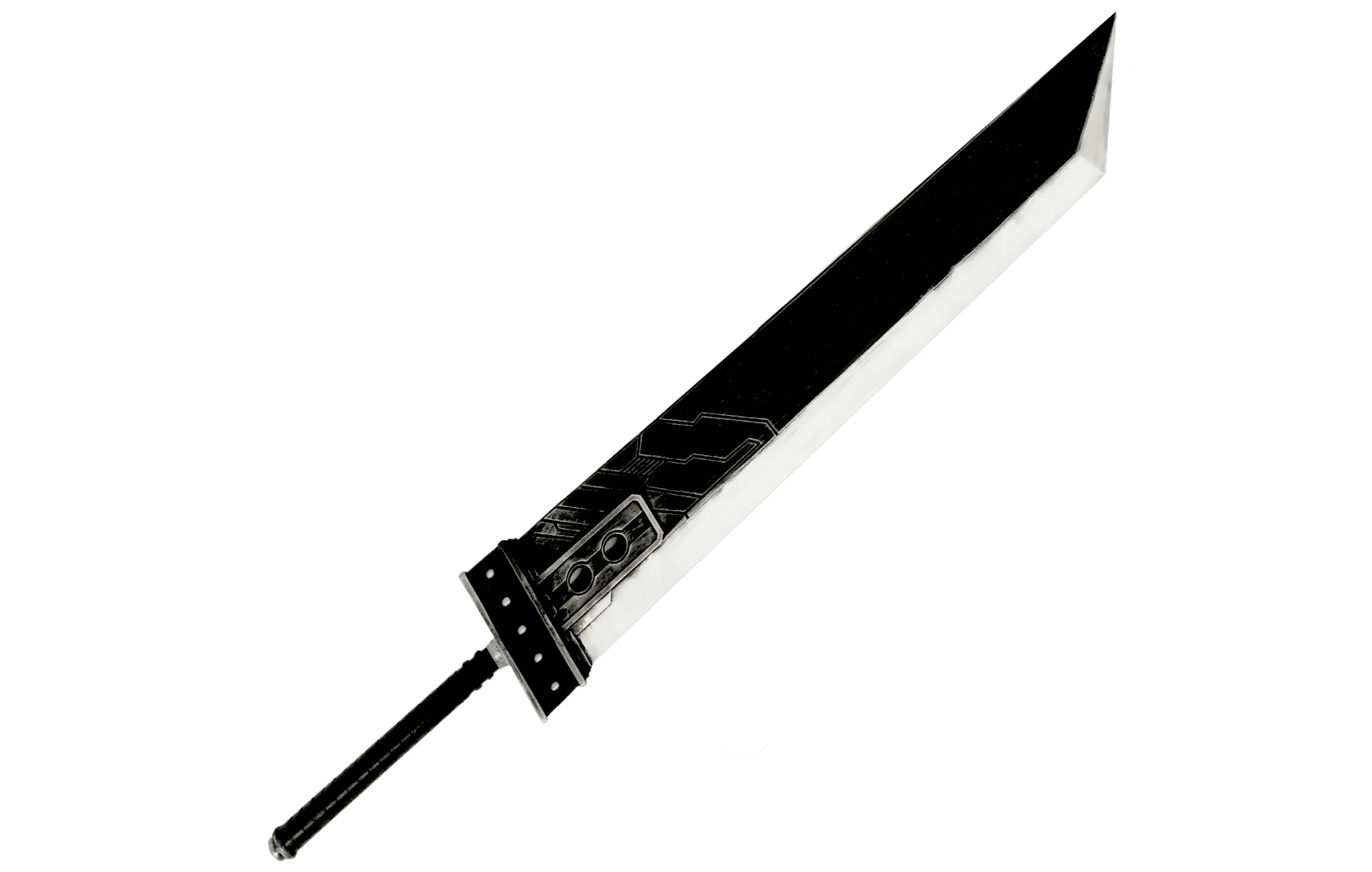 Here is the pinnacle of foam replicas for the cosplay enthusiast. This one even works as home decor, as the high-density foam has a bit more damage resistance built in. There is also a steel core from the center throughout the blade to help stabilize it. This replica is modeled after the FF7:Remake Buster Sword. While I still can't give a foam sword a sharp quality rating because it is still easier to damage and impossible to repair, high-density foam is very reliable. This is the best option if you are looking for a long-term Buster Sword for your cosplay needs that is safe and easy to carry around.
Quality: Solid
Style: Sharp
Resemblance: Sharp
Price: Solid
Personal Taste: Sharp
Link to Sword: High-Density Foam Buster Sword
#3 Fire and Steel, 12lb FF7: Remake Buster Sword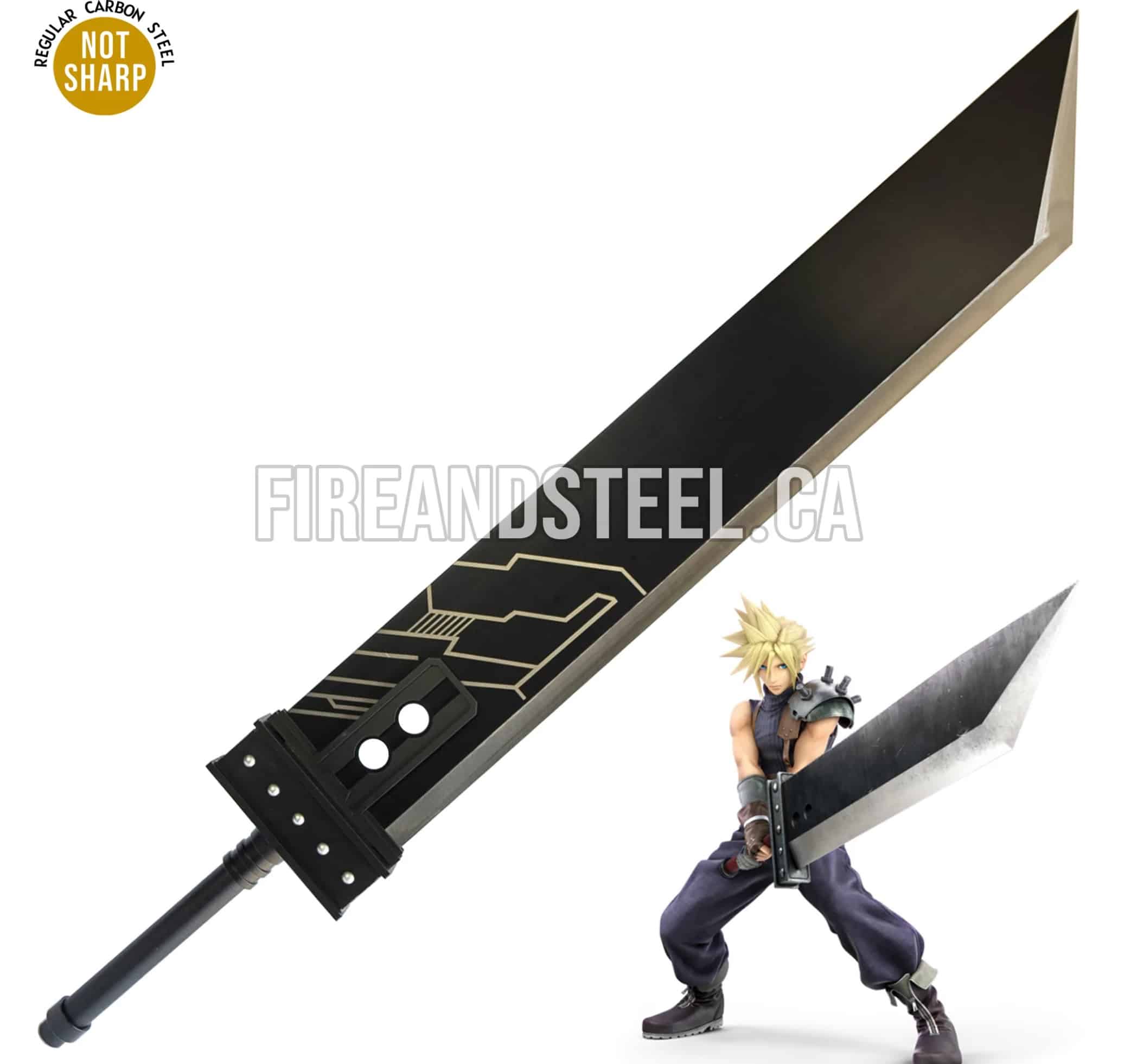 These final replicas are long-term purchases, which is why they top the list. While they should not be used for costumes, they are perfect for permanent home fixtures, FF7 enthusiasts, and collectors. This beautiful steel replica, for instance, weighs a solid 12 lbs. It is a near spot-on recreation of the FF7: Remake version of the Buster Sword. It's a high-quality, blunted-for-safety, well-crafted blade. The weight means you can mount it on a wall without much trouble and move it around with general ease. It's a thing of beauty.
Quality: Excellent
Style: Sharp
Resemblance: Excellent
Price: Sharp 
Personal Taste: Excellent
Link to Sword: 51-inch Carbon Steel Buster Sword
#2 Six-Bladed Fusion Buster Sword Replica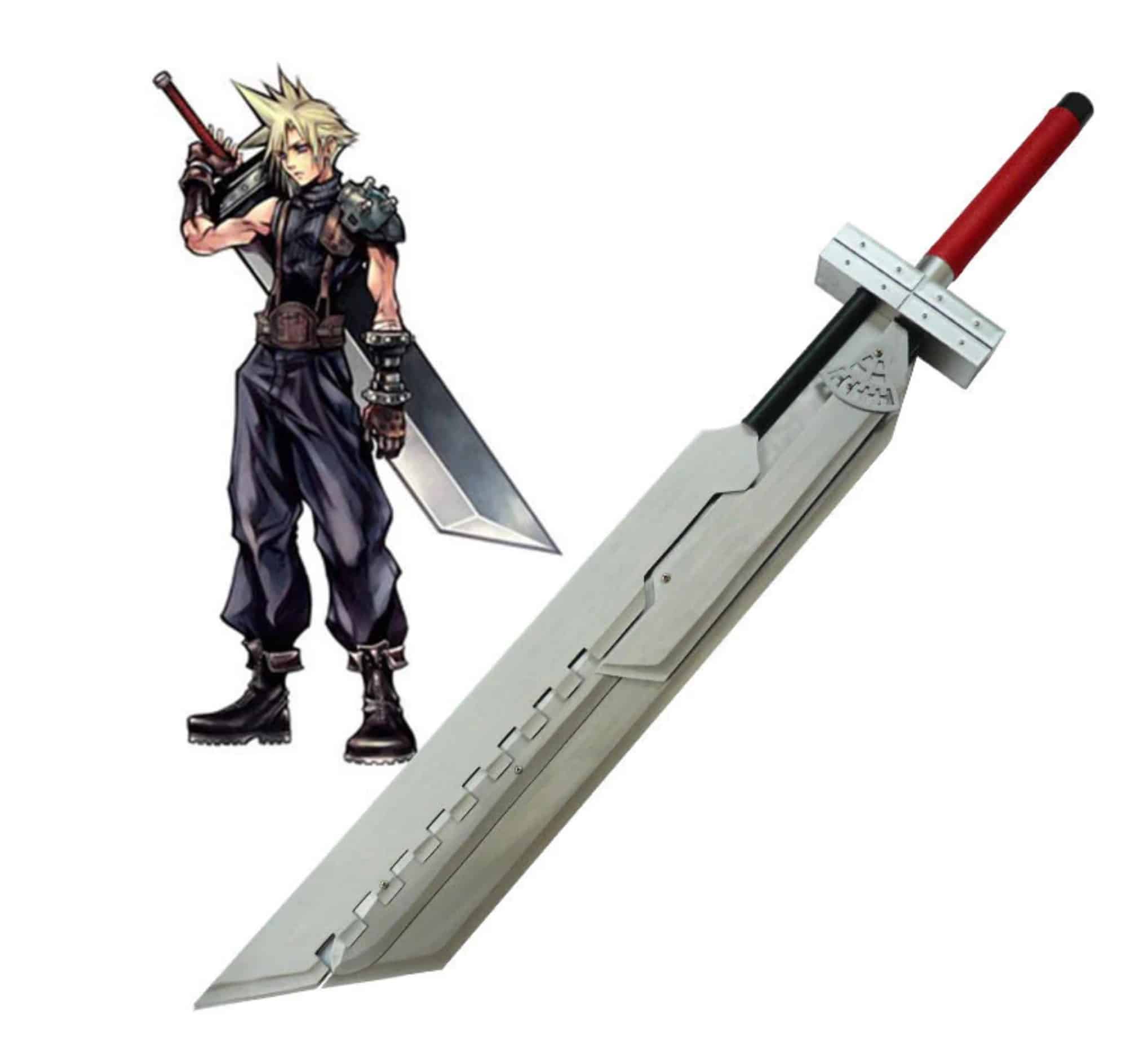 A tremendous amount of design was put into this sword. This is another one modeled after the Fusion Buster Sword from Advent Children. That means it is actually multiple swords that combine to become one Buster Sword. There are a total of six blades when you take this apart, and the team at Fire and Steel was able to craft a design in which they all safely connect into one. It is made of stainless steel and is very durable. The only thing keeping this from the top spot is that it has multiple parts, making it heavier and a bit more unsafe than a solid piece.
Quality: Excellent
Style: Excellent
Resemblance: Sharp
Price: Sharp
Personal Taste: Excellent 
Link to Sword: Fire and Steel Fusion Buster Sword
#1 Stainless Steel Buster Sword Replica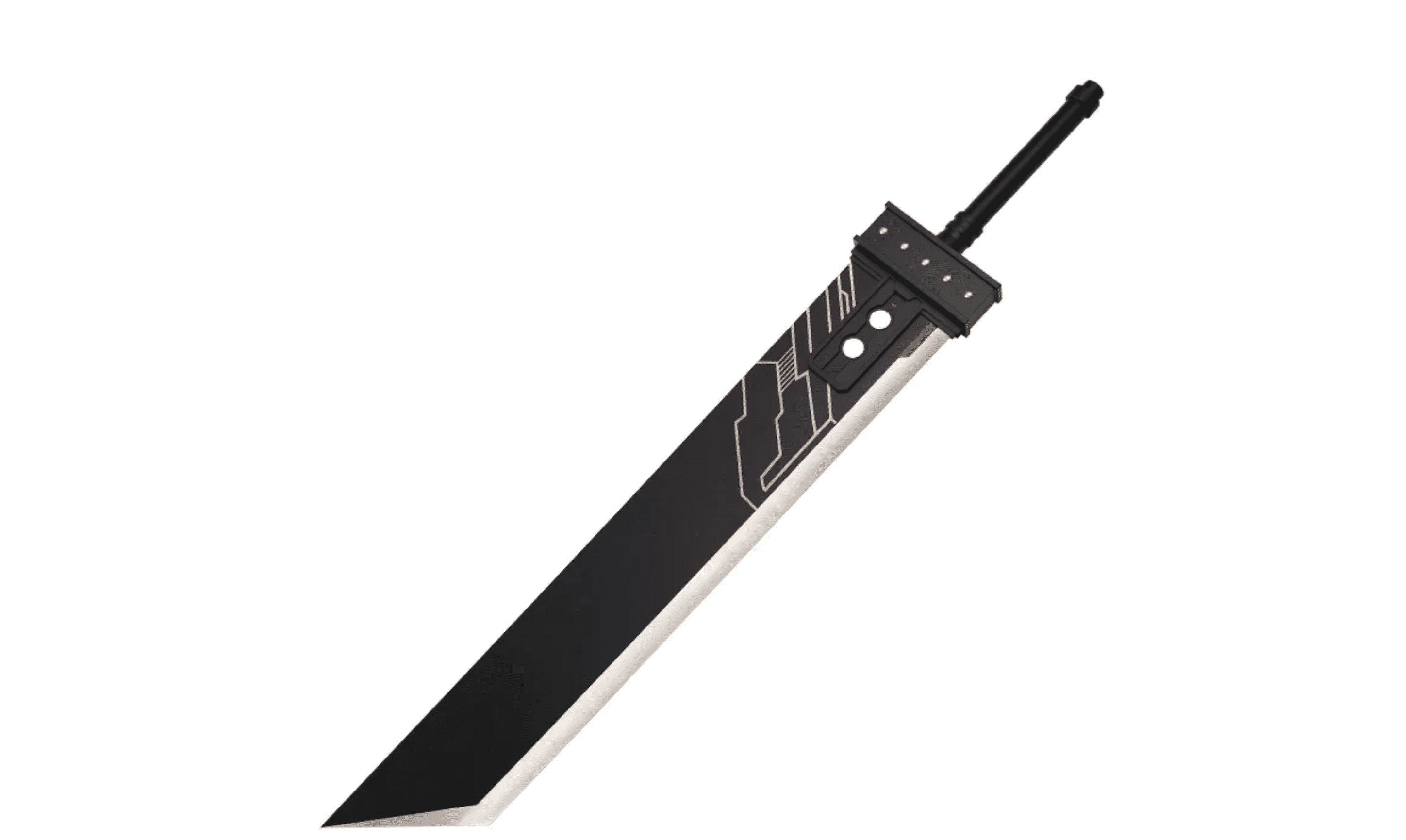 This checks all the boxes. This is made from 440 stainless steel, one of the highest qualities of said steel. Meticulous design on the blade to match the Buster Sword from FF7: Remake to a tee. The handle is wrapped in leather and comes in at 56″ long and 7″ in width, making it a near-perfect match to the in-game version. From its quality to how well it resembles the Buster Sword, this is a tremendous item for anyone looking to grab a permanent replica. The caliber and specs being so close to what a real Buster Sword might be, lands this blade our top spot.
Quality: Excellent
Style: Excellent
Resemblance: Excellent
Price: Sharp
Personal Taste: Excellent
Link to Sword on Amazon: Buster Sword Black
DIY

You'll need some plywood, paint, and power tools, but it is possible to make your own Buster Sword Replica. Scroll down on the web page linked below until you see DIY, and follow the instructions for help.
Power tools can cut a finger off faster than any of the replicas on this list. I do not suggest doing this alone or unsupervised if you've never used some of the tools involved. Still, if you are interested in crafting and love DIY projects, there's a significant step-by-step guide at the Sword Buyer's Guide.
Here's the webpage with the DIY instructions: Sword Buyers Guide
FAQs
Question: Is the Buster Sword a real sword?
Answer: No. It is somewhat based on a Chokoto and a Claymore. That is a ninja sword and a large two-handed sword used by the ancient Celts, specifically the ones that colonized Scotland.
Question: How can Cloud use the Buster Sword?
Answer: Aside from having great triceps, shoulder, and back muscles? He is infused with MAKO and some Jenova cells. It's hinted that the few who survive this and gain self-control have superhuman qualities, so it's sensible First Class Soldiers can wield heavier things than they appear.
Question: Is the Buster Sword Cloud's best weapon?
Answer: Not in the game. In Remake, it would be the Hard Edge. In the classic, it is Ultima Weapon. It is simply the most sentimental one. In the original, it can not even be sold.
Question: Is Cloud the Only One to Use the Buster Sword?
Answer: No. Zack passed the sword onto him. Zack got it from Angeal. So altogether, three people in FF7 lore have used it. You can play those events in Final Fantasy 7: Crisis Core.
That's All
Thanks for reading, and I hope you found what you were looking for. Feel free to browse some of the sites listed, and definitely come back here for more Final Fantasy-related knowledge.
We cover all topics from each game, including merchandise ideas like this! Until then, farewell and happy sword-browsing!