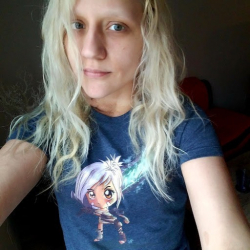 Latest posts by Emily Medlock
(see all)
The best FFXIV Summer Indigo Shirts in real life look just like the shirt in the game. One of my favorite things to do in Final Fantasy XIV is to create glam. My glam slots are always full.
The Summer Indigo Shirt is a famous, casual shirt that I have used for a few in-game cosplays and original looks. While the shirt doesn't suit me in real life, it could definitely prove useful for a FFXIV cosplay. 
Of course, that's if I can't find the perfect Rebel/Urban coat or Rider's jacket. There are so many fantastic glam pieces in the game that I honestly wouldn't know where to start. But the Summer Indigo Shirt is an easy one to find.
My Favorite Summer Indigo Shirts
| | | | | |
| --- | --- | --- | --- | --- |
| Favorite Shirt | Brand | Link | Top Pro | Top Con |
| Men's | NA | Light in the Box | Looks great | Not name-brand |
| Women's | ZC&GF  | Amazon | Flexible fit | No perfect color |
| Boy's | Cat & Jack | Target | Decent color | Has a pocket |
| Girl's | Tommy Hilfiger | Amazon | Identical fit | Only in white |
Choosing a Summer Indigo Shirt
Nothing is one-size-fits-all, even hats – I know a few 99 percentiles – and the Summer Indigo Shirt is no exception. This is the list of criteria I use when picking Summer Indigo Shirts.
Fit/Style
Fit and style is quite personal. However, whenever you are cosplaying, it's important to try to mimic the clothing of the character. In this case, the shirt should be slimmer in the waist. The rest we can cover later. 
Color – No Patterns
The Summer Indigo Shirt should not have a pattern. It should be a very light blue color that is almost white. If you have to choose between medium blue and white, choose white.
Buttons/Sleeves
The buttons on the Summer Indigo Shirt can be any lighter color or silver. They should be a bit bigger than in most button-ups. The sleeves need to be slightly shorter than 3/4 sleeves (above the elbows this time). Oh yes, and no pockets, please.
Price
Price is up to you. I set a budget before I begin shopping each time to keep myself reigned in. It's a good idea to set a budget for the entire cosplay so that you can make up the difference whenever you find a hidden gem. 
Best FFXIV Summer Indigo Shirts
My list was compiled using the criteria above. I have added men's, women's, and kid's sizes to give a variety. Remember to take a look at the Lalafell fit if you're working with a kid.
I love this pick because it looks so comfortable. If I had to choose one of the men's shirts, I would choose this one because I would definitely rewear it. In case you're wondering, my experiences with Light in the Box have all been positive. 
Pros
Nearly perfect color

Lightweight

Larger sizes
Cons
No smaller sizes in stock

Not perfect reviews

Not name brand
This is the female version of the men's shirt above. Now, when it comes to men's vs women's sizes there aren't always a lot of differences. The small differences I have noticed are how low the neck is, how wide the arm holes are, and how wide the hips are. 
Pros
Close color

Lightweight

Color choices

Size options (with fit predictor)

Cheap
Cons
Not perfect reviews on the store

May be too flowy
If your kid is into FFXIV, then you're doing things right. Also, you can get a simple shirt like this and adjust it to fit. Because it's affordable and readily available – even in-store – you may be able to get it and they won't notice the pocket. 
Pros
Close color

Can starch/iron to lay right

Size options

Affordable

Amazing reviews
Cons
Not very flowy

May need adjustments

Has a pocket
If you want to get a couple of color options with one normal and one dyed Summer Indigo Shirt, then this may be a good option. The ratings are great and the shirt looks super comfortable.
Pros
Good color

Color options

Style options 

Lightweight

Fast shipping

Great ratings
Cons
Not expensive, but not cheap

May not lay right
Again, if you want more than one color, I suggest this for those looking for a female fit. I love this shirt so much and want to buy one in every color. It's comfortable yet rides the line between business and casual. 
Pros
Color options

Lightweight

Fast shipping

Great ratings
Cons
This is one of the cheapest options you'll find, and since it's H&M, it should have available coupons (looking at you, Honey.) The sizes go up to 20, so this may not just be for kids. 
Pros
Cons
Only in white

Has a pocket
I used to shop at Forever 21 a lot, and I loved it. This shirt has a barely noticeable pocket but the perfect color makes up for it. The barely there blue is exactly what the Summer Indigo's default color is. 
Pros
Great color

Affordable

In-store and online
Cons
This standard button-up is the nicest on the list. You can catch it for 50% off, but if you don't, you'll be paying quite a bit for it. I want to say it's worth it, but I can't say that for certain when the cheaper options are also so good.
Pros
Great color

Size helper

Pretty alternative colors
Cons
I love natural clothing, even if they only feel natural. This shirt is so soft and comfortable, like muslin, one of my favorite materials worldwide. I suggest blue or white if you want to mirror the default Summer Indigo.
Pros
Plenty of color options

Comfortable

30% flax
Cons
Can be too flowy

Not a great collar
This option is great, and the only flaw I see is the pockets, which aren't great for a Summer Indigo Shirt. However, this can be removed or overlooked if this is your favorite style on the list.
Pros
Plenty of color options

Close color

Sizes up to XX-large
Cons
Hard to get to lay right

Has pockets
This is my favorite kids' choice on the list because it is the closest to the real Summer Indigo Shirt. The fit and style is nearly perfect, but the color isn't. You can dye it or leave it white and pretend you have Pure White dye. 
Pros
Cons
How to Style the Summer Indigo Shirt
After you get the shirt, you then have to style it. Some of the styling can be done with nothing but your hands. But a few things will require tools. These are all optional so to each their own. 
Redo the Buttons 
If I were getting a Summer Indigo Shirt, I would remove the buttons and replace them with light blue or silver ones that fit the style better. Slightly bigger, definitely round, with an indention in the center.
Add Stitching 
If you look closely, you'll notice distinct stitching on the shoulders and faint stitching on the back and front. If I were to enter a competition, I would do this. But if I weren't, then I'd skip it. 
Pop the Color
Pop the color before the day of the convention – or wherever you're wearing this. If you do, then you can find out if you need to add a brace underneath to ensure it stays in place.
Only Button Two Buttons 
I would wear an undershirt to retain coverage. But that's up to you. Either way, make sure you leave the top few and bottom button undone. This is the signature of the Summer Indigo Shirt.
Roll Up the Sleeves
Roll up your sleeves and make sure they lay right. You may want to pin them or tack them with thread. You can even cut them off and roll them up afterward if the rolled-up sleeves are too bulky otherwise. 
What to Wear with the Summer Indigo Shirt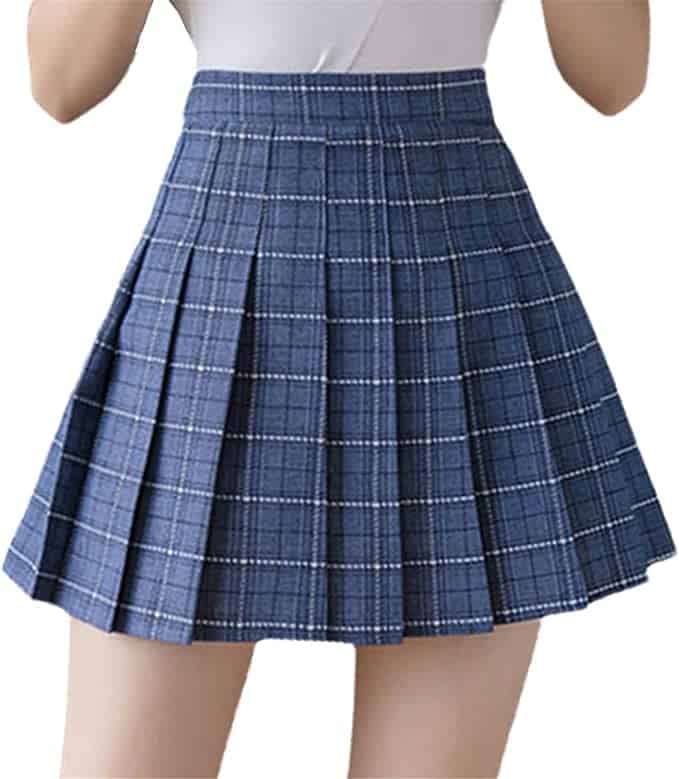 You can wear anything you want with the Summer Indigo Shirt, but if it's important to you that it's recognizable, you may have to stick with one of a few options. Shoes are easy to find, but here are the bottoms I recommend for your cosplay.
Spring Bottoms
Spring Bottoms are my pick. For the females, it's folded-up denim shorts. For males, it's tapered jeans. I don't love the look on males, but it could look amazing in real life with the Summer Indigo Shirt. 
Collegiate Skirt
Any short skirt will look good with the Summer Indigo Shirt in real life, but I'm a sucker for the Collegiate Skirt. It is so cute and looks amazing with any shirt. The look is professional and yet flirty. 
Peacelover's Pantaloons (or Frontier Trousers)
Almost any jeans can be made into Peacelover's Jeans. If you wear them with boots – like the Peacelover's or Rebel boots – then you can skip the flare (and fray) and stick with a simple skinny jean or boot cut. 
Craftsman's Leather Trousers
If I was brave enough to wear leather pants, I'd already have a couple of pairs. I love the Craftsman pants so much, and they look so good in real life with the button-up Summer Indigo Shirt.
Patrician's Bottoms (or Valentione Skirt)
These simple bottoms look different on the male and female avatar, so you can choose either. On the male, they are quite "butler-esque" while on the female they look like a short skirt and stockings. 
Cotton Tights
If you are in the thick leggings are pants gang, then consider wearing them with the Summer Indigo Shirt. It's a whole look in-game, and it should be in cosplay too. Be careful not to get oversized shoes for this look. 
How to Get the Summer Indigo Shirt in FFXIV
If you still don't have the Summer Indigo Shirt in-game, then you can get it today. There are three ways to do this, and all of them are still available as I write this guide.
Zadnor:

random drop from FATES in Zadnor

Weaver LVL 80:

 made from 7 Lightning Crystals, 7 Wind Crystals, 3 Indigo Cloth, 1 Ovim Wool Yarn, and 1 Manasilver Nugget (must have Master Weaver VI)

Marketplace:

 easiest and most expensive method, generally costs 200,000 gil to 750,000 gil
FAQs
Question: Why is it Called the Summer Indigo Shirt?
Answer: I do not know. The cloth is obtained from a treasure map dungeon filled with Fuath. These Fuath are frogs who have collected the cloth themselves, and no one knows where they got it.
Question: When Did the Summer Indigo Shirt Come Out?
Answer: The Summer Indigo Shirt came out during Shadowbrigers when both Zadnor and the Timeworn Zoneureskin maps were released. It hasn't been long since this happened, and the shirt is still in high demand. 
Question: Does Summer Indigo Shirt Come with a Necklace?
Answer: Yes. The Summer Indigo Shirt comes with an early 2000s necklace, If you look closely, it is fully silver with a round pendant that would be easy to copy. Made sure it's silver and round, and no one will notice it's not identical.
Question: Can I Use Any Color of Summer Indigo Shirt?
Answer: Yes. You can dye the Summer Indigo Shirt any color in-game, so why wouldn't you be able to dye it out of game? When you choose a different color, try to find the in-game color it matches. 
Summer Indigo Shirt All Year Long
Summer Indigo Shirts may have "summer" in the name, but I believe they are appropriate any time of year. This button-up changes styles depending on what you pair it with.
If I wore a Summer Indigo shirt, I'd pair it with the Spring Bottoms in the summer and perhaps the Peacelover's Jeans and Whisperfine boots in the winter. Of course, I also love this shirt with Mog Station bottoms too!