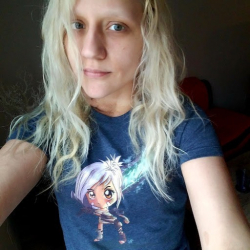 Latest posts by Emily Medlock
(see all)
A Final Fantasy XIV Island Sanctuary Visions guide will take you through the confusing visions of FFXIV's private island. It took me a few days to understand what visions were and how I was supposed to accomplish them.
I hope that no one else has to go in blind if they don't want to. Suppose you want to wing it and figure everything out on your own; fantastic. If you prefer to follow a guide, that's what I am here for.
Island Sanctuary Visions Overview
| | | |
| --- | --- | --- |
| Vision | Rank | Theme |
| The Coziest of Cabins | 1 | Build a Cabin |
| Top Crops | 2 | Start Gardening |
| Adorable Animals | 2 | Catch an Animal |
| A Workshop of Wonders | 3 | Build Your First Workshop |
| The Perfect Paradise  | 5 | Finish Island |
The Island Sanctuary visions are quests that you must do to progress through the island. They are similar to tutorials but also become vaguer as time passes and you unlock more visions.
There are only five visions. The first four are easy and work as a tutorial that shows you how to do each thing on the island.
After Rank 5, the vision is the same and won't be completed until you are Rank 10 and have upgraded everything. This may take you one day of grinding, but what I did was take advantage of the granaries, workshops, and so on so that I could passively rank up.
Every Vision Quest on Island Sanctuary
Whenever you enter your island, you will have to start doing visions to progress through the Island Sanctuary. After you complete each vision, the next vision will unlock. The first few have a clear path, but the last one is harder to decipher.
Material Locations For All Visions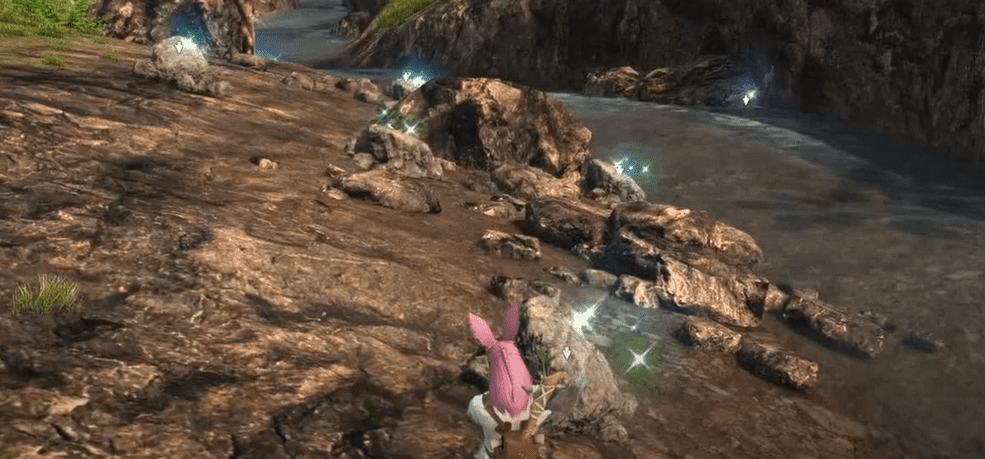 Island Branches:

 Tualong Trees further down the river on the banks

Island Vine:

 sugarcane shoots or apple trees

Island Stone

 

and Island Limestone:

 rocks along the riverbed

Island Sand:

 mounts of dirt near the river to the east

Island Palm Leaves and Island Palm Logs:

 palm trees right outside of the hideaway
This is what you'll need to complete the visions below. You can gather all of them aside from the Limestone with your first tools. But it's fastest to wait until you need each material to gather it. I only stay ahead if my buildings are on a wait timer or I am waiting for my granary gang to come back and I need to gather materials for the next upgrade.
The Coziest of Cabins (Vision 1)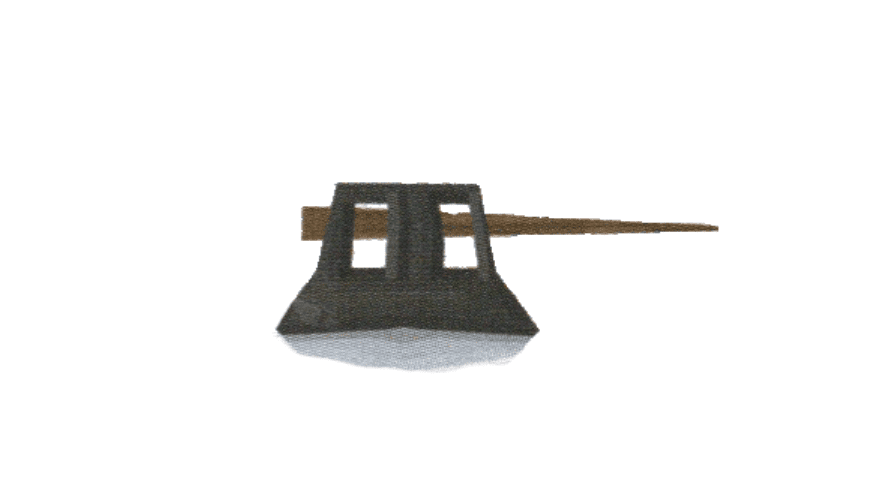 Step 1:

 Talk to Felicitous Furball

Step 2:

 Gather Materials (2 Island Branches, 2 Island Stones, and 3 Island Palm Leaves)

Step 3:

 Craft a Hatchet (10 Island Palm Logs, 10 Island Palm Leaves, 5 Bundles of Island Vines, 5 Island Stones, and 5 Sacks of Island Sand)

Step 4:

 Interact with the placard in open plot and construct a cabin

Step 5:

 Talk to Felicitous Furball

Rewards:

 2,500 exp and 500 Seafarer's Cowries)
Speak to Felicitous Furball to start this vision. Then, he will ask you to gather materials to build your cabin. The cabin will house the NPC shops and more – working as the base of your entire hideaway.
To gather, click on the menu to the left and then click on "gathering mode." After you gather the materials, you can unlock the ability to make the hatchet. The first round of materials is to show you how to gather materials.
The second round gives you the materials to craft the hatchet. As soon as you craft the hatchet, you can build the cabin. Go back to the empty plot, build the cabin, and talk to the NPC once more.
What are Seafarer's Cowries? Read here to find out.
Top Crops (Vision 2)
Step 1:

 Talk to Felicitous Furball

Step 2:

 Talk to Produce Producer

Step 3:

 Talk to Him Again

Step 4:

 Plant Seeds

Step 5

: Water Them

Step 6:

 Speak to Produce Producer

Rewards:

 3000 exp and 700 Seafarere's Cowries
This next vision is quick and easy to fulfill. You don't need to make any special tools for it, talk to the main NPC. Then go up the path to the left before you enter the Wilds and talk to the gardener up there.
From here, you switch to "sow" mode and plant seeds by choosing seeds to plant. If you don't have any, you can use the pumpkin seeds that the gardener gave you. Water them in water mode and then talk to the gardener once more.
Adorable Animals (Vision 3)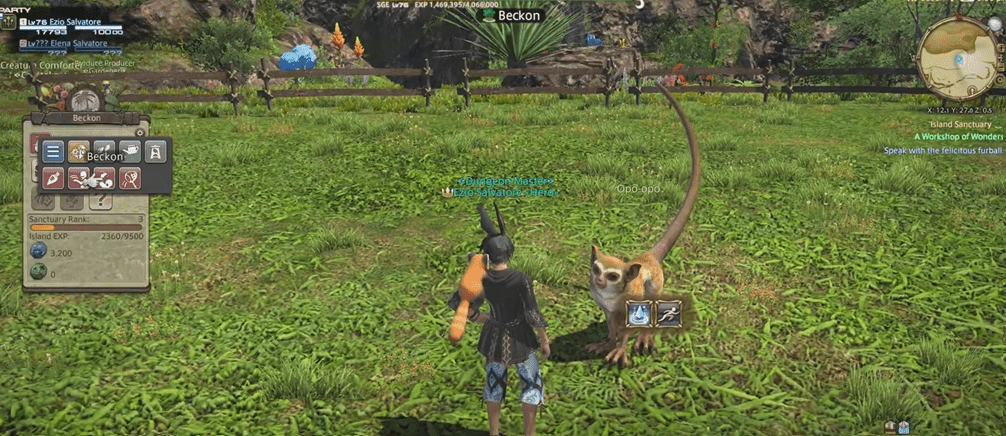 Step 1:

 Speak to Felicitous Furball

Step 2:

 Talk to the Creature Comforter

Step 3:

 Speak to Him Again

Step 4:

 Craft Nets (1 Island Branch, 2 Island Vines)

Step 5

: Capture an Animal

Step 6:

 Talk to Comforter

Step 7:

 Make Food

Step 8:

 Feed Animal

Step 9:

 Talk to Comforter

Rewards:

 4000 exp and 1000 Seafarer's Cowries)
During the same level that you learn to garden, you can learn to capture animals. But you must do the gardening vision first. After you do, you gain access to the Creature Comforter.
Talk to him, then make nets with the branches and vines you find. Then, switch to "capture" mode and capture a small animal. The Opo-opo is right outside of the hideaway. Capture one and then go back to the comforter.
Talk to him, then make food in your crafting log. Switch to feeding mode and feed the animal. Speak to the comforter once more, and the vision will be complete.
Continue reading about Animals on the FFXIV Sanctuary Island.
A Workshop of Wonders (Vision 4)
Step 1: 

Speak to Felicitous Furball

Step 2: 

Speak to Pathological Pathfinder Mk.1

Step 3:

 Speak to Him Again

Step 4:

 Make an Islekeeps Stone Hammer

Step 5:

 Interact with the Facility II Logboard, and build the Workshop I (10 Logs, 10 Palm Leaves,10 Limestone, 5 Vines, and 5 Sand)

Rewards:

 5000 exp and 1500 Seafarer's Cowries
Now that you have animals and a garden, you can build a workshop. After you talk to the quest NPC, you need to talk to the Pathological Pathfinder Mk.1. You'll see more Pathological Pathfinders later on, and they all work the same.
You need to do a few things (upgrade, build) to get them to help you. This time, make an Isklekeeps Stone Hammer and then interact with the logboard. Then, the workshop will begin building.
The Perfect Paradise (Vision 5)
The Perfect Paradise vision doesn't give instructions. It won't complete until Rank 10 after you upgrade all of your buildings. Sometimes, the NPC will have a red bubble, meaning you have to do something before progressing through the sanctuary. Some things are optional, but others are necessary for you to progress. That's why I have a simple checklist of things to check for after each rank.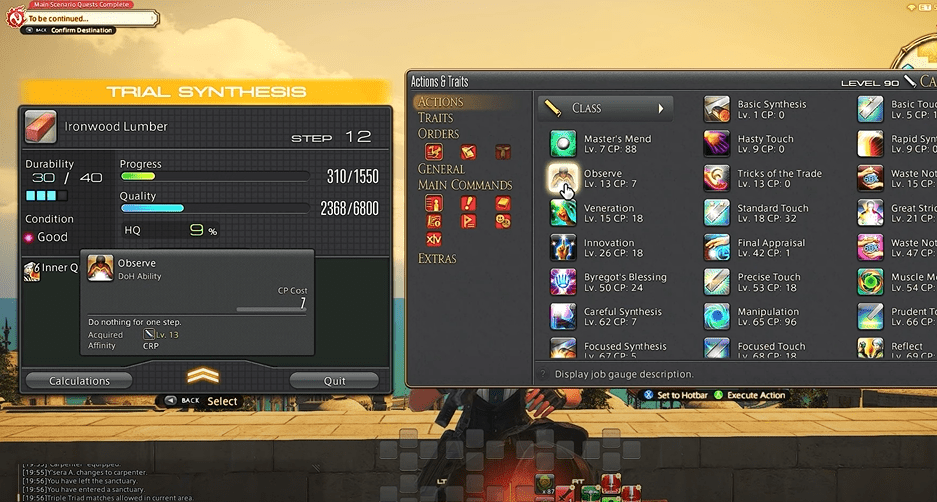 Try to Craft:

 If you seem stuck in progression, go to your crafting log and attempt to craft a tool you don't have. If it doesn't have a checkmark on it, then you can craft it, and it will unlock more materials.

Check for Open Plots:

Go to your menu and click on the house icon. Check for any open plots and then go to that area and place a building. You may need to farm materials or cowries first.

Check Building Upgrades:

If your building plots are full, then ensure your buildings are fully upgraded. I manually check them, and if it says "renovate facility," then they need an upgrade.
What to Do After the Island Sanctuary Visions are Complete
After you complete your visions and you only have the last vision left, there are plenty of things you can do on the island. These will help you rank up and utilize everything the island has to offer.
Collect Animals

You can have a maximum of 20 animals in your pasture after it is fully expanded. Keep your animals fed; they will bring you a gift daily. That's 20 gifts that can be used in your workshop or sold for cowries.
Build Buildings and Upgrade
Keep an eye on new plots and buildings that you can upgrade. Always have them fully upgraded or be working towards upgrading them. Not doing so can drastically hold you back later on.
Gather Resources

It's never a bad idea to gather resources. All resources will come in handy at some point, so go deep diving in the ocean or travel to the island's far end to gather rocks whenever you have time.
Use Workshops
Workshops can be used to earn experience and cowries. So always have your workshop items planned ahead of time and schedule the days off to coincide with the days you may not have time to schedule a crafting. 
Use Granaries
Granaries can be used to gain experience and materials. Always have your helpers out on as many expeditions as you can. Please pay attention to what they'll bring back and choose the ones that you currently need. 
Buy Stuff (Please Read!)
You can always buy stuff from the NPCs at your cabin, but I recommend holding off until you've fully upgraded everything. It costs thousands of cowries to upgrade everything, so you need every bit of cowries you have.
Wait until you are rank ten and have unlocked the last quest. Then you can have fun spending all your money on the unique mounts, glam, and more that the island shop offers, including the exclusive motorcycle that you can buy with 20,000 cowries. 
Unlocks at Each Rank FFXIV Island Sanctuary
There are ten ranks for the Island Sanctuary. Each rank unlocks new tools, expansions, and resources. There aren't any in-game guides on how this progresses, but here it is compacted just for you.
Note: Always upgrade your cabin first. Other unlocks are often locked behind the cabin upgrade.
Rank 1
Tools:

 Stone Hatchet

Buildings/Upgrades:

 Cozy Cabin I

Resources:

 Pumpkin Seeds, Cabbage Seeds, Palm Leaves, Apples, Branches, Stone, Clams, Laver, Coral, Islewort, Sand, Log, Palm Log, Vine, Sap
Rank 2 (Requires 3000 exp)
Tools:

 Net

Buildings/Upgrades:

 Cropland I, Pasture I

Resources:

 Small Animal Captures
Rank 3 (Requires 6000 exp)
Tools:

 Stone Hammer

Buildings/Upgrades:

 Pathfinder I, Workshop I, Minions

Resources:

Copper Ore, Limestone, Rock Salt
Rank 4 (Requires 9500 exp)
Tools:

 None

Buildings/Upgrades:

 Cozy Cabin II, Cropland II, Pasture II, Pathfinder II, Towering Tree Fort, Quixotic Windmill

Resources:

None
Rank 5 (Requires 13500 exp)
Tools:

 Shovel

Buildings/Upgrades:

 Pathfinder III, Granary I, Boiling Bathhouse

Resources:

Clay, Tinsand, Popoto Seed, Parsnip Seed, Alyssum, Raw Island Garnet, Spruce Log, Hammerhead Shark, Silver Ore
Rank 6 (Requires 18000 exp)
Tools:

 Restraint, Copper Scythe

Buildings/Upgrades:

 Workshop II, Granary II

Resources:

Sugarcane, Hemp, Cotton, Medium Animals
Rank 7 (Requires 23000 exp)
Tools:

 Bronze Gig

Buildings/Upgrades:

 Cozy Cabin III, Cropland III, Pasture III, Pathfinder IV

Resources:

 Islefish, Jellyfish, Squid, Isleberry Seed, Onion Seed, Tomato Seed, Wheat Seed, Corn Seed, Radish Seed
Rank 8 (Requires 28500 exp)
Tools:

 Soporific / Bronze Beakaxe

Buildings/Upgrades:

 Workshop III, Granary III

Resources:

Quartz, Iron Ore, Leucogranite, Large Animals
Rank 9 (Requires 34500 exp)
Tools:

 None

Buildings/Upgrades:

 Pathfinder V, Lominsan Lighthouse, Farmland glamour set (requires quest completion)

Resources:

None
Rank 10 (Requires 41000 exp)
Tools:

 None

Buildings/Upgrades:

Flight

Resources:

None
FAQs
Question: Why Can't I Upgrade Anything on Island Sanctuary?
Answer: First, make sure your cabin doesn't need an upgrade. If it does, this will unlock more. You need to make new tools or rank up if it doesn't. There will be times when you have to finish gaining exp for the next level by gathering.  
Question: What Does the Pathfinder Want on Island Sanctuary? 
Answer: The Pathfinder NPCs will open new areas for you. But you must upgrade all buildings you can and have all the tools you can currently make. Only then will the pathfinder work for you.
Question: When Do the Visions End on Island Sanctuary?
Answer: The visions end after you unlock every tool and build everything you can (upgraded). Then, you can unlock the last quest, which ends the visions and completes your island. 
Importance of Having a Vision FFXIV
You must complete each vision to unlock the next one. The first four are simple, but the last one is a long-term vision. The visions are what the entire island is built around until you complete it.
From there, you can use the island as an endless farming machine that will continuously put out cowries. You can semi-passively make cowries until you get enough to buy everything the NPC sells.
Then, you can stock up because there will surely be more content in the future for Island Sanctuary. Remember to keep your animals fed, even if you have to hire the NPC to take care of them. Though I will always go back for daily pets!