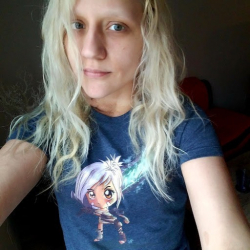 Latest posts by Emily Medlock
(see all)
A Glass Eye FFXIV guide isn't something I've needed, but I have looked into general Custom Delivery guides that included the Glass Eye. I tend to ignore the item these days and use braindead rotations instead.
I maxed out Zhloe long ago, so I go on autopilot when I do collectables. But if you've just begun doing Zhloe's collectables, including Glass Eye, you may be at a loss, which is entirely normal.
Collectables are not easy to understand at first. I did a lot of Googling and asking around the Free Company when I started doing Custom Deliveries. Now, I'm writing guides on them.
Glass Eye Overview
Gathered for:

 Zhloe Aliapoh in Idyllshire

Purpose

: Custom Deliveries

Satisfaction Level:

 4 and 5 hearts

Required Level:

 Disciple of the Land (not Fisher) Lvl 60

Required Perception

: 408

Reward:

 Satisfaction 

180,

 Gil 

1000,

 White Scrips 

124,

 Purple Scrips 

86

Botanist Location:

 The Sea of Clouds (22.8-12.2)

Miner Location:

 The Sea of Clouds (35.3-31.0)
This should cover everything you need to know about the Glass Eye if you just want the simple details. Zhloe is the first Custom Delivery NPC and the only one that wants Glass Eyes.
You must get her to four hearts on Satisfaction before she asks for them. If you are lucky, she'll have a star by it so that you get around 50% more rewards for your efforts when you gather it.
How to Gather a Glass Eye
When you gather a collectable, it is different from gathering something else. There are many rotations you can go for, but there's no benefit to getting over a certain amount of Collectability.
Check the log to see what Collectability gives you the highest rewards, and don't waste time on anything higher. Make sure you collect before you run out of hits or you will lose the material.
Here's a sample rotation of abilities (feel free to create your own, but know that macros don't work for collectables):
Scrutiny

 (optional: add Collector's Focus and Brazen)

Scour

 (optional: add another Scrutiny)

Collect

 (optional: add Solid Reason or Ageless Words first)
Where to Find Glass Eye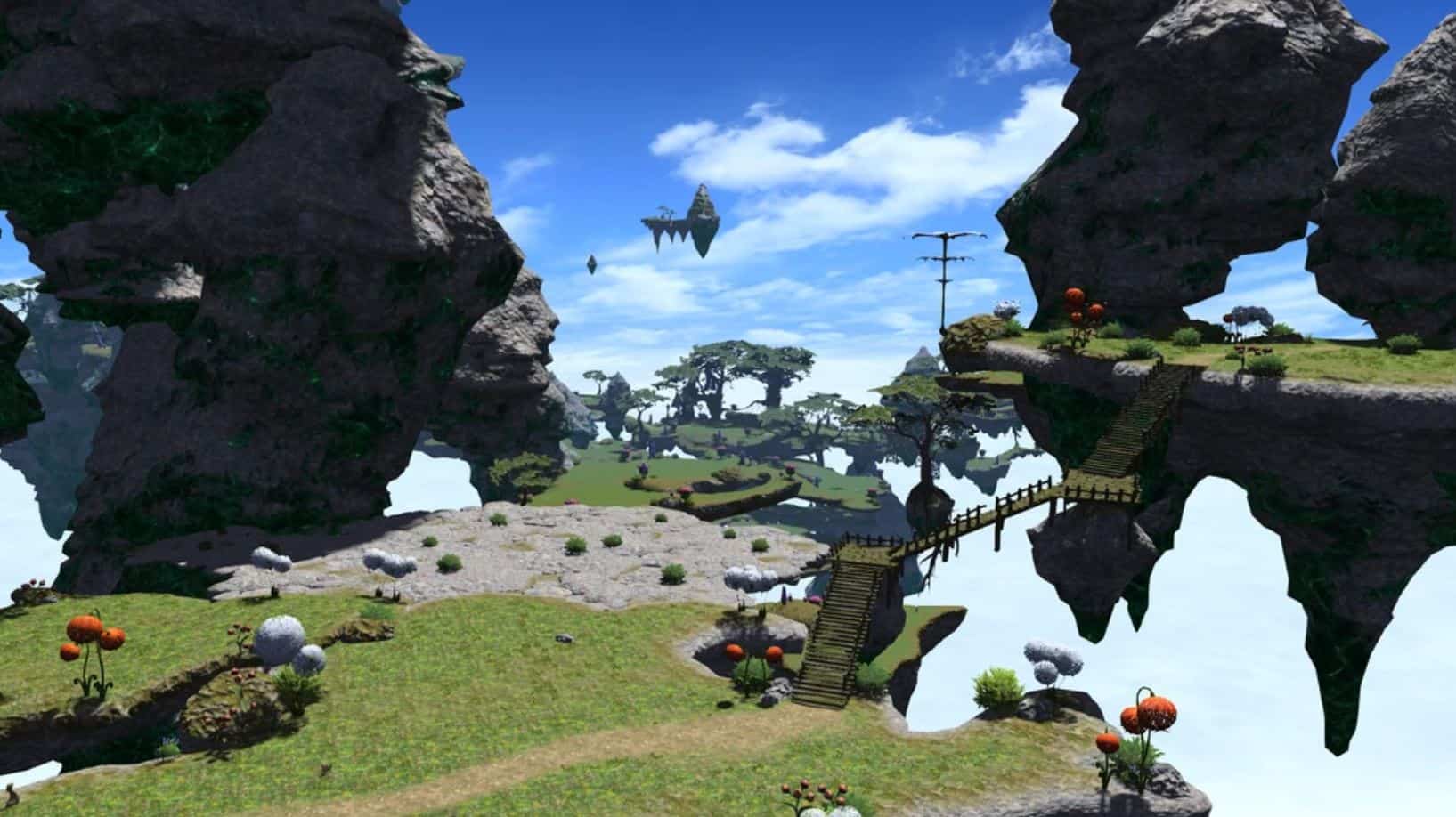 I learned early on that you can't find the Miner and Botanist deposits in the same place for Custom Deliveries. So make sure you know which class you're looking for whenever you visit the specified location. I've wasted a lot of time going to the wrong location because I clicked on the mining one instead of botany.
For Miners
To find Glass Eyes with a Miner, check the Mineral Deposit in The Sea of Clouds (35.3-31.0). You can find this area in Voor Sian Siran, where The Nidifice has a nest of birds. This is a floating island, so you must fly to it.
For Botanist
To find the Glass Eye with a Botanist, go to the Lush Vegetation Patch in the Sea of Clouds (22.8-12.2). This is a high point known as the Blue Window, where you can find the Morrowmotes and Ok' Gundu Nakki.
What Does Glass Eye Give You?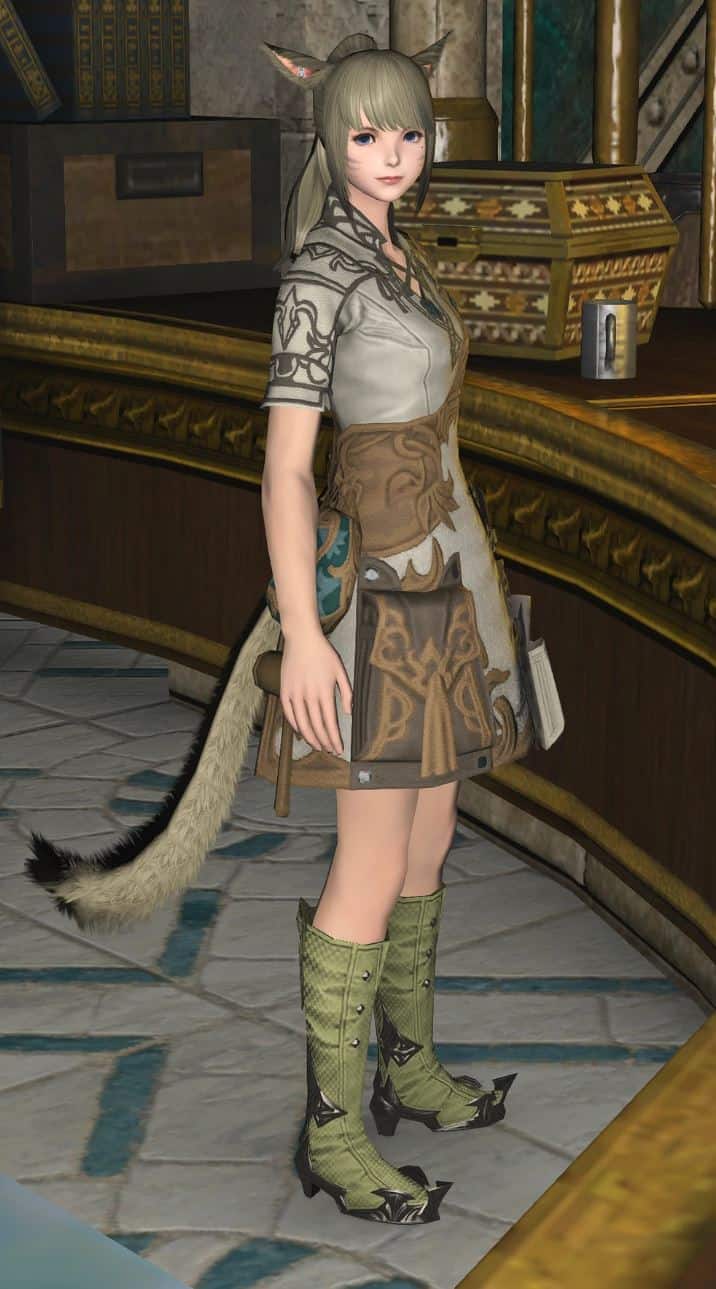 Glass Eye rewards you only when you turn it into Zhloe. The amount of collectability you gain from the item will directly affect how much each reward is; however, Satisfaction rewards remain the same.
Note: Watch Collectability when mining or gathering with Botanist at the top. But keep an eye on Integrity. You can get by with 240 Collectibility, but you will lose your progress if you don't gather before Integrity runs out.
At 240 Collectability
Satisfaction

: 180

Gil

: 1010

White Scrips

: 124

Purple Scrips

: 86
At 450 Collectability
Satisfaction

: 180

Gil

: 1260

White Scrips

: 147

Purple Scrips

: 101
At 600 Collectability
Satisfaction

: 180

Gil

: 1510

White Scrips

: 180

Purple Scrips

: 115
At Max Satisfaction or In-Demand
There are occasions when you get extra rewards. At max Satisfaction and/or if the item is in demand (with a star by it), you get extra gil and scrips. For Max Satisfaction, there's about a 5-10% increase. For In-Demand items, there's around a 50% increase.
It's definitely worth it to do both. But I only did Max Satisfaction deliveries once I maxed out every available delivery NPC. Then, I did Max Satisfaction and hoped for the best on in-demands for maximum scrip farming.
Recommended Gear for Glass Eye Gathering
The gear I got at level 60 is from the Independent Merchant at Rhaglr's Reach. You can buy your tools and equipment here. But to get accessories, go to Kugane and talk to Muto in Kugane.
However, you have to be level 63 for the lowest tier of this gear, so you have to level a bit before you can wear it. Doing leve quests or going to the Diadem in the Firmament are good ways to level.
The Diadem is how I leveled my gatherers from level 10 to level 60-something. I highly recommend it. It isn't picky about tools and gear. Plus, you get to use what you find for Ishgard Restoration.
All that said, the Rhaglr's Reach gear isn't the best level 60 DoL gear. The best level 60 gear is gotten by using the scrips you get from Custom Deliveries. You can go for that when you can or hold off for level 70 gear.
How to Unlock Zhloe's Deliveries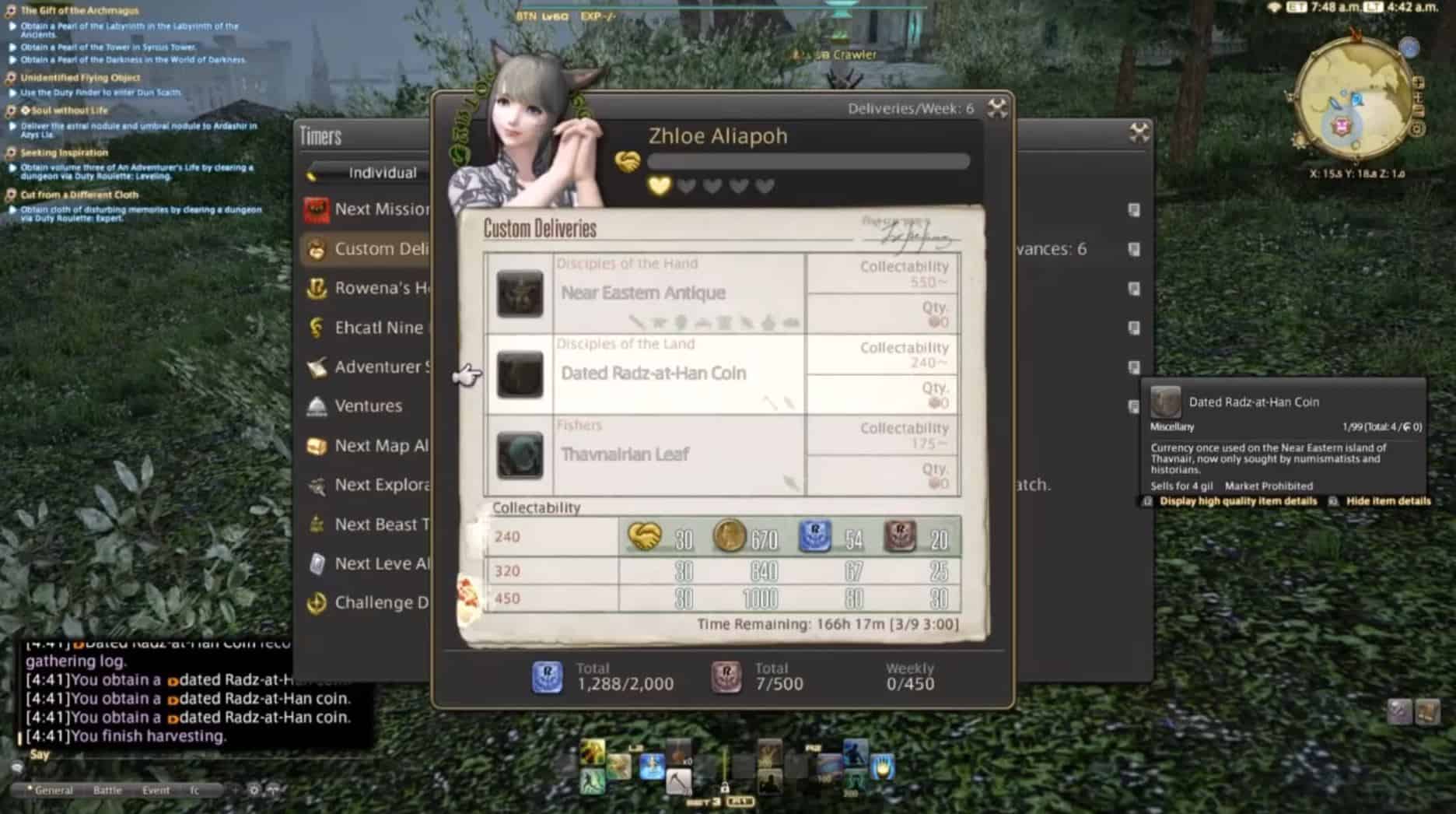 Zhloe's Custom Deliveries are the most popular. If you're familiar with Khloe, who gives you the Wondrous Tails journal, then you know Zhloe, her sister. I love these Miqo'te and even named my cat after Khloe.
Zhloe is the first Custom Deliveries NPC you can unlock. I've maxed out almost all of them, but I started with Zhloe. I know people who have only used Zhloe, which also worked out well.
MSQ – A Great New Nation
To unlock Custom Deliveries, you must complete the Heavensward MSQ A Great New Nation. This will unlock The Dravanian Hinterlands and Idyllshire, where Zhloe is located. This is a big quest because it also opens the level 60 poetic vendors.
If you need help determining how close you are to Custom Deliveries, check your MSQ. If it's at level 58 or close, you're incredibly close or have already passed it. To unlock the next Custom Delivery, you must get to Post-Stormblood (level 70.)
Inscrutable Tastes – Level 50
The first quest you need to do to unlock Custom Deliveries is Inscrutable Tastes. It unlocks Collectables, Scrip Exchange, and a Collectable ability. To complete this quest, talk to Lydirlona in Revenant's Toll after the initial acceptance.
You'll notice most of the Collectable quests are about delivering letters. This gets you into the spirit of delivery, as that's what the entire Custom Delivery mechanic is all about.
No Longer a Collectable – Level 56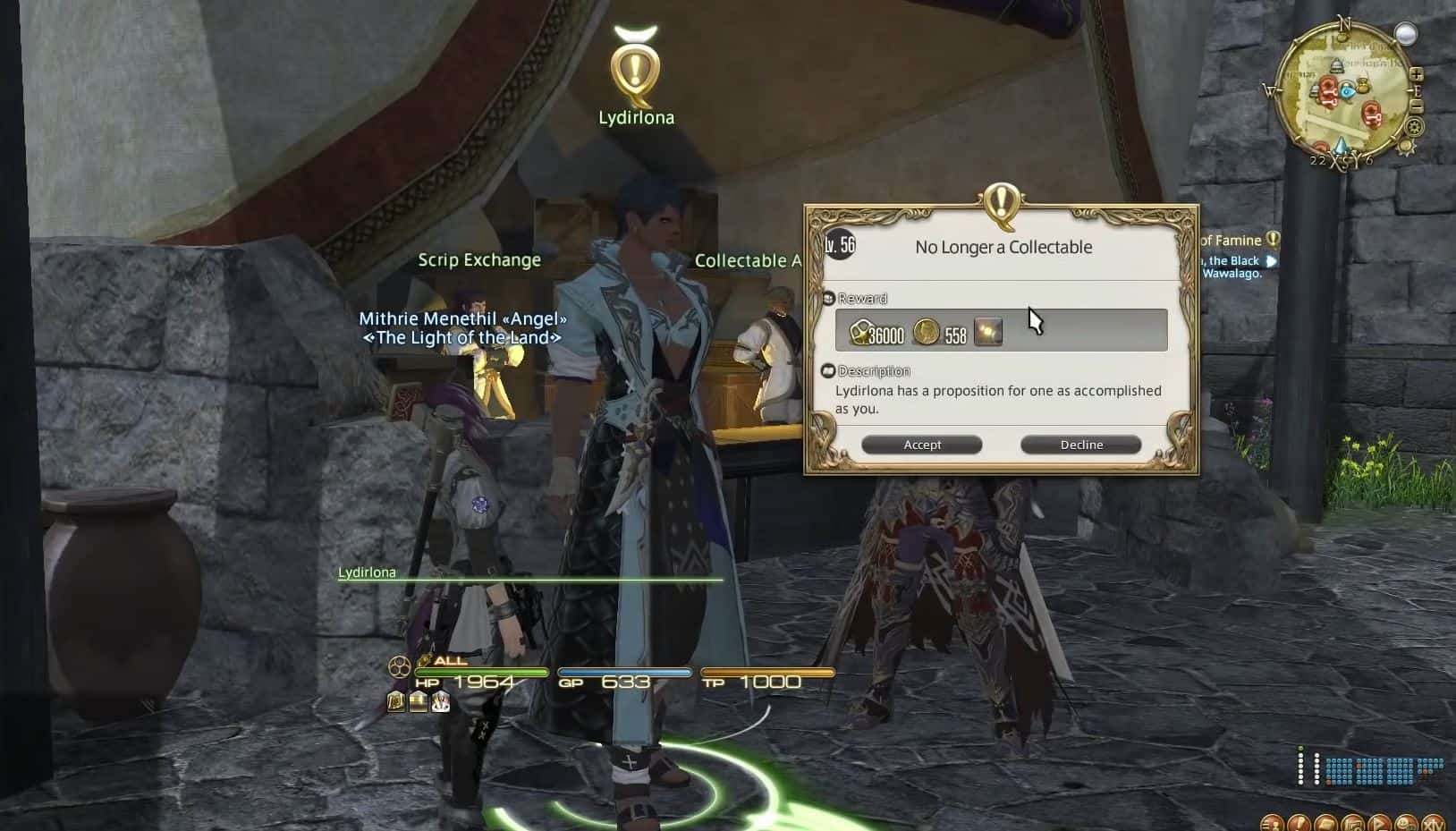 The next in line takes to deliver another letter, this time in Black Brush, Central Thanalan. It will unlock Aetherial Reduction, an ability that allows you to break down collectables that you no longer need. This is insanely helpful if you over-gather.
Note: this one isn't technically necessary, but I recommend it anyway so your inventory will only fill up with collectables you literally can't use anymore. Because you can only give NPCs collectables that are on their current list.
Go West, Craftsman – Level 60
This is the famous collectables quest that unlocks Custom Deliveries in Idyllshire. Again, deliver a letter to unlock Rowena's House of Splendors content which contains Zhloe, the first Custom Delivery NPC.
Head to the left corner of the house to find Zhloe behind a lit counter. You have to return here to deliver the collectables each time. Memorize her location or look at the Custom Delivery emblem on the map in Idyllshire.
Arms Wide Open – Level 60
Before you can actually do Custom Deliveries for an NPC, you must complete a quest for them. This is Zhloe's quest, which is super simple. After you complete it, you can begin doing deliveries.
Checking a Custom Delivery Collectable Location
Go to your 

Duty

 menu

Go to 

Timers

Go to 

Custom Deliveries

Choose which 

NPC's

 list you want to check

Right-click

, then choose "

Search Item By Gathering Method"

Choose either 

Quarrying

 or 

Logging

 item

Click the 

location

 on the right

Richt click

 on

 the map to mark

 (optional)
I'm shocked by how many people don't know you can do this. If you follow these steps, you can find where to find any collectable and what each NPC is looking for each week. It's so simple because you can do it from anywhere, meaning you don't have to talk to the NPC each time.
How to Do Custom Deliveries (with Zhloe)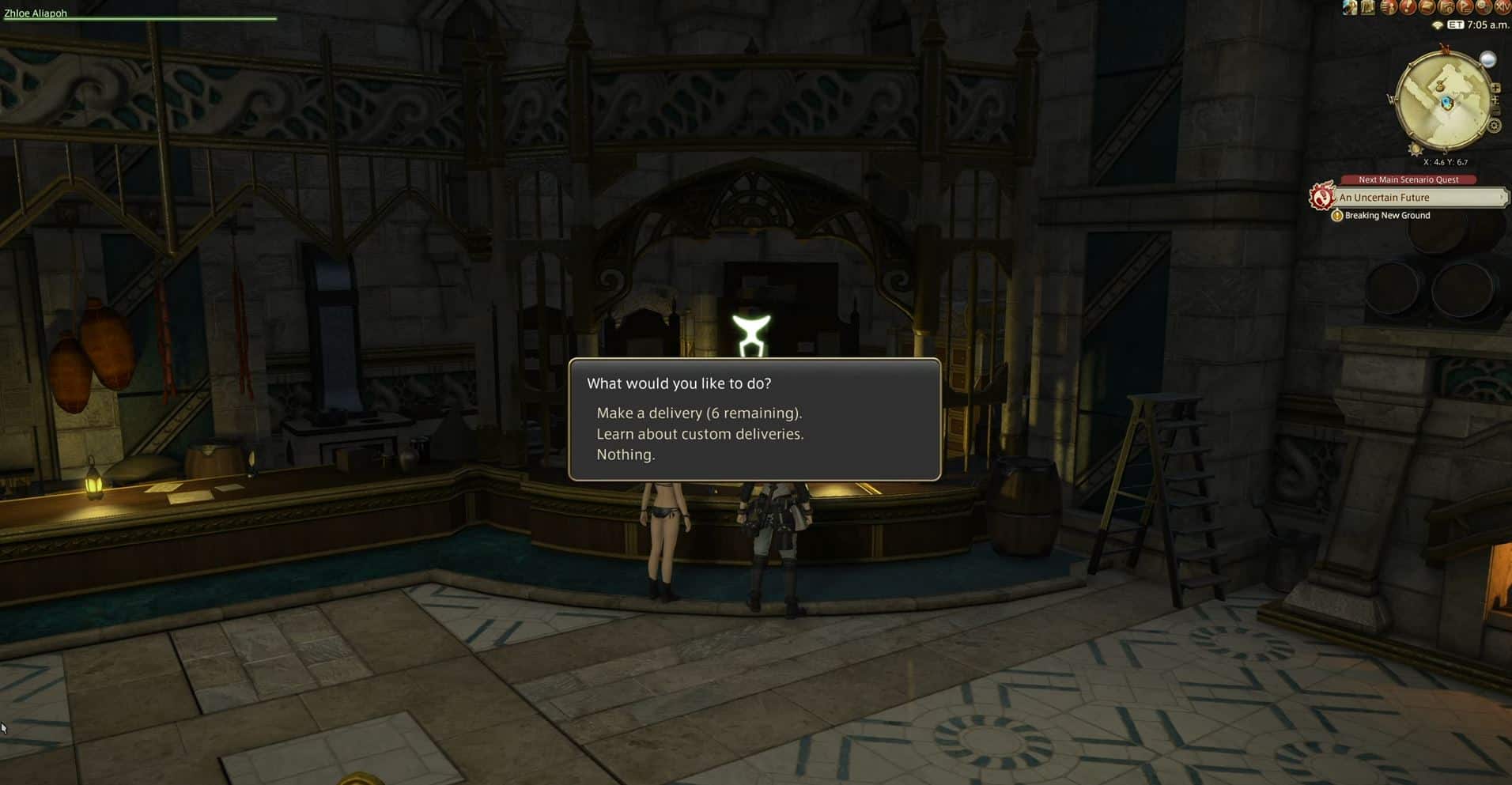 After you go through the questline for Collectables (level 50-60), you can start accepting deliveries. You can only do six deliveries each week for Zhloe and a total of 12 for all clients together.
There are eight Custom Delivery clients ranging from level 60 to 80. After Zhloe, head to Ralgr's Reach (when level 70 MSQ) to unlock M'naago's and then to the Ruby Sea to unlock Kurenai. You can do two out of three of these simultaneously.
Speak with Zhloe or Check the Delivery Log
You can speak to Zhloe to begin your Custom Delivery so you can see what she wants and where to find it. But I use the method above, which is checking via the Custom Delivery tab in Timers.
From there, you can even keep track of the Satisfaction level. If an NPC doesn't appear there, it's because you need to go unlock their delivery line just like you did Zhloe. Of course, they will be higher-level quests.
Gather Item
Once you know where the item is (maybe mark it as I do), you can gather it. Make sure that you choose the suitable gathering class. For the Glass Eye, ensure the Collectability is at least 600 for max rewards. However, if your gear isn't good enough, 450 is fine.
At this point, if you still have level 50-something gear, you should still be able to get at least 450, but probably 600. If you can't, consider upgrading your tools first, then working your way down to armor, then accessories.
Complete Delivery
You have to return to Zhloe to turn in the Glass Eye. I recommend gathering extra each time so you can turn it in multiple times and maybe even again the following week. Talk to her to turn them in, and she will level up or let you do it again.
You can only do six for her, but you will do the same items until you level up. Once I level up the Satisfaction bar for Zhloe, I go get the new item, and then once I was max level, I desynthesized all of my old Collectables.
FAQs
Question: How Do You Level Before Custom Deliveries?
Answer: Levequests, the Diadem, and class quests are great ways to level gatherers to level 60. The Diadem is my top choice, but you can use a mixture. You cannot buy a job skip for crafters/gatherers.
Question: How are Glass Eyes Made?
Answer: Glass eyes are natural spherical glass pieces. They are said to look just like eyes, as long as you can't see very well. The icon is red, but that may not mean that Glass Eyes are always red.
Question: When Does the Glass Eye Delivery Appear?
Answer: The first time the Glass Eye delivery appears is at four hearts when it has a 100% chance of occurring. Then, it has an 18% chance of appearing at five hearts (max satisfaction.)
Skipping the Glass Eye
It's entirely possible never to gather or turn in the Glass Eye. However, Glass Eyes always appear at four hearts for Zhloe. So to max her out, you must gather it. There aren't many Collectables like that.
However, you can always just get the minimum 200 Collectability rating. I don't recommend it unless you're really scrimping on gear, but it will still get you through Custom Deliveries.
If mining and gathering get old, I put on some music. I've spent hours in the Diadem enjoying myself because of Spotify and the strange characters that roam there. The same can be done with Custom Deliveries.
I think it's worth getting Glass Eyes because it makes the most out of Custom Deliveries. These deliveries grant you experience and scrips that can be used for items you can't get anywhere else. Ask any crafter/gatherer, and they will tell you they either milked Custom Deliveries or wish they would have.