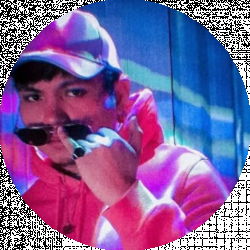 Latest posts by John-Carlo Vijuan
(see all)
In this Rufus Shinra guide, we're going to take a closer look at this Final Fantasy character.
Rufus Shinra is one of the well-known villains in Final Fantasy VII. He is the son of President Shinra and is also the Vice President of Shinra. After Sephiroth killed President Shinra, he stepped on the mantle as the president and led the Shinra Electric Power Company to oppose Cloud and his rebellion group called Avalance. While all this is happening, he is also trying to pursue Sephiroth, a legendary SOLDIER first class who went AWOL during the incident at Nibelheim.
With all of that said, let's take a look at Rufus Shinra's lore, boss battle guide, and everything you need to know about him!
Rufus Boss Guide
Rufus Shinra Original Final Fantasy VII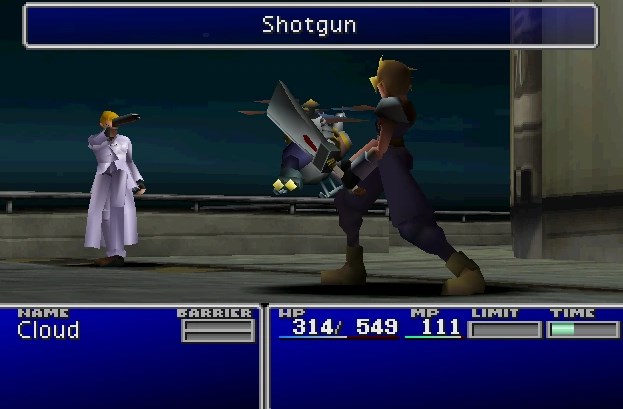 Stats
Stats

LV

HP

MP

21

500

0

Attack

Magic Attack

Defense

35

0

32

Magic Defense

Dexterity

Defense%

160

72

14

Luck

Exp

AP

8

240

35

Gil

400
Elemental Affinities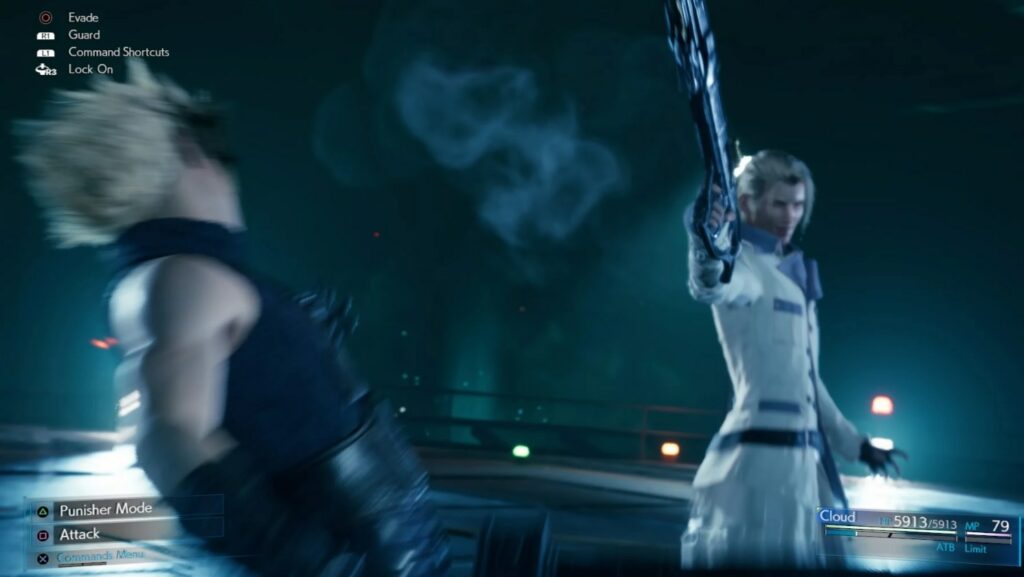 Elemental Affinities

Fire

Ice

Lightning

Normal (100%)

Normal (100%)

Normal (100%)

Earth

Poison

Gravity

Normal (100%)

Normal (100%)

Normal (100%)

Water

Wind

Holy

Normal (100%)

Normal (100%)

Normal (100%)

10th

Restorative

Back Attack

Normal (100%)

Heals (100%)

Double (200%)

Punch

Death

Sleep

Normal (100%)

Normal (100%)

Normal (100%)

Confusion

400
General Guide
Rufus Shinra fights with his pet named Dark Nation and supports him from time to time. Dark Nation usually casts a Barrier on Rufus at the beginning of the match, which lessens the amount of physical damage Rufus takes about a half.
You'll be taking on Rufus as Cloud only for this fight. It's a fairly straightforward fight, but first, you need to make sure that you target Dark Nation first. A single-use of Cross-slash will easily take care of Dark Nation.
Lastly, if Cloud has Bio, use it against Rufus to slowly whittle down his health. After taking a few hundred of damage, Rufus flees using the helicopter.
Upon defeating Rufus, he drops Protect Vest 100% of the time.
Rufus Shinra Final Fantasy VII (Remake)
Stats
Normal Mode

Easy/Classic Mode HP

Normal HP

Attack

8078

14699

139

Magic Attack

Defense

Magic Defense

139

213

213

Exp (After Defeating)

AP (After Clearing)

Gil

1300

10(30)

1300

Level 50 (Hard Mode)

HP

Attack

Magic Attack

21222

220

220

Defense

Magic Defense

Exp

312

312

4500

AP

Gil

30

2250
Elemental Affinities
| | |
| --- | --- |
| Fire | Ice |
| Normal | Normal |
| Lightning | Wind |
| Normal | Normal |
Damage Type Affinities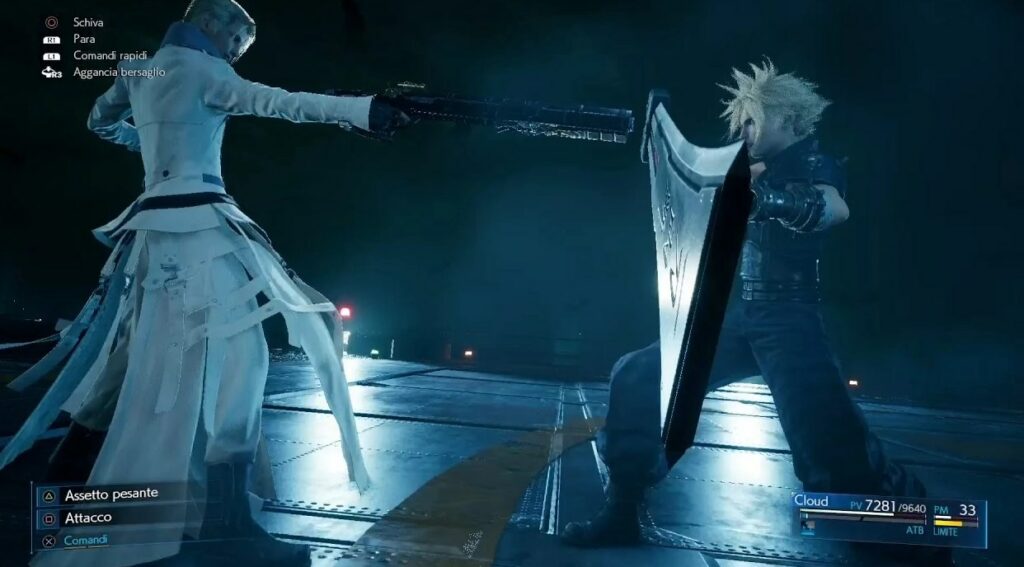 | | |
| --- | --- |
| Physical Damage | Magical Damage |
| Normal | Lesser Resistance |
| Fixed Damage | Proportional Damage |
| Lesser Resistance | Immune |
Statuses and Resistances
| | | |
| --- | --- | --- |
| Poison | Silence | Sleep |
| – | – | – |
| Slow | Stop | Berserk |
| Immune | – | Immune |
Stagger Multipliers
Melee

Ranged
Magic

Fire

1x

1x
1x

1x

Ice

Lightning

Wind

1x
1x
1x
Rufus Shinra's Moveset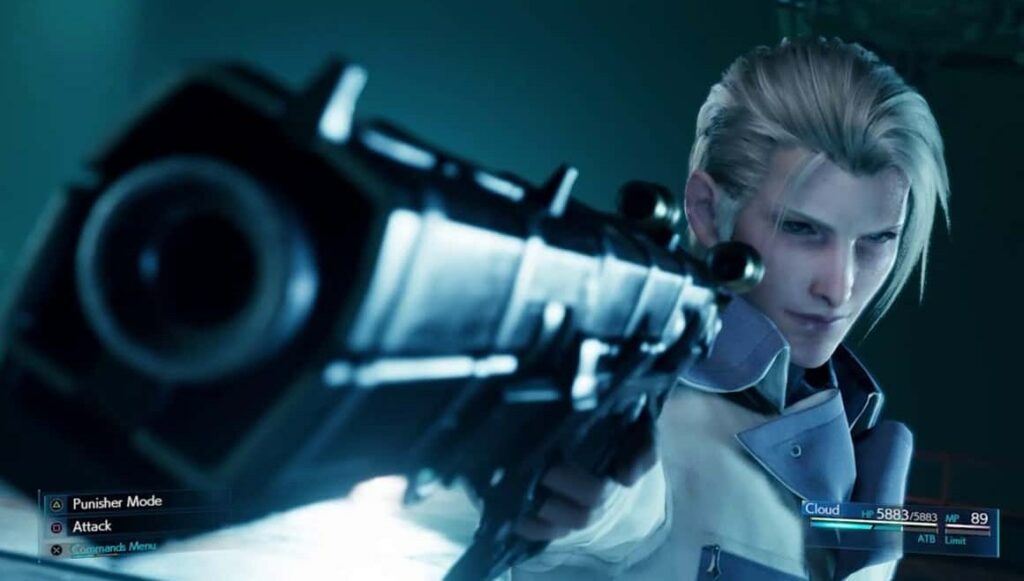 | | |
| --- | --- |
| Attack | Description |
| Shotgun | Rufus fires his shotgun (six bullets simultaneously); if Rufus fires six bullets, the attack will knock Cloud back, but if the shot only has five bullets, Cloud will stay on his feet. |
| Reload & Combat Load | Rufus reloads his shotgun with four bullets (six on combat load and constantly six while playing on hard mode) |
| Follow Up | Rufus dashes toward Darkstar's Position and fires off his shotgun |
| Assist | Rufus gets in front of Cloud and fires a point-blank shot. |
| Thunderclap | Whenever Darkstar uses Thunder, Rufus will charge a Lightning Bolt |
| Heel | Rufus calls Darkstar to his side. |
| Guns Akimbo | Rufus fires ten shots and reloads them afterward. While on hard mode, Rufus instead fires 13 shots. |
| Up in Smoke | Rufus will throw a coin in the air and shoot it, which disperses a cloud of smoke. Cloud will flinch if within the area of smoke. |
| Bright Lights | Rufus throws two coins this time which causes red lasers to fire. |
| Tread Softly | Rufus once again throws three coins on the floor, which emit electricity. If Cloud gets electrocuted, this attack stuns him for five seconds. |
| Think Fast | Rufus will throw five coins and fire at them. This attack will cause the coins to explode and knock back Cloud. |
General Guide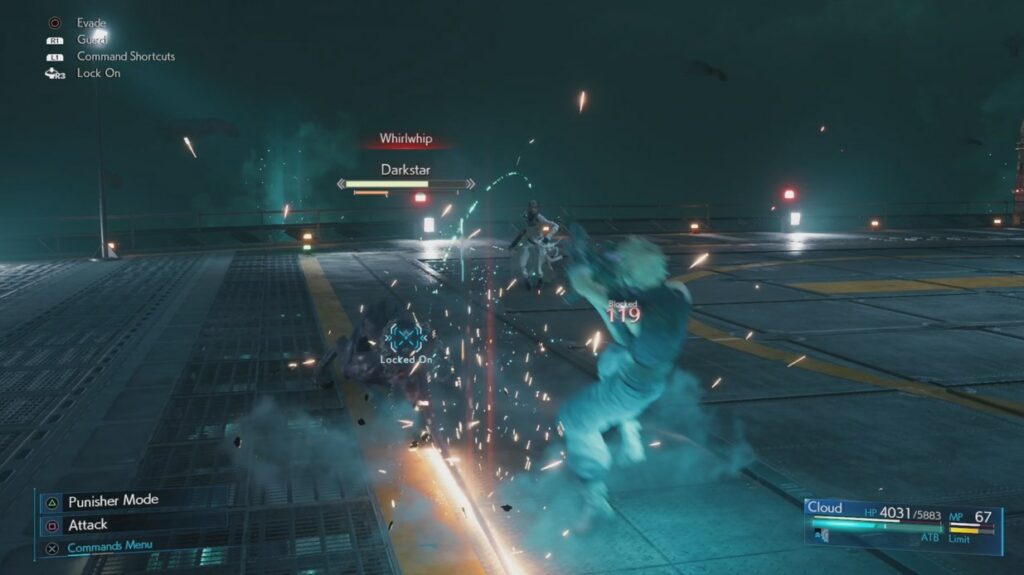 Like the original game, Rufus fights alongside his hound, renamed Darkstar, and again, a two versus one fight against Cloud. If you decide to attack Rufus directly at the start of the battle, a short cutscene will play, reminding the player not to focus on him as Rufus will only counterattack Cloud every time. Rufus has three phases in this fight, and as usual, Rufus gets more and more dangerous and widens his move set with every stage.
First Phase
Rufus relies mainly on Darkstar to engage a combo through the Heel ability, which shows the connection between Rufus and Darkstar. Throughout this phase, Rufus will primarily command Darkstar to attack Cloud, and then he will follow up with a complementary attack of his own.
To progress to the next phase, players must focus on Darkstar first and get him to half of his health bar. Be careful, as unleashing a barrage of attacks on Darkstar will cause Rufus to interrupt you by blasting you away with his shotgun.
Second Phase
A cutscene of the helicopter leaving signifies the beginning of the second phase. Rufus now has a broader array of abilities, most notably Bright Lights. Here are some things to keep in mind for the second phase.
Keeping yourself close to Rufus is the way to go, as distancing Cloud from him will allow Rufus to use Bright Lights, which is devastating to the health bar, especially if you don't have many healing items or even a healing ability.
Rufus' move called Guns Akimbo, where Rufus shoots Cloud multiple times, should be blocked as Cloud can not dodge this attack. Failing to do so will proc Darkstar to follow up while Cloud flinches.
Be careful of Thunderclap, as this can not be blocked or dodged.
Watch out if Rufus throws three coins into the ground, as stepping on the electric puddles will stun Cloud for a reasonable amount of time.
To avoid Rufus' Think Fast and Up in Smoke, players must dodge backward.
Same as the first phase, players must continue to whittle down Darkstar's health bar until he dies, which signifies the start of the third phase.
Third Phase
At this stage, Cloud and Rufus will have a showdown. Rufus will be much more aggressive than in the previous phases. He can do fast ground dashes and even midair dashes. Rufus zigzags through the battlefield to quickly close in on Cloud. Be very careful in this phase, as he can still counter you from time to time. The only safe time to attack Rufus is when he is reloading his shotgun, but he can easily counter you if he's not reloading.
Tips and Strategy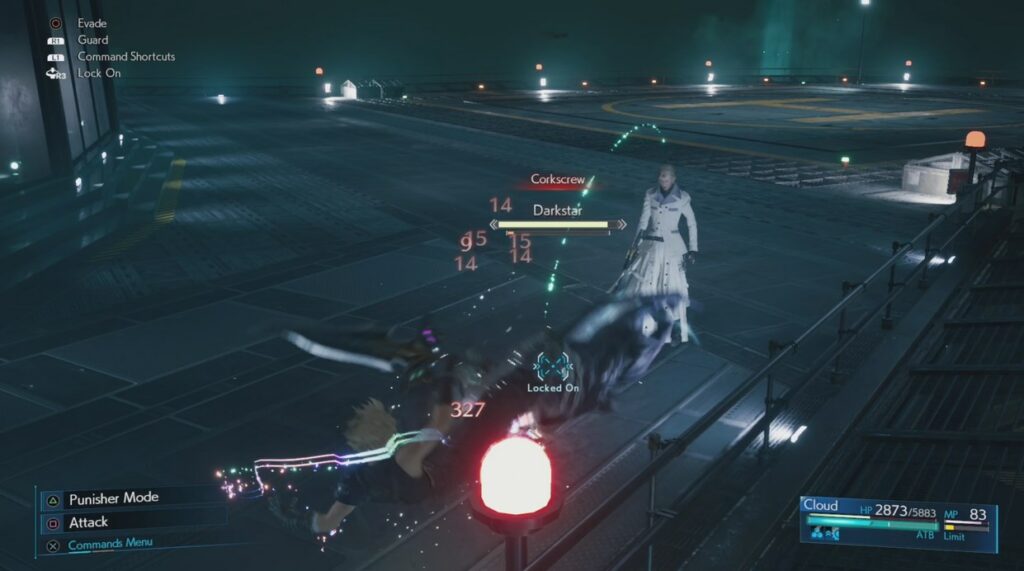 Never use punisher mode on Rufus; Punisher mode's counterattacks will not trigger.
Punisher mode is effective against Darkstar.
Using triple slash and focusing on Darkstar first is one of the best tactics for this fight to lessen the amount of healing items you will need throughout the battle.
After severing the link between Rufus and Darkstar, use Focused Thrust to stagger Darkstar.
Rufus is vulnerable to the Sleep spell.
If you use Brave on Rufus, you can instantly stagger him; however, this is much more of a challenge.
Keep your Lock-on on Rufus during the 1v1 showdown (After the player has defeated Darkstar)
Equip Steadfast Block Materia to build ATB faster and protect you from some attacks.
If you have the Chakra Materia, you can heal without the use of MP.
Rufus Shinra's Story
Before Crisis -Final Fantasy VII- Era
Back then, Rufus is actually conspiring with Avalanche as their leading financier and a spy who provides the information about Shinra's plans. However, Rufus was only using the Avalanche to gain access to his father's power and take over Shinra altogether. At that point, Shinra figured out that there was a traitor within them; however, they still had no idea who the traitor was.
During at attack on the Old Corel, the Turks, an investigation sector of Shinra, were able to apprehend Rufus and used him to save the Turks' leader Verdot and Avalanche's leader Elfe. President Shinra having no options left, saves Rufus and lets Elfe and Verdot go. President Shinra ordered the execution of The Turks for insubordination; however, Rufus had them spared since Tseng allegedly "killed" Verdot and Elfe. After conspiring to kill his father, Shinra placed Rufus under house arrest instead.
Final Fantasy VII Era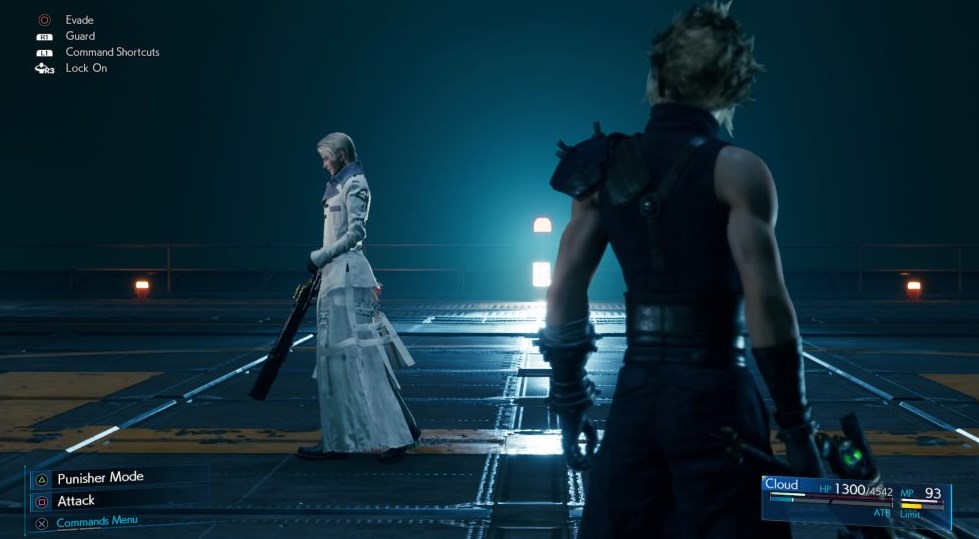 Sephiroth finally emerged and attacked the Shinra Building in Midgar, which resulted in President Shinra getting killed. After Sephiroth kills President Shinra, Rufus Shinra then announces himself as the new president of the Shinra Electric Power Company.  Rufus then confronts cloud and battles him on top of the Shinra Building. Realizing he can't win, he falls back into the helicopter with a new plan in mind.
Rufus ordered the full military force of Shinra to pursue after Sephiroth, and have the Turks keep a close lookout on Cloud and his group, the Avalanche. During an encounter with the Avalanche, Rufus and the Turks captured Tifa and Barret. Rufus wants to publicly execute the two to alleviate the mass fear of the incoming Meteor. However, his plan to kill them failed due to the Sapphire Weapon attacking Junon.
Once again, Rufus has another plan up his sleeves; destroy the meteor, unleash and defeat Sephiroth himself. Rufus fails to blow up the meteor and moves Sister Ray Mako to Midgar to beat the defensive barrier protecting Sephiroth. As he tried to launch the cannon, Diamon Weapon approached Midgar and launched a relentless assault, destroying the Shinra Headquarters.
Having his life flashed before his very own eyes, Rufus miraculously survived the attack through a secret tunnel system that his father created and fled to a nearby town called Kalm.
Rufus Shinra's Other Video Game Appearances
Pictlogica Final Fantasy
Final Fantasy Airborne Brigade
Final Fantasy Record Keeper
Mobius Final Fantasy
Final Fantasy Trading Card Game
Frequently Asked Questions
Question: Is Rufus Shinra Strong?
Answer: I highly believe that for an average human to go toe to toe with a SOLDIER First Class and hold his ground is an incredible feat. Rufus Shinra is powerful for an average human who did not receive any Mako infusion or came from any experiments to enhance his strength. However, he is pretty weak in the whole Final Fantasy VII world realm.
Question: How Can You Easily Beat Rufus Shinra on Hard Mode in The Remake?
Answer: Triple Slash is the way to go. As soon as Rufus tries to approach Cloud, cast Triple Slash again to stop him. Rinse and repeat this for Rufus' second phase. Once you see Rufus casting any of his distance-based attacks, immediately cast Stop on him. At this point, you should have stagger-locked Darkstar and can quickly kill him. A perfect scenario of killing off Darkstar would be to have two full ATB bars. At the start of the third phase, immediately cast sleep on Rufus. After Rufus falls asleep, cast Braver on him, which should stagger him, and then use the punisher combo followed up by another Braver attack, and the fight's basically done.
Question: Is Rufus Still Alive By Final Fantasy: Advent Children?
Answer: Yes, Rufus is still alive by the events of Final Fantasy VII: Advent Children. In fact, Rufus invited Cloud to see him, only to find out that Rufus had been bound to a wheelchair for almost two years under the Turk's protection. Also, he renounced his past cruelties and wanted to undo the destruction that his company caused the world.