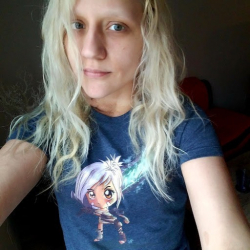 Latest posts by Emily Medlock
(see all)
Final Fantasy XIV is one of my favorite video games of all time. Every patch adds something that makes me excited to play again. While there is a lot to love about Final Fantasy XIV, the glamor and the NPCs are two of its greatest assets. One of my favorite cosplays I have done is Gaia from FFXIV. I would have taken on something bolder if I had the time to prepare, but it was a fun goth transition from my usually bright palette.
When it comes to most Final Fantasy cosplay, it can be highly overwhelming to imagine choosing a cosplay. All of the characters in Square Enix games are so complex. But that's what FFXIV changes in the best way possible.
There are custom characters in the game, and there are NPCs with casual armor sets, making it easier to replicate their outfits. No matter your skill level or experience playing Final Fantasy XIV, there are certain FFXIV cosplay ideas that you can master.
What Is Final Fantasy XIV Cosplay?
| | | |
| --- | --- | --- |
| Category  | Top Five Ideas | Difficulty  |
| NPC | Hildibrand, Thancred, Ryne, Urianger, Kan-E-Senna | Medium |
| Custom | Warrior of Light, Gunbreaker, Urban/Rebel set, Miqo'te, 2B crossover | Easy |
| Out of the Box | Chocobo, Moogle, Titania, Thordan, Magitek Armor | Hard |
Final Fantasy XIV is a 2010 MMO with new patches (updates) every few months. The game has over 30 million players who play the game each month and over 3 million who play every day. The only games that rival it are games like Minecraft, PUBG, Fortnite, and League of Legends. All of these games are popular subjects of cosplay, but in my opinion, Final Fantasy XIV has the best cosplay options of them all.
Pre-Made Final Fantasy 14 Cosplay
If you don't have the time to create your own custom cosplay, don't be ashamed to buy one. Cosplay is all about having fun and expressing your interests. That's nothing to be ashamed of.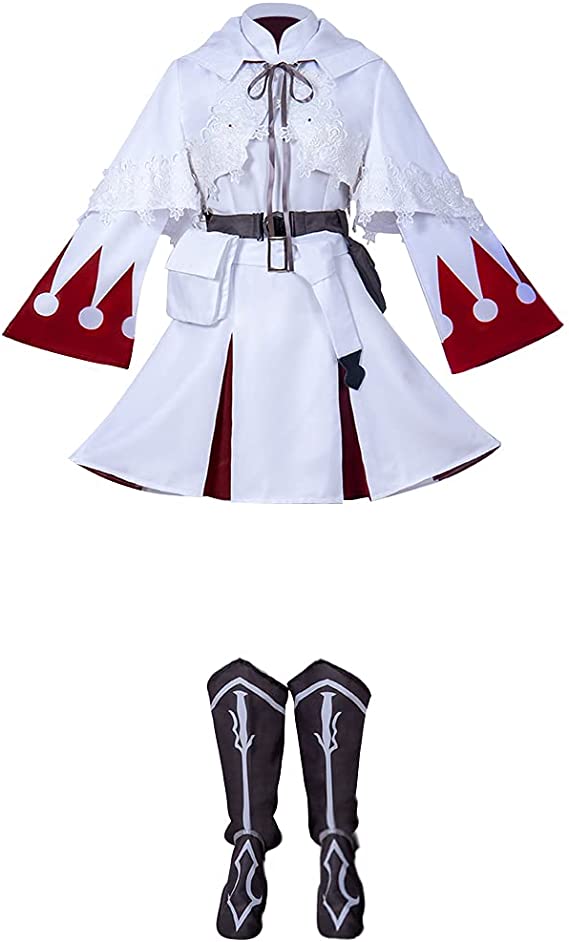 This White Mage cosplay is simple yet perfect. White Mage is considered the most straightforward healer, but it's that adorable outfit that makes me want to cosplay this class.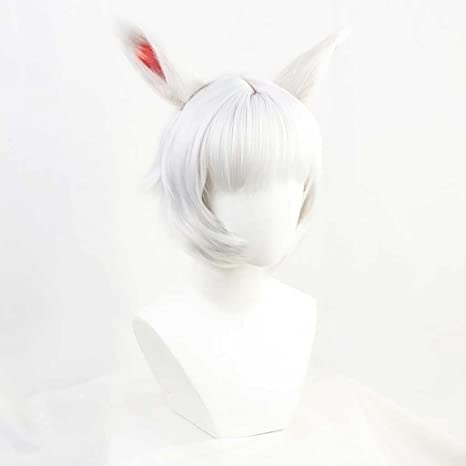 Y'shtola Rhul; has so many great outfits, and I would be tempted to create my outfit for her anyway, so all I would need is a wig like this. When the ears come with a wig, you don't have to find one that matches the color of the ears you have.
This casual attire comes in both the pink version and the orange version. If you want to buy one outfit and have it ready to wear, this will be your best bet because you can do what you want with your hair and makeup.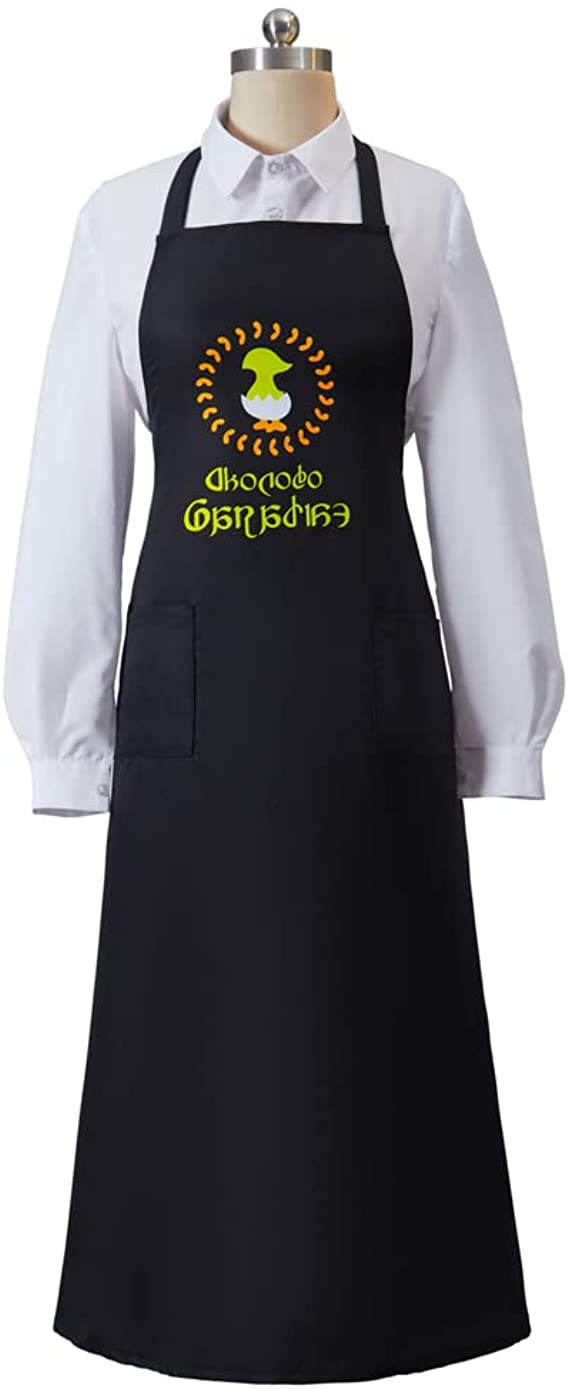 Crafters will drool over this apron. This is one of my favorite glams in the game to wear while I am crafting. It always feels like I am showing off my crafting skills simply by donning the apron.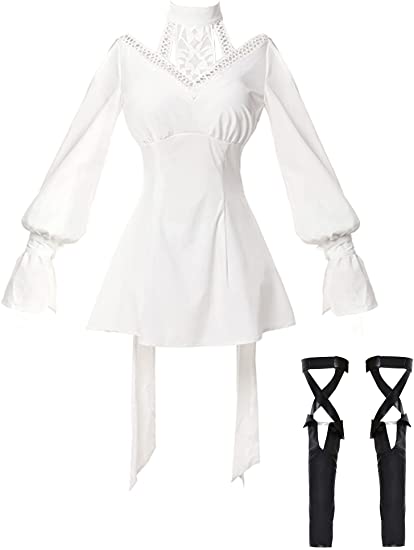 This dress is perfect for someone who wants a low-maintenance cosplay. You will need base shoes, but everything else will cover the cosplay. Then you can choose a blonde wig or a red one.
Final Fantasy XIV Characters to Cosplay
There are dozens of iconic characters in Final Fantasy XIV. It may be tempting to pick your favorite and try to take it on. But this can end in failure.
I have always found it better to find a cosplay that suits you. Not necessarily physically, but one you are mentally and emotionally ready to take on.
Wild Card Pick – Hildibrand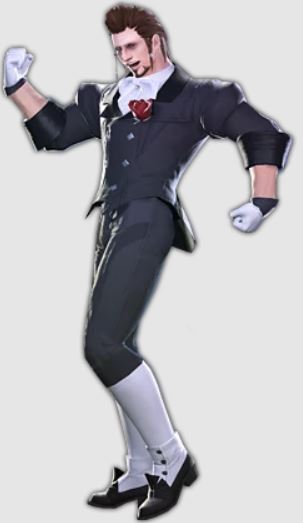 Although there are plenty of other options that will be more impressive, Hildibrand Manderville is my favorite character to see. This Gentleman of Light gives meaning to side quests and brings a lightheartedness to a doomed world.
Thancred Waters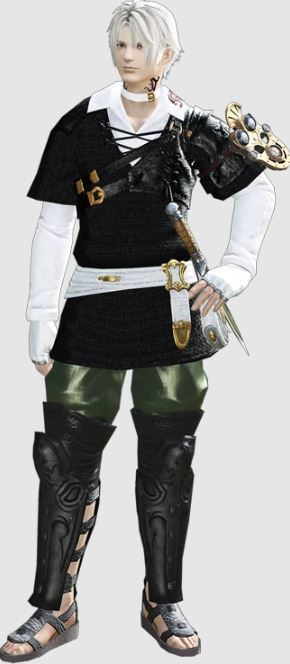 White hair

White trench coat

Black undershirt

Black pants

Mechanical boots and gloves

Scions of the Seventh Dawn tattoo

Gunbreaker weapon

Ammo strip
Luckily, most NPCs in Final Fantasy XIV have multiple outfits to choose from. While his casual black tunic outfit is the easiest, I prefer his white trench coat.
This is his Gunbreaker gear. In my opinion, it is his most iconic outfit, but feel free to take on any of his other glam. A younger Thancred from Ul'dah is a great way to help us remember him in a different light.
Minfilia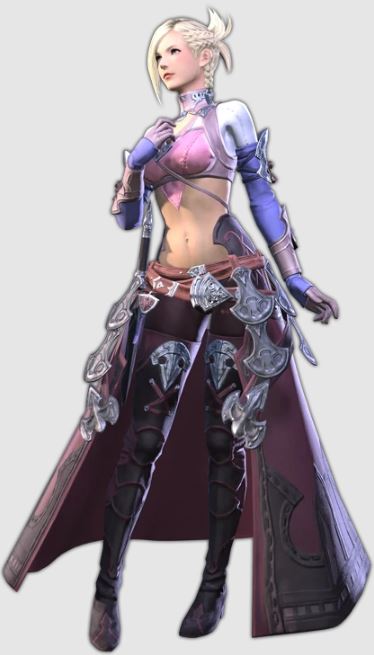 Blonde styled wig

Pink halter

Purple long gloves

Leggings

Red skirt, open in front

Metal details

Thigh-high boots
Ah, Minfilia. If you don't love Minfilia, we're not playing the same game. Her white outfit is iconic, but it isn't really "her" now, is it? If you're like me, you want to forget anything that happened after A Realm Reborn.
So that's why I have chosen to focus on Minfilia's first outfit. This isn't an outfit you can piece together. But you can get far finding pieces that you can put together if you know your way around the sewing machine.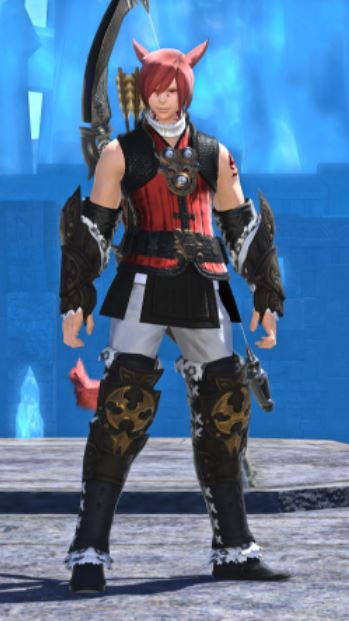 Red hair

Red ears

Red tail

Red sleeveless top

White pants

Black boots

Black finger gloves

Gold details on gloves and boots
It isn't easy to talk about G'raha Tia without giving anything away. So I will talk about his outfit alone. Most of his outfits are similar and are simple in the world of FFXIV. There are two primary choices – long-sleeved or sleeveless.
Tataru Taru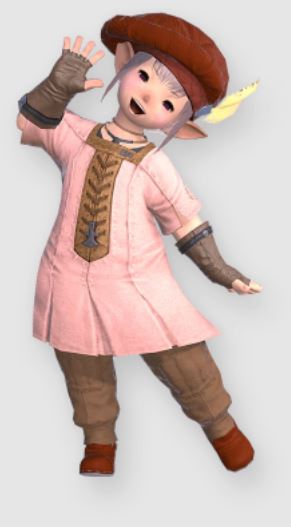 Red beret

Yellow feather

Brown fingerless gloves

Red boots

Brown boots

Pink top, pleated

Brown collar
Tataru is the backbone of the Scions. I dressed my toddler up as Tataru last year, and it was a hit. The cosplay was a leisurely visit to SHEIN, and the girl was instantly recognizable. While Lalafell cosplay isn't easy for adults, it is perfect for kids.
Urianger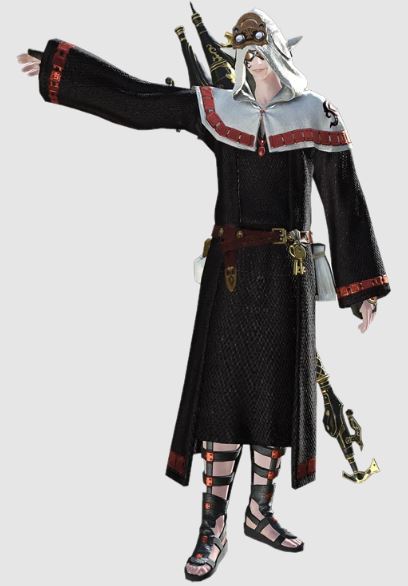 Scion tattoo

Grey hair

Elezen ears

Black sleeves dress

Gold jewelry

Dress ornaments
I believe that Astrologian Urianger is superior to other versions of this cursive-talking Scion. It is surprisingly easy to put together while still looking impressive. I love this outfit.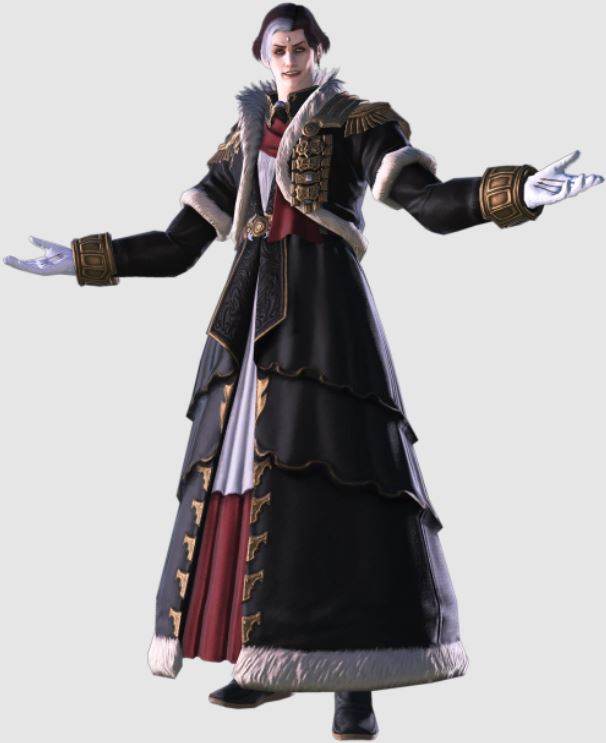 Forehead gem

Brown and white hair

Short black Kupo-like jacket

Fur-trimmed long jacket

White gloves

Red and white underdress
Emet-Selch is either one of those characters that you love to hate or hate to love. There is no in-between. While later versions of Emet-Selch are acceptable, we can't forget where he came from. The two-colored hair and ever-present smirk must remain.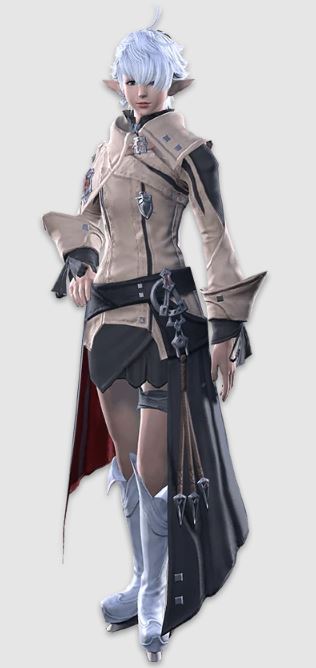 White hair

Pointy ears

White thigh-high boots

Dark blue jacket (ornamented)

White undershirt (also ornamented)

Blue gloves
These twins have some of the best character arcs in the game. While Alphinaud changes color later on so that we would be able to tell the two apart without checking their earrings, their core color will always be navy. There are quite a few options, but with Alphinaud, the variation isn't great.
Y'shtola

White/blonde hair

Ears

Tail

Feather trimmed top with bell sleeves

Jagged, layered skirt

Black boots

Iconic staff (good luck)
Y'shtola's outfits change more often than most of the other NPCs. Although her early white outfits are iconic, her Shadowbringers glam is so boss that we cannot allow anything else to be the focus.
Kan-E-Senna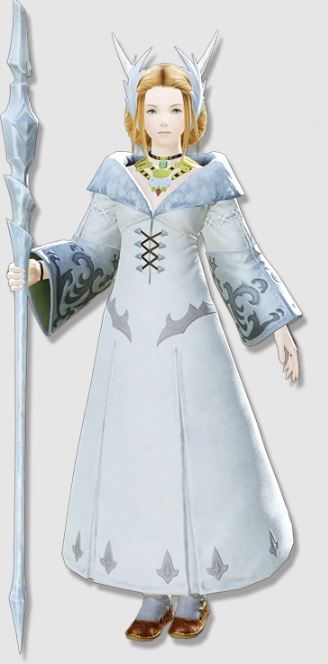 Blonde hair

Crown

White dress, fur-trimmed and detailed with fabric paint

Simple brown shoes

White hose

Upside-down cow/unicorn necklace
Thankfully, Kan-E-Senna only has one iconic outfit. It is simple and sweet. Of course, I am tempted to take this one on next, as long as it is winter.
If you have a suitable base for Kan-E's glam, the rest will be relatively easy and significantly impact fans.

White babydoll dress

Black toe-less boots

Thigh straps
This may be the easiest to get almost perfect and the hardest to get perfect. When it comes to simple cosplay, you have to pay attention to the details.
This sweetheart wears the best white dress with black boots. That's all you have to worry about, so spend plenty of time perfecting it.
Yotsuyu/Tsukuyomi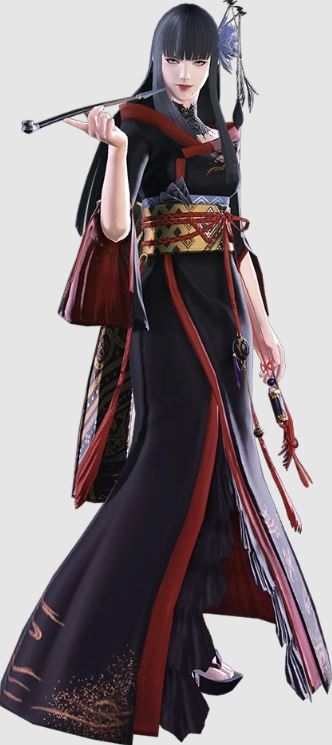 I could not pick which version of this girl I liked best. Her classic kimono is made complete with fierce eyes and a pipe. But if you can step up your game and accomplish a boss "boss" like Tsukiyomi, you have it made. Tsukiyomi is one of the most iconic bosses in the game and the favorite of many players.
Final Fantasy XIV Custom Cosplay Ideas
While cosplaying as a specific character is impressive, creating custom cosplay inspired by your favorite games is fun. If you want to work with a base idea and build on it, you can go places.
Warrior of Light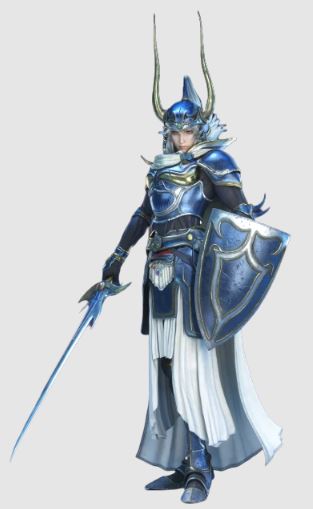 The Warrior of Light is the character you play in Final Fantasy XIV. Replicating your favorite look of the character you created is ideal for many fans. If you want to tweak anything, you totally can.
For example, if you are an Au Ra but want to make things easier by cosplaying as a Hyur, then do it. Keep everything else the same (like the hair color and glam) and be a Hyur version of your Warrior of Light.
FFXIV Class
Tanks

 – Paladin, Warrior Dark Knight, Gunbreaker

Healer

 – White Mage, Scholar, Astrologian, Sage

Melee DPS

 – Monk, Dragoon, Ninja, Samurai, Reaper

Physical Ranged DPS

 – Bard, Machinist, Dancer

Magical Ranged DPS

 – Black Mage, Summoner, Red Mage, Blue Mage
You can easily take a Final Fantasy class and build on it to create the perfect Final Fantasy XIV cosplay. If you choose a healer, you can work with cloth, a melee DPS will have more leather, and a tank will have a lot of metal. Everything else is in-between; however, every single class can wear almost any material if you choose the proper armor set to copy.
FFXIV Favorite Glam
Whisperfine

 

– this classic duffel coat is easier to find than you may realize. Just grab a tan/cacky duffel coat and dress it up. The 

patterned winter leggings

 and 

button uggs

 will complete the look for the Whisperfine cosplay.

Summer Indigo

 – this light blue shirt is iconic in 

Final Fantasy XIV

. The shirt is the only piece that matters as the rest of the outfit is open to customization.

Urban/Rebel

 – this cosplay is not easy to replicate. You need a fur-trimmed green parka with all the bells. To really pull this off, it helps to add 

lace-up black boots. 

Casual Attire

 

– this is an easy one. You get a

 sling purse

, white 

hi-tops,

 a white tank, a loose jacket, and cargo shorts. That's all, folks.

Kupo

 – you're on your own on this one. If you can pull this off, then you are professional enough to custom make the entire outfit.

Craftsman

 – you can either choose the

 apron, 

the

 coveralls

, or the singlet (with a jacket around the waist) for this look. My favorite look is anything with the Craftsman's Leather Trousers. You can get similar pants 

for men

 or 

for women. 

Rider

 – the Calfskin glam includes leather pants, Vans, a leather jacket, and a cap. All of this is simple so if you have the right details on your cosplay then it will take over any convention.

2B

 (

NieR:Automata

 Crossover)

 – this is another one that you can either customize or buy the replica. There isn't any in-between with something this intricate.

Peacelover's

 – the Peacelover's set is an easy one to copy. All you need is a 1970s leather vest, jeans, and cowboy boots.
You can choose any FFXIV glam that you like, but I have picked some of the most popular glam. Some of them would be easy to replicate, while others would be highly challenging.
FFXIV Race
Hyur

 – not really a cosplay since they look just like humans.

Miqo'te

 – get cat ears and a cat tail.

Elezen

 – if you're naturally tall, then all you need are pointy ears.

Roegadyn – large build race with slightly altered noses.

Lalafell

 – if you have a child displaying, this tiny race will be perfect.

Au Ra

 – get your dragon prosthetics ready for this hybrid.

Hrothgar

 – huge lion-like race. There are currently only males, so a female Hrothgar cosplay would be fantastic.

Viera

 – bunny race, so snap on some bunny ears and a bunny tail.
If you want to wear ears or a tail, you can base your cosplay on your favorite race in Final Fantasy XIV. If you do this, all you need are the simple details, and the rest is whatever you have in your closet.
Outside the Box Final Fantasy XIV Cosplay
If you want to choose something that no one else at the convention will be, yet fans will recognize, then it's time to think outside the box. Stray from the things that look like a Hyur and branch out to something that no one thinks you can do.
Chocobo, Kupo/Moogle, or Namazu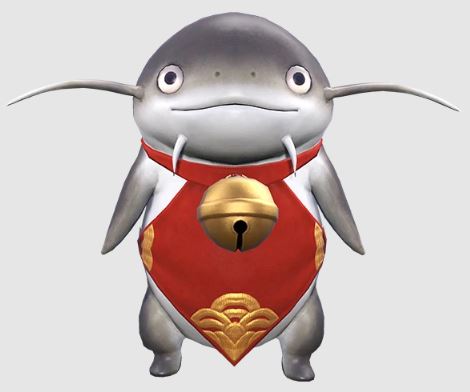 If you can take on something that isn't a humanoid but is loved even more, you have a good chance in any competition. A Chocobo will be easily recognizable by any Final Fantasy fan. But other options, like a Moogle or Namazu, are rarely seen in any form at a convention.
Any Boss in Boss Form
When you choose someone like Titania, you have to do it right, because choosing only the easy parts puts you at risk of duplicating someone else's cosplay. You will definitely take home a prize if you can pull off something like a primal.
FAQs
Question: Can You Cosplay In FFXIV?
Answer: It is a common practice to have cosplay/costume contests in Final Fantasy XIV. There is a theme to the contest, such as Christmas, summer, video games, or sci-fi.
Question: Is FF14 Cosplay Furry?
Answer: It doesn't mean you're a furry if you cosplay as a Viera or Miqo'te. Cosplay is a world where you can dress as whoever you want without being judged by fellow cosplays and fans.
Question: What Is The Most Popular FFXIV Cosplay
Answer: Although there aren't statistics on Final Fantasy 14 cosplay, I have seen the Warrior of Light, Aymeric, and Y'sthola most often. However, the cosplay is rare enough that yours will be unique.
Creating Your FFXIV Cosplay
There isn't a wrong way to do Final Fantasy cosplay. Whether it's an NPC or a concept inspired by the game, you can be whoever you want. Cosplay is fun, and nothing should stop it from being fun.
You can buy a pre-made costume or create one with nothing by fabric and EVA foam. There are so many possibilities with Final Fantasy XIV that just the thought of it makes me want to get started right away.